1 large bunch spinach, chopped
1 1/2 tsp salt
2 tbsp pure vegetable oil
1/2 medium onion, chopped
1 tsp garlic, finely minced
1 1/2 tbsp margarine
2 tbsp plain flour
1 cup fresh milk
300 ml fresh cream
1/2 tsp black pepper
1 large carrot, grated
If you're a lover of creamed spinach, you will definitely enjoy this here version that I have modified a little. The first time I had it was when my gran came to visit us when I was much younger and prepared it for us. To see the regular version of creamed spinach you can
click here
. You can serve this with your preferred starch.
Equipment
Saucepan
Medium sized pot
Wooden spoon
Chopping board
Tablespoon
Teaspoon
Do this
Get your ingredients together. These include; 1 large bunch spinach, chopped
1 1/2 tsp salt
2 tbsp pure vegetable oil
1/2 medium onion, chopped
1 tsp garlic, finely minced
1 1/2 tbsp margarine
2 tbsp plain flour
1 cup fresh milk
300 ml fresh cream
1/2 tsp black pepper
1 large carrot, grated
 Heat oil in pot and add the spinach. Add  1/2 tsp salt and fry until it is just about cooked (about 3 minutes). Set aside.
Prepare the sauce by melting the margarine in pot. Add the onion and garlic. Fry for a minute.
Add the flour and mix briskly. Allow to cook for about  a minute, whilst stirring.
Add the fresh cream and milk, whilst still stirring briskly. Season with salt (1 tsp) and pepper. Reduce heat and allow to simmer for 3 minutes.
Take set aside cooked spinach. Add it to the sauce and stir until well incorporated. Add grated carrots and stir again.
Close pot, reduce heat again, to the lowest notch and let it simmer for 3 minutes. Your creamed spinach is ready. Enjoy!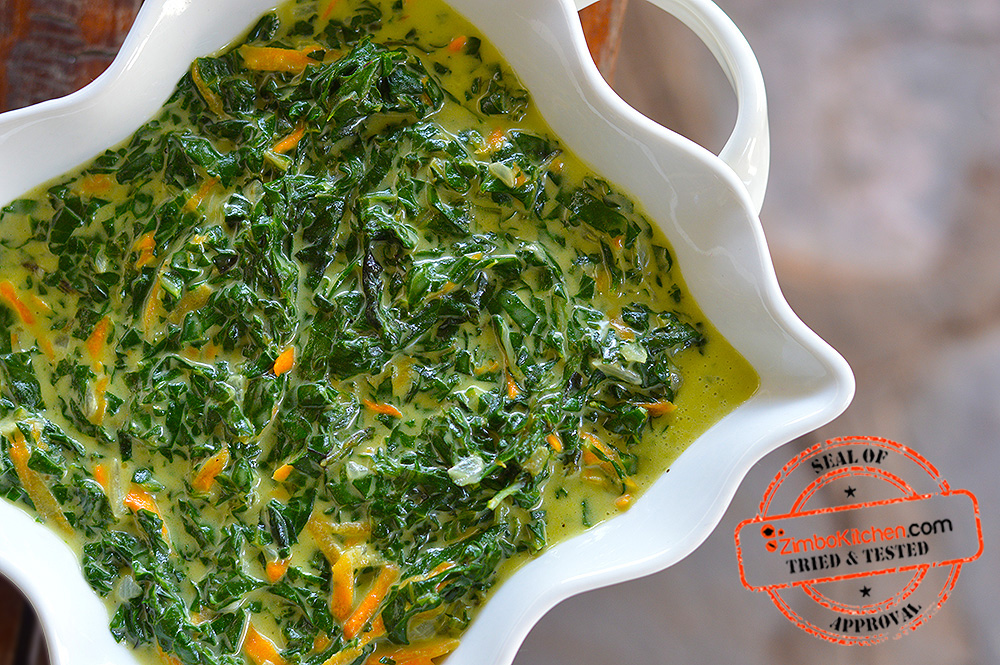 [sp-form formid=7711]