My kids absolutely loved this quick fix. It works well for adults too as both my husband and I also enjoyed it. I served it as a light lunch. The great thing about it is that it takes just 35 minutes, more or less, to complete both preparation and baking. In this recipe I used shop bought puff pastry. If using shop bought puff pastry ensure that it thaws adequately before use. I thawed mine overnight in the refrigerator.
If you would like to prepare your own puff pastry from scratch instead of using commercially available ones, please click here
. Let's get into the recipe.
Equipment needed
Rolling pin
Small bowl
Pastry brush
Baking sheet
Baking paper
Sharp knife
Instructions
Get all your ingredients together. These include; 400 g puff pastry
8 frankfurters/vienna sausages
1 egg, lightly beaten. Preheat oven to 180 degrees Celsius. Line your baking sheet with baking paper and set aside.
Lightly flour your working area and using a rolling pin, roll out your pastry.
Take your frankfurter sausage and lay it on the rolled pastry to measure it's length. This will help you mark where you should cut.
Leaving a space of about 3 cm right round the pastry, make horizontal slits across the pastry.
Weave the sausage in and out of the pastry until all the sausages are used up. I used 8 frankfurters.
Carefully slide the sausage and pastry onto your prepared baking sheet.
Carefully brush the pastry only with the beaten egg. Ensuring you don't brush the sausages with the egg.
Bake in preheat oven for 20 min or until golden brown.
When done, allow it to slightly cool and again carefully slide it out of the baking sheet. You may slice it up into 8 equal portions, serve and enjoy!
Pictorial Instructions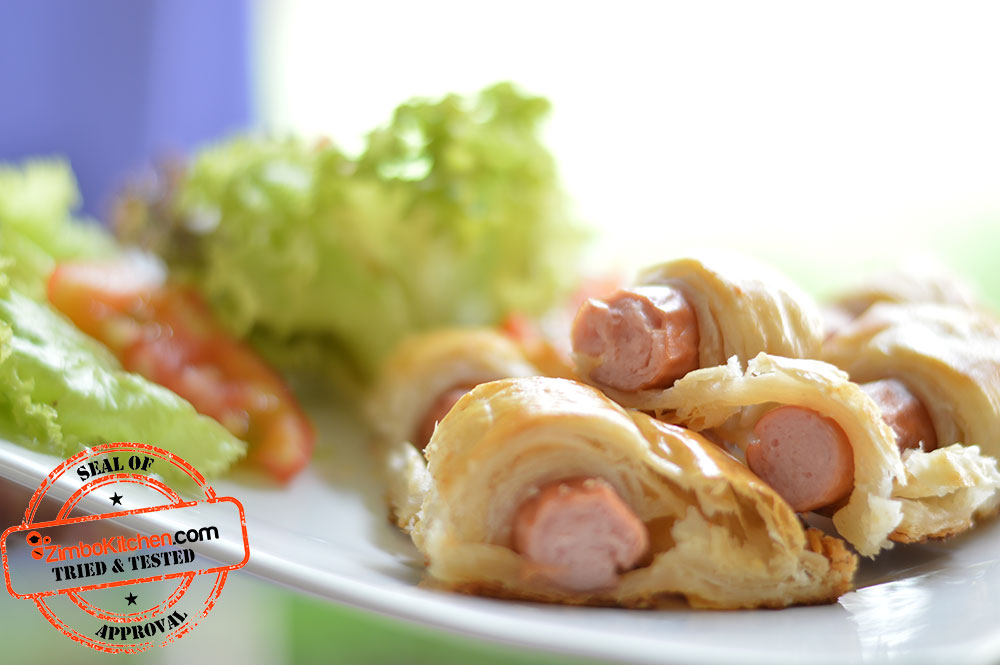 Do give it a go and let me know how it goes in your kitchen in the comments below. I'd love to hear from you.
[sp-form formid=7711]