5 small-medium bream fish
2 tsp garlic, minced
2 tsp rosemary, finely chopped
Rind (finely grated lemon peel) from 1 lemon
Juice from 1 lemon
1 tsp salt
1/2 tsp freshly ground black pepper
2 tbsp oil
My family is a fan of fish. Apart from the health benefits we gain from consuming it, we also love it because it just tastes good!! Especially when you
variate
how you
prepare it
. This is one more fish recipe to have under your belt. Go ahead and try it out. Before you know it, it'll be finished and you'll still be wanting more!! You can serve this with your preferred starch, which could be
sadza
,
potatoes
,
rice
, etc. Or with just a
salad
.
Get This
Oven tray
Foil paper (optional)
Teaspoon
Tablespoon
Chopping board
Sharp knife
Measuring jug / small bowl
Do This
Get your ingredients together. These include; 5 small-medium bream fish
2 tsp garlic, minced
2 tsp rosemary, finely chopped
Rind (finely grated lemon peel) from 1 lemon
Juice from 1 lemon
1 tsp salt
1/2 tsp freshly ground black pepper
2 tbsp oil
De-scale, clean and pat dry your fish. With a sharp knife, cut two diagonal slits on each side of the fish and set aside.
In a measuring jug/ small bowl. Put the garlic, lemon rind, rosemary, salt, oil and lemon juice. Give a good mix until the salt dissolves.
Put the fish in a marinating container. Pour the lemon, rosemary and garlic liquid into the slits of fish. Tuck the remaining solids (garlic, rosemary and lemon rind into each of the slits. Cover then refrigerate for at least 30 min to an hour to allow the fish to sip in all the flavours.
Line the oven tray with the foil paper (if using). Lightly grease the oven tray/ foil paper with oil. Take marinated fish and lay it on the foil paper.
Grill in oven for 30-45 min or until it begins to turn golden brown. Enjoy!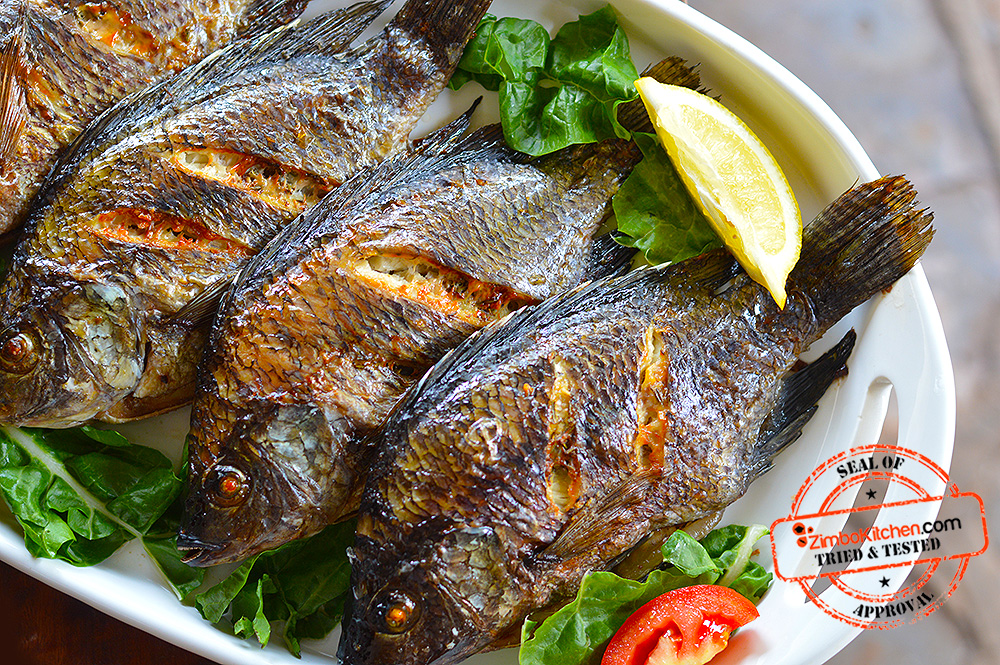 [sp-form formid=7711]