1.5 kg potates
3 1/2 tsp salt
4 tbsp cooking oil
500g steak mince
1 large carrot, julienned
1 punnet oyster mushroom, julienned
1 green pepper, julienned
2 cloves garlic, minced
1/2 medium onion, finely chopped
2 medium tomatoes, chopped
1 tbsp tomato puree
1 tbsp margarine
Get your ingredients together. Put the potatoes into a pot. Add enough water to just cover the potatoes and 1 1/2 tsp salt. Bring to the boil until tender, cooked through and the water is finished.
Using a potato masher, begin to mash the potatoes in a circular motion. Add the margarine half way through the mashing. Continue mashing until your potatoes are smooth and silky. Set aside.
As the potatoes are cooking, heat 2 tbsp oil in a pot. Add the mince, garlic, tomato puree and 1 tsp salt. Fry until the mince is cooked and has a lovely tomato-reddish colour.
Add the onion and fry until the onions are translucent (semi-transparent). Add the tomatoes, stir and close the pot for about 5 minutes or until the tomatoes are well cooked.
Add 50 ml water, simmer gently for another 5 minutes and set aside.
Heat oil in pan. Add the carrots and fry for about 2 minutes, stirring regularly. Add the mushroom and allow to cook for a further 2-3 minutes. Finally add green pepper and 1 tsp salt. Allow to cook for a further 2 minutes. Your meal is ready!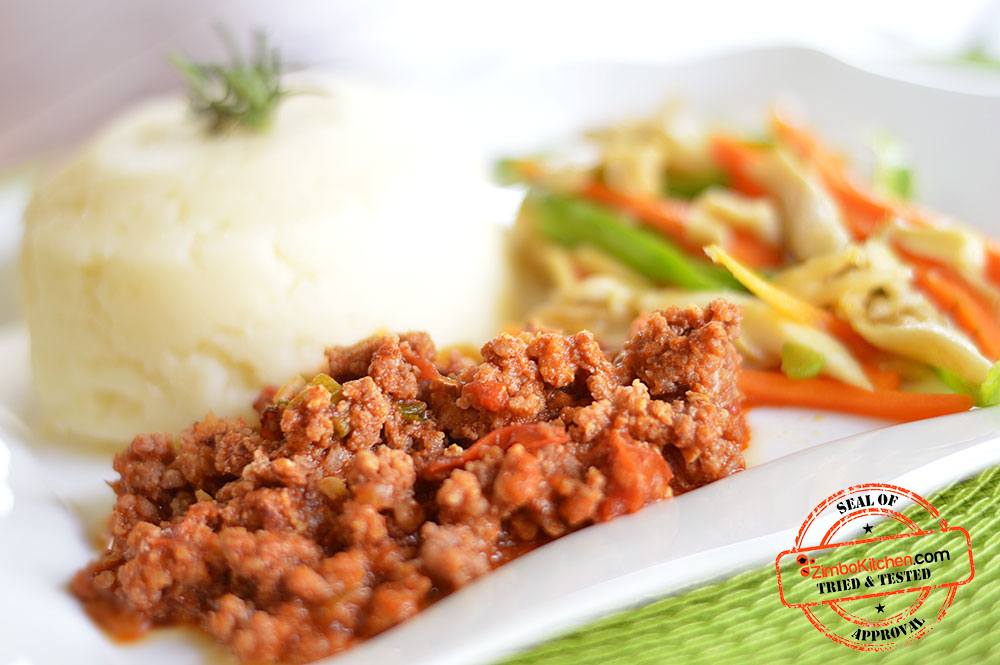 [sp-form formid=7711]