390g Plain Flour
125g granulated white sugar
40g custard powder
½ tsp salt
1 ½ tbsp baking powder
½ tsp ground nutmeg
1 punnet fresh strawberries, chopped
1 ½ tsp vanilla essence
125ml buttermilk
125ml fresh cream
150g cold margarine/butter, chopped
These are wonderful to have with a hot cuppa something (tea, coffee or hot chocolate even). If you love scones then you'll most certainly enjoy these. This recipe uses buttermilk. To make your own buttermilk, put 250 ml of fresh milk in a jug. Add 1 tbsp of lemon juice. Let it sit at room temperature for 10-15 min before using. Give a quick stir and there you have it- your homemade buttermilk is ready to use! For pictorial instructions
click here
.  Let's get to the recipe now.
Equipment
Measuring scale
Measuring spoons
Measuring jug
Table knife
Mixing bowl
Baking sheet
Instructions
 Get your ingredients together. These include;390g Gloria Plain Flour125g granulated white sugar40g custard powder½ tsp salt

1 ½ tbsp baking powder

½ tsp ground nutmeg

1 punnet fresh strawberries, chopped

1 ½ tsp vanilla essence

125ml buttermilk

125ml fresh cream

150g cold margarine/butter, chopped

Line your baking sheet with baking paper, lightly grease and set aside. Preheat oven to 200 degrees Celsius.

Put sugar and salt in mixing bowl. Sift flour, custard powder, baking powder and nutmeg into the same bowl with sugar and salt.
Cut in the cold margarine/butter using a table knife until the mixture resembles coarse breadcrumbs. Alternatively you may rub in the cold margarine/butter until the mixture resembles coarse breadcrumbs.
Make a hole in the middle, add the essence, strawberries, fresh cream and buttermilk. Mix gently until well combined.
Lightly dust your working area with flour. Knead the dough for 10 min. Roll it out to about 2 cm thick.
Use a scone cutter or a glass dipped in flour at the rim to cut your scones out. Place on prepared baking sheet.
Bake in preheat oven for 10-15 min or until lightly browned. Allow to cool briefly on the cooling rack. Enjoy!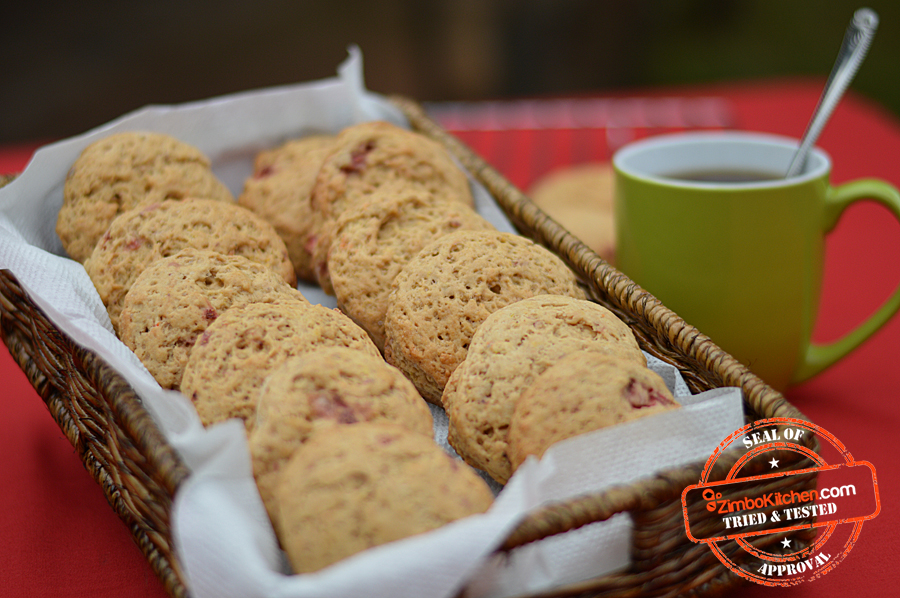 [sp-form formid=7711]