180g (1 1/4 cup) Pearlenta High Fibre with Wheat Bran
170g (1 1/2 cups) plain flour (all purpose flour)
500ml butter/sour milk
100 g (1/2 cup) sugar
90ml pure vegetable oil
1/2 tsp salt
1 egg
1 tsp baking powder
1/2 tsp baking soda
Many of us here in Zimbabwe grew up eating mupotohayi every now and then. In case the name has made you unsure of what I'm referring to I'm talking about chimodho, a.k.a cornmeal bread, a.k.a. There are 4 versions that I know of, of how this is prepared; on the stove top, in the oven, in a potjie (bhodho) over fire and in the ground with burning coals on top. Because of modernisation, the former 2 versions have been popular. And I'm using one of them here!
Using Pearlenta High Fibre with Wheat Bran worked perfectly with this recipe. Combining with the sour milk, it gave a lovely texture to the bread. This here version is my tweaked mordenised version of mupotohayi. The wheat bran in the pearlenta is a great source of fibre and I love how it will be speckled throughout the corn meal bread.. Go for it and try it out in your kitchen.
Equipment
Mixing bowl
Sieve
Wooden spoon
Measuring jug
Measuring cups/ scale
Measuring spoons
Baking loaf/ cake tin
Instructions
Get your ingredients together. These include;

180g (1 1/4 cup) Pearlenta High Fibre with Wheat Bran

170g (1 1/2 cups) plain flour (all purpose flour)

Preheat oven to 180 degrees Celsius. Prepare your baking tin/loaf by lightly greasing it then dusting with flour. Set aside.
In a jug, whisk all the wet ingredients together. These are your sour milk, oil and egg. Set aside.
Put the Pearlenta High Fibre with Wheat bran meal into a bowl.
Sift the flour, baking powder, bicarbonate of soda and salt into the same bowl with the mealie-meal.  Add sugar and stir.
Make a well, take set aside sour milk, egg and oil mixture and pour it into the bowl with dry ingredients. Mix well until just combined. (Do not over mix)Your batter is ready, get your prepared baking tin/loaf.
Pour your mupotohayi batter into the tin and bake for about 35-40 minutes or until skewer comes out clean when inserted.
Allow to cool whilst still in the tin for 15 min. Remove from tin and let it cool on the cooling rack. Enjoy with jam/marmalade and margarine/butter netea hobvu!!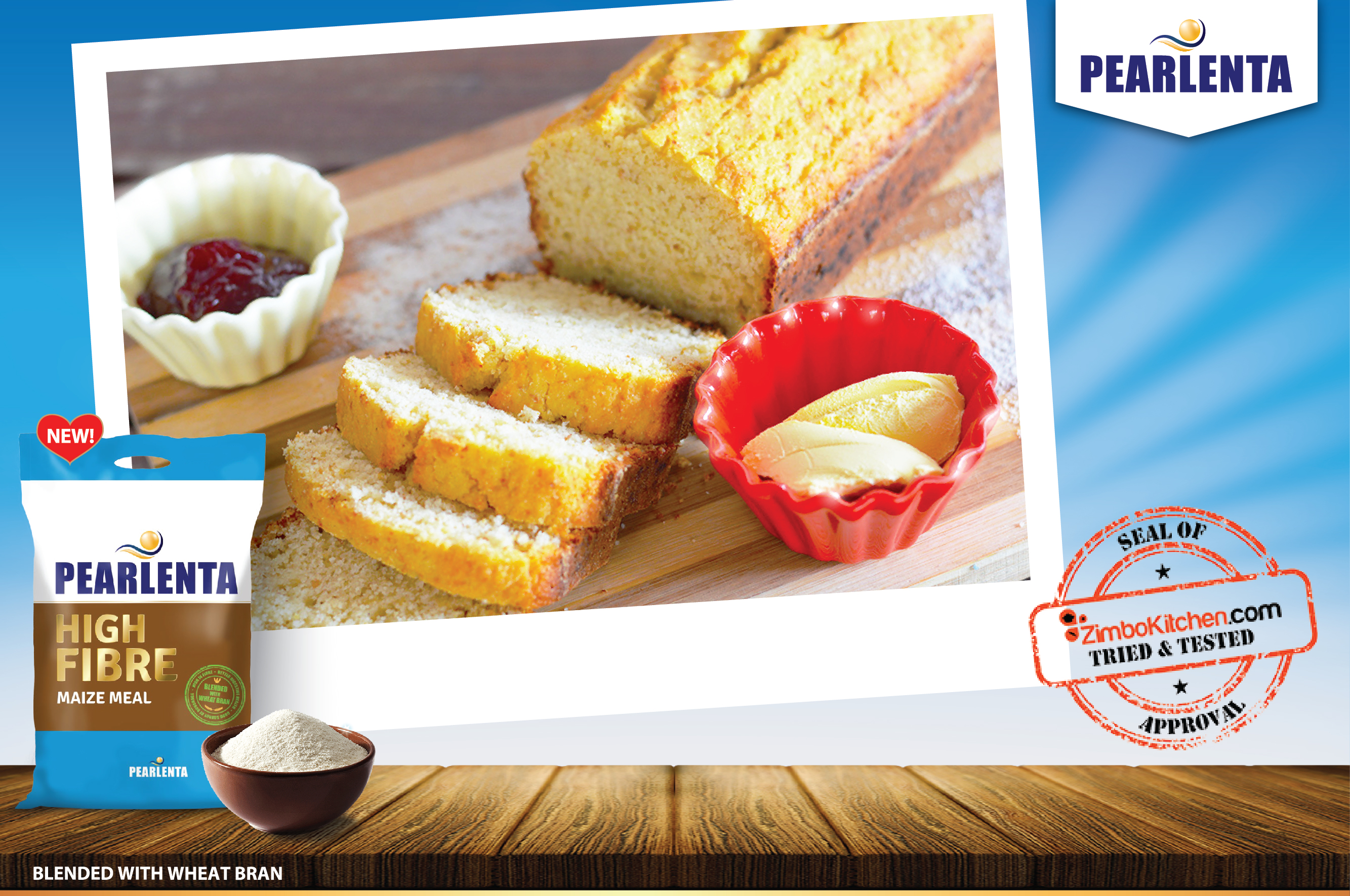 [sp-form formid=7711]