450 g firm white fleshed fish (filleted bream or seabass or snapper). I used a filleted & deboned cod
1 tsp coarse sea salt
1/2 tsp finely shredded ginger
For the Topping:
3 tbsp finely shredded spring onions (I used shallots)
1 tbsp light soy sauce
2 tsp dark soy sauce
1 tbsp groundnut oil (I used extra virgin olive oil instead of groundnut & sesame oil)
2 tsp sesame oil
2 cloves garlic, thinly sliced
Instructions
Remove the gills from the fish and pat dry with kitchen paper. Rub with the salt on both sides, and let sit for 30 minutes.
Put a steamer over a deep pan filled with 5cm of water. Bring the water to the boil over a high heat. Put the fish on a heatproof plate and scatter the ginger evenly over the top. Put the plate of fish into the steamer. Cover the pan tightly and gently steam the fish until it is just cooked. Allow 5 minutes for flat fish, 12 to 14 minutes for whole fish or thicker fish.
Remove the plate of cooked fish and sprinkle on the spring onions and light and dark soy sauces. Heat the groundnut and sesame oils together in a small pan. When they are hot, add the garlic slices and brown them. Pour the garlic-oil mixture over the top of the fish. Serve at once.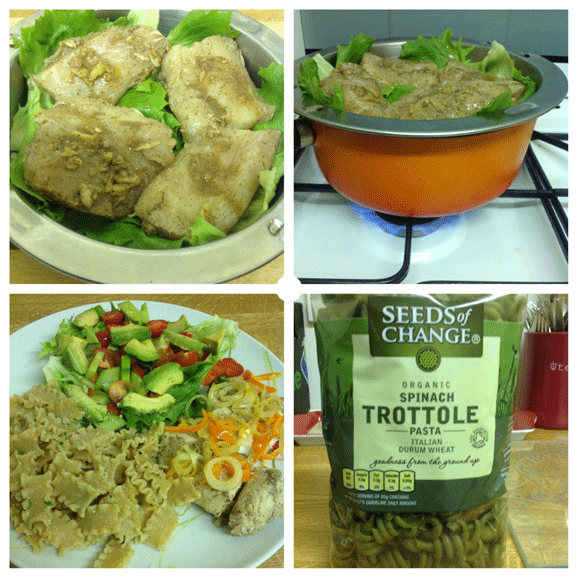 [sp-form formid=7711]