60g cooked tsine (blackjack)
300g fat free mince
1 cup carrots and peas
1/2 small onion, chopped
3 medium tomatoes, chopped
3 cloves garlic, chopped
1 tbsp Worcestershire sauce
1 tsp curry powder
1/2 tsp salt
This vegetable is known for its high iron content and nutritious benefits. In fact, it is said to have more iron than spinach! This is one of the health benefits that this vegetable is associated with. It's very easy to make and doesn't require a lot of skill at all. Tsine (Blackjack), also known as Ucucube in one of our official languages here in Zimbabwe is a dried leafy green vegetable, communally known as mufushwa. I played around with it here, giving it a slight modern and tasty twist!
Equipment
Frying pan
Wooden Spoon
Teaspoon
Chopping Board
Sharp Knife
Tablespoon
Instructions
Prepare your tsine (black jack) and set aside.
Get all the other ingredients you're going to use ready.
Heat oil in pan. Add carrots and peas. Fry for about 2 minutes.
Add the mince and salt. Fry until it browns. Add onions, garlic and curry powder, cook for 2 minutes. Add tomatoes, Worcestershire
sauce and fresh coriander. Cook for another 3 minutes.
Take set aside cooked tsine and add it to the mince.
Let this simmer for about 2-5 minutes, giving time for the flavours to mingle and know each other 🙂 Enjoy!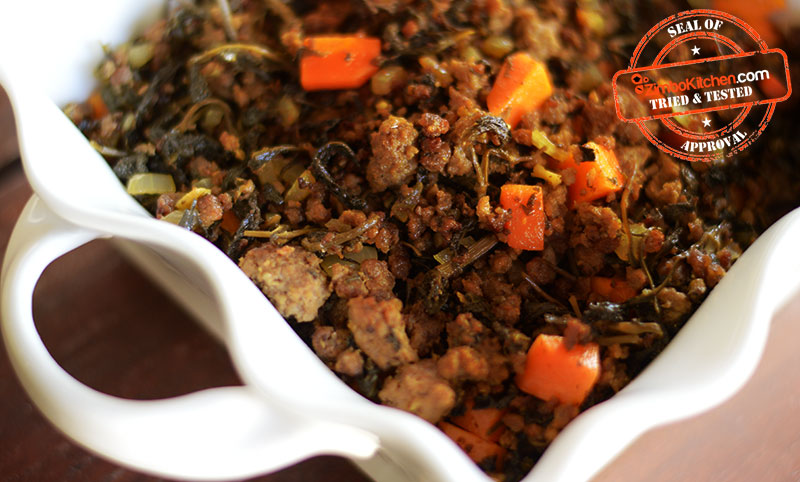 [sp-form formid=7711]