This casseroles with chicken collection offer a cluster of delicious recipes to try out that are made in casserole dishes using chicken as the main ingredient. The recipes produce dishes that cut across some of the most famous cuisines such as Italian and Mexican. Furthermore, many of the recipes here are suitable for busy weeknights. Overall, there is limited room to go wrong with casseroles with chicken. They are frequently one-pot dishes that often use leftover chicken and can feed many mouths at once. Some of them can also be frozen for lengthy periods of time which makes meal planning a breeze.
Suggested Chicken Casserole Equipment
Before we look into the recipes, below is a list of suggested kitchen equipment and tools that are useful in preparing a variety of chicken casserole dishes.  In fact, all the equipment listed below will be called for in one or another of the recipes to follow. Much of the equipment also applies to many other recipes beyond just the chicken casserole dishes that we list here.
Casserole Dish – oven-proof for the baking of casserole dishes.
Instant-Read Meat Thermometer – for ensuring that the interior of chicken is cooked.
Instant Pot – a stovetop or slow cooker alternative for cooking stewed casserole recipes.
Slow Cooker – a stovetop or instant pot alternative for cooking stewed casserole recipes.
Chef's knife – for cutting and deboning the chicken.
Airtight container – for the fridge storage of cooked casserole dishes for future reheating and consumption.
Chicken Casserole Recipes
1. Cheesy Casserole with Chicken
Ready In: 60 minutes
Serves: 6
Cuisine: American
Method: Baked
Course: Main/Weeknight
Calories: 649kcal per serving
Carbs: 39g  per serving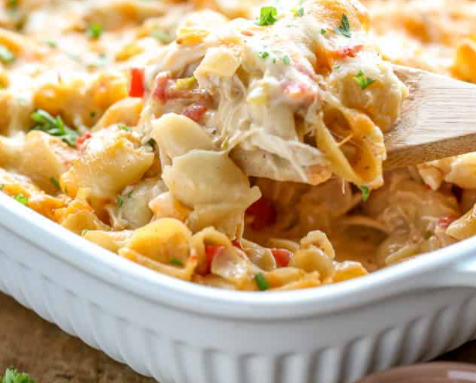 We kick off this collection of casseroles with chicken, with this delectable cheesy casserole with chicken dish. This recipe produces a complete meal that is quick and easy to make for a busy weeknight. The starch component in the casserole is derived from the pasta which is added uncooked. 
The chicken in the recipe is precooked and the final casserole dish can be served alongside a fresh tomato, lettuce or kale salad. Some of the ingredients that go into this dish are butter, bell pepper, chili powder, cheddar cheese, parmesan, and mild green chilies. It is possible to assemble all the ingredients of this recipe in the casserole dish, keep it in the fridge and bake it a day or two later to save even more time. Leftovers can be reheated in the oven for 20 minutes.
---
2. French Casserole with Chicken
Ready In: 1 hr. 15 minutes
Serves: 4
Cuisine: American/French Inspired
Method: Searing, Baked
Course: Main/Weeknight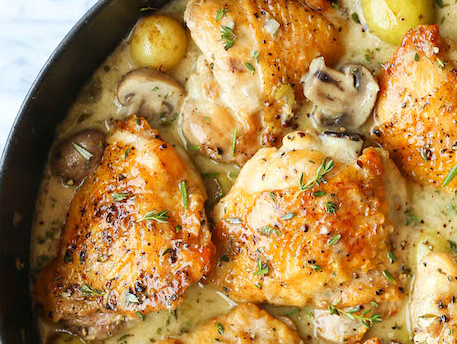 With this casserole recipe, you get a juicy scrumptious dish anchored in golden brown chicken thighs for the protein and tender potatoes for the starch. This recipe, therefore, produces a complete family-friendly meal. Furthermore, the recipe is highly amicable to substitutions.
For example, any white meat could easily substitute the chicken. In place of the thyme called for by the recipe, rosemary is a suitable replacement. In addition, you could also use a variety of other dried seasonings such as oregano and Italian seasoning in the recipe with a great outcome.
Overall, the final casserole dish produced by this recipe is very attractive and looks deliciously amazing. If you wish to venture into other chicken dishes which are not necessarily casseroles, we also recommend our other collections of chicken tenders and chicken salads. You may also check out this collection of Recipes with Chicken Thighs.
---
3. Salsa Chicken Casserole
Ready In: 1 hr. 5 minutes
Serves: 6
Cuisine: American/Mexican Inspired
Method: Baked
Course: Main/Weeknight
Calories: 529kcal per serving
Carbs: 54.2g  per serving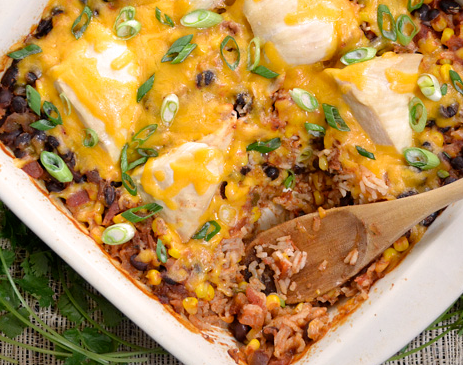 This recipe by Budget Bytes offers a glimpse of Mexican cuisine by adding some salsa to the casserole. It is very easy to make this one-dish dinner casserole with chicken breasts. The chicken breasts are introduced into the casserole uncooked, and so is some long-grain white rice.
Both work as anchor protein and starch sources respectively. Another limited source of starch will be the corn kernels also introduced raw into the casserole. The other ingredients going into this dish include black beans, dried oregano, chili powder, cheddar cheese, and green onions. Take note that the chicken and corn kernels must not be put in the casserole frozen as this will only increase the cooking time of the dish.
---
4. Broccoli Chicken Casserole
Ready In: 30 minutes
Serves: 6
Cuisine: American
Method: Baked
Course: Main/Weeknight
Calories: 1371kcal per serving
Carbs: 105g  per serving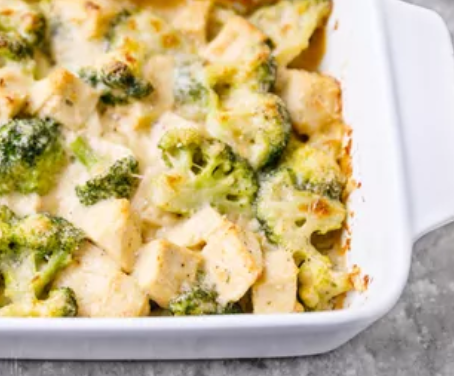 Many people struggle to find suitable opportunities to use broccoli with tasty results. Well, this chicken and broccoli casserole is worth the 30 minutes spent making it. The combination of chicken and broccoli simply works. The casserole is so saucy thanks to the cream of mushroom soup which delivers a succulent sauce base to the casserole.
he casserole morphs into a complete meal when paired with a lettuce salad with tomatoes, for example. Other ingredients going into this casserole recipe include pre-cooked chicken, nutmeg, ground black pepper, milk, parmesan cheese, and melted butter. If you are interested in the use of other not-so-common vegetables in filling meals, also see our Bok choy recipes collection.
---
5. Zucchini and Rice Chicken Casserole 
Ready In: 60 minutes
Serves: 2
Cuisine: American
Method: Baked
Course: Main/Weeknight
Calories: 640kcal per serving
Carbs: 70g  per serving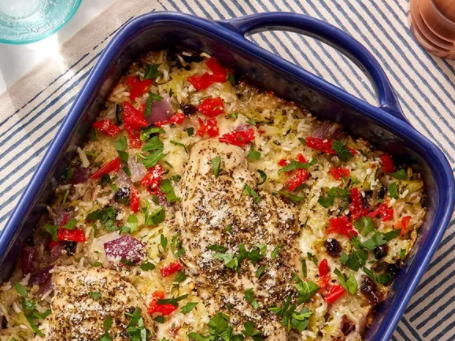 Here is a particularly interesting recipe among casseroles with chicken dishes that make good use of Zucchini. The Zucchini is introduced raw and grated into the casserole. It forms the base in the casserole dish together with other fresh produce upon which the boneless and skinless chicken breasts will be laid.
Following a few more steps, after the 60-minute bake, you will get a comforting complete cheese topped one-dish meal with rice included. This casserole with chicken is suitable for a weeknight dinner on the grounds of its ease of cooking and minimal aftermath cleanup.
You are not going to have a sink full of dirty dishes before you even get to sit and eat. On another note, Zucchini and Brussels Sprouts often go hand in hand. We recommend that this collection of Brussels Sprouts recipes add to your general vegetable cooking mix. 
---
6. Chicken and Potato Casserole
Ready In: 1 hr. 10 minutes
Serves: 4 to 6
Cuisine: American
Method: Baked
Course: Main/Weeknight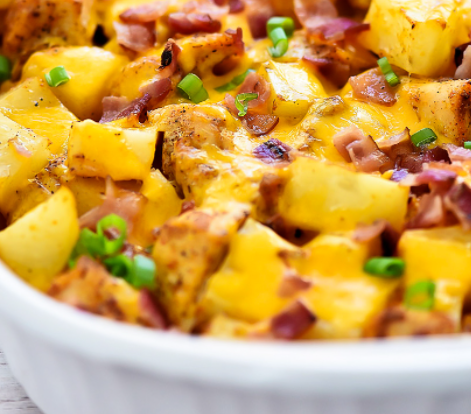 This is one more casserole-with-chicken dish that delivers a complete meal, thanks to the chicken breasts and potatoes. The boneless, skinless breast chicken along with potatoes are first coated with olive oil, paprika, garlic powder, salt and pepper before they are baked in the casserole dish.
This dish goes a step further than many chicken and potato casseroles by adding bacon. The bacon is introduced to the casserole cooked as topping together with cheese and some green onion. This family-friendly is suitable for weeknight dinner and is filling. Yummo!
---
7. Chicken, Quinoa & Sweet Potato Casserole
Ready In: 1 hr. 15 minutes
Serves: 8
Cuisine: American
Method: Baked, Microwave, Frying/Searing
Calories: 349kcal per serving
Carbs: 38.7g  per serving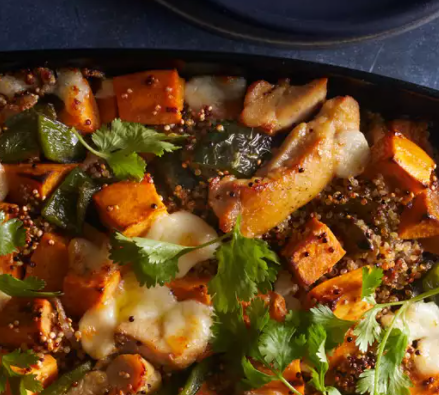 Put simply, a casserole with chicken and sweet potatoes is simply outstanding. So is this casserole recipe that goes even further to include quinoa. Along with potatoes, quinoa joins the potatoes in this dish in bringing starch to the table and to a lesser extent protein, along with the chicken thighs.
The chicken included in the casserole is boneless and skinless. As for the quinoa, multicolored quinoa is used to add color to the dish although this is not mandatory. Overall, what you get with this chicken casserole recipe is a protein-loaded full meal.
You could use Japanese sweet potatoes in this recipe if you wish. The sweet potatoes are peeled. If chicken with sweet potatoes is your thing, we recommend our other recipe collection of sweet potatoes with chicken.
---
8. Chicken Bacon Ranch Casserole
Ready In: 45 minutes
Serves: 6
Cuisine: American
Method: Baked
Course: Main/Weeknight
Calories: 880kcal per serving
Carbs: 74g  per serving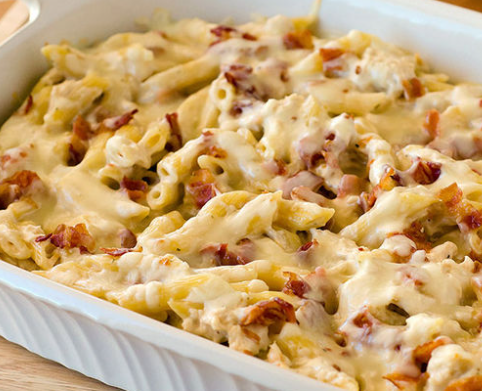 This casserole recipe presents an opportunity to put to good use accumulating chicken leftovers. It produces your typical comfort food using cooked and shredded skinless and boneless chicken. If you do not have any leftover chicken, you can easily substitute it with store-bought rotisserie chicken in this recipe.
This casserole is a complete meal that includes pre-cooked and drained pasta. Short pasta such as Rotini, Macaroni, and Ditali that make the dish easy to serve will do well here.
All the ingredients are combined and baked in an oven-proof casserole dish. Thanks to the pre-cooked chicken and pasta, this recipe takes only 45 minutes to make in a single pot, so to speak and is thus suitable for weeknight dinners.
---
9. Breaded Chicken Parmesan Casserole
Ready In: 60 minutes
Serves: 4
Cuisine: American
Method: Bake
Course: Main/Weeknight
Calories: 640kcal per serving
Carbs: 53g  per serving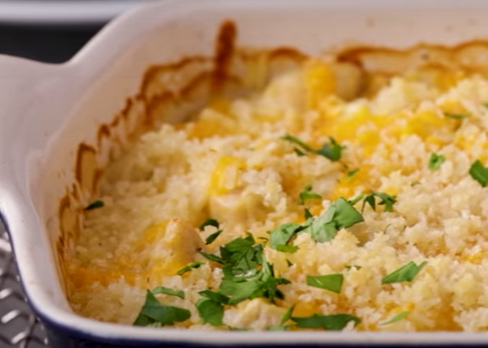 If you are looking for a chicken casserole dish that gives you time to do other things whilst it is cooking, this is it. This is a 10-minute prep-time casserole dish, then the oven does the rest for the next 45 to 50 minutes. The key ingredients are chicken tenders, rice, and cheddar cheese.
On the rice, instant rice should be avoided as it loses texture when baked. Instead, long-grain white rice is used. Both the chicken for protein and rice for starch are introduced in the recipe, uncooked.
These two ingredients make this dish a complete dish and can be served with fresh garden salad and cooked broccoli. After all, is said and done and the casserole is ready to serve, you will have yourself a scrumptious-looking dish with a crunchy topping from the cheese and breadcrumbs. 
---
10. Rich Tomato Casserole with Chicken
Ready In: 35 minutes
Serves: 4
Cuisine: American
Method: Stewing, Searing
Course: Main/Weeknight
Calories: 1668kcal per serving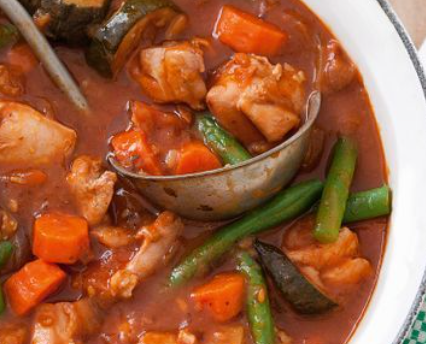 Baking the dish is the norm among casseroles with chicken and casseroles in general. However, you could also do a stewed casserole just as done in this recipe. Some will say it is not a real casserole. Well, the jury remains out.
Nonetheless, this dish contains an assortment of vegetables namely potatoes, carrots, zucchini, and green beans. Chicken thighs and bacon rashers will be the meat part of the casserole.
The chicken pieces are first seared in hot oil until they are browned on both sides before they are left to simmer at a later stage in the recipe. By the time the dish is ready to serve it will resemble an appetizing stewed chicken casserole that can be served with bread, for example. This is a quick and easy recipe to make suitable for weeknights.
---
11. Mexican Chicken Casserole
Ready In: 35 minutes
Serves: 10
Cuisine: Mexican/American
Method: Bake
Course: Main/Weeknight
Calories: 334kcal per serving
Carbs: 15g  per serving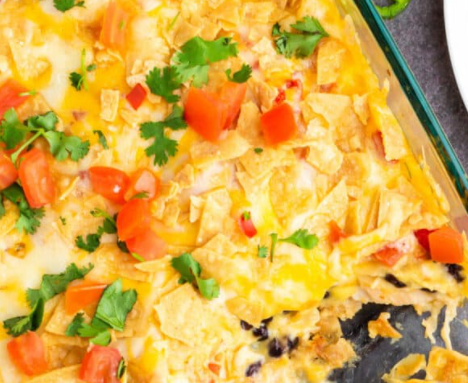 This recipe produces a classic Mexican casserole dish suitable for any weeknight dinner. It uses cooked boneless and skinless diced chicken which can be leftovers or store-bought rotisserie chicken. At the bottom of the casserole dish first to be layered are tortilla chips followed by the chicken. 
Tortillas can also be easily substituted with Doritos. Other ingredients going into the recipe are ground cumin, black beans, tomatoes, cilantro, and Jalapeños. Pimento peppers could be used in place of Jalapeños.  Once all the ingredients are layered in, the casserole dish is shoved into the oven to bake for some 25 to 30 minutes and served hot.
---
12. One-pot Italian Chicken Casserole
Ready In: 35 minutes
Serves: 4
Cuisine: Italian
Method: Fry/Simmer
Course: Main/Weeknight
Calories: 563kcal per serving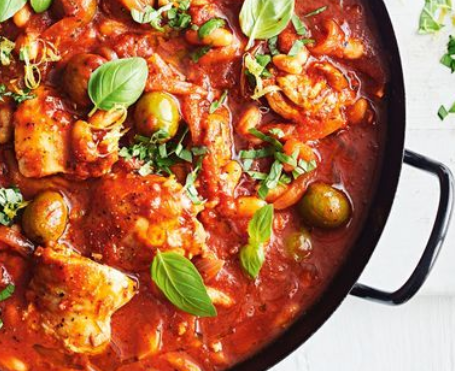 This is yet another stewed casserole dish made using chicken thigh fillets. This time around, this stewed casserole produces an Italian one-pot chicken stew casserole anchored in some of the most flavorful ingredients in the culinary world. 
Apart from the chicken, also going into the recipe are fennel seeds, fresh basil leaves, Coles Cannellini Beans, extra-virgin oil, red onions, and Sicilian green olives. Once ready, this dish can be frozen for up to 3 months in an airtight container. This makes this recipe a good choice for long-term cooked food storage.
---
13. Sausage Casserole with Chicken
Ready In: 1hr.
Serves: 4
Cuisine: American
Method: Boil, Simmer
Calories: 282kcal per serving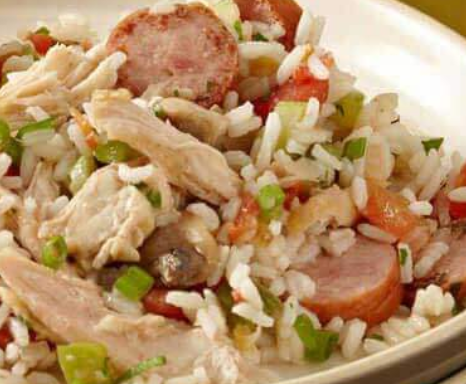 For all the casseroles with chicken considered in this collection thus far, this is the first to combine sausage and chicken. The delicious recipe utilizes chicken thighs and pre-cooked smoked turkey sausage. You could use any type of sausage here if you so wish. 
Whereas other chicken casserole recipes use boneless and skinless chicken up-front, this recipe introduces the chicken thighs in the cooking pot whole. However, at the finalization stage before serving, the thighs will be shredded. This is a complete meal that includes rice in the same pot. Other ingredients are green pepper, fresh parsley, mushrooms, and Worcestershire sauce. Altogether there are 13 ingredients that go into this casserole dish. For more sausage recipes we recommend our collection on Recipes with Italian Sausage.
---
14. Baked Chicken Breast Casserole
Ready In: 1hr.
Serves: 4
Cuisine: American
Method: Bake
Calories: 304kcal per serving
Carbs: 14g per serving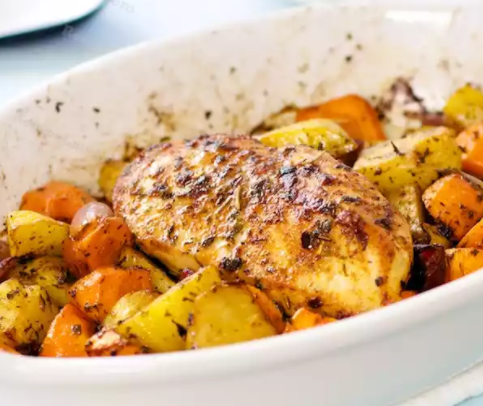 This is a scrumptious 13 ingredient casserole with chicken that turns out a complete meal. The dish has potatoes for the starch component while the chicken breast delivers the protein. These are two main ingredients. A viable twist to this recipe is adding sweet potatoes to the regular potatoes or replacing the regular potatoes with sweet potatoes.
The rest of the other ingredients in this recipe bring flavor and other goodness to the dish. Included are carrots, rosemary leaves, paprika, garlic powder, cayenne pepper, and thyme. One strong point about this chicken casserole dish is that just about all the ingredients involved are usually familiar stock ingredients available in many home kitchens at any given time. This is a huge plus.
---
15. Smoked Paprika Casserole with Chicken
Ready In: 1hr. 15 minutes
Serves: 4
Cuisine: American
Method: Bake
Calories: 264kcal per serving
Carbs: 25.1g per serving
Other: Gluten-free, Dairy-free, Paleo
Last but by no means least in this collection of casseroles with chicken dishes is this smoked paprika chicken casserole. This tasty and very popular dish delivers a smoked paprika chicken stew. There is no baking involved in this recipe.
This is another stew casserole made with boneless and skinless chicken thighs. Also going into this recipe is a fair deal of vegetables which include zucchini, carrots, peppers, and tomatoes. There are three ways to have this recipe done – stovetop, instant pot, or slow cooker.
Any of the three methods will produce a scrumptious stew casserole that is also suitable for freezing. There are a lot of options for serving this dish. It can be paired with regular mashed potatoes, sweet potato mash, pasta, or long-grain rice among others. 
---
There is more that could be done with chicken in an easy and simple way. For more ideas involving chicken, we recommend this Recipes with Chicken collection.
Conclusion
As the foregoing collection shows, there is a wide variety of casseroles with chicken recipes that are easy to make and that produce scrumptious results. Chicken casseroles always provide an opportunity to use leftover chicken with also an option to use store-bought cooked chicken where leftovers are not available.
Furthermore, chicken casseroles also tend to come with a good range of flavors. As such, they do not easily become monotonous as there are so many variations to try out at any given time.
Finally, most casseroles with chicken are complete meals due to the inclusion of rice or potatoes in one pot. This makes them ideal filling weeknight meals of choice to feed the whole family with less clean-up.
Random But Good Reads:-