500g chicken necks
2 tomatoes, chopped
1 small onion, chopped
1 carrot, cubed
3/4 tsp salt
1/2 tsp curry powder
1 tbsp tomato soup powder
Oil for frying
Chicken is one of the meats that we eat a lot here in Zimbabwe. For some individuals, everything is consumed including the neck, feet and insides. This is one of the ways in which people have their chicken necks; stewed. It's pretty simple, like chicken stew and beef stew. If you want to try them out in a different way, you can check how I did them here.
Quick Instructions
With your chicken necks (500 g), tomatoes (2 tomatoes, chopped), onions(1 small onion, chopped) and carrots (1 carrot, cubed) ready, heat oil in pot. Add your necks, season with salt (3/4 tsp) and fry until they are browned.
As soon as the necks are browning up, add the carrots and fry for about a minute. Add the onions, curry powder (1/2 tsp) and saute for 2 minutes. Add tomatoes and cook for about 2minutes. Mix soup powder (1 tbsp) with a little water and pour into the pot. Let this simmer for 3 minutes and your chicken necks stew is ready.
Pictorial Detailed Instructions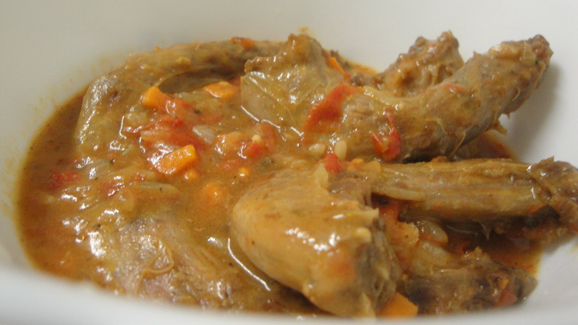 You can enjoy your chicken neck stew with some flavoured sadza and a crispy leafy green vegetable. Go ahead and try it and let me know how it goes.