500g fat free mince
1 small onion, chopped
3 cloves garlic, minced
3/4 tsp salt
1 1/2 tsp dried/ fresh basil
1 can tinned tomatoes
1 small fresh tomato, chopped
2 tbsp sugar
1 tsp soy sauce
oil for frying
As with the rest of the recipes on this blog, this mince is absolutely simple and totally delicious 🙂 You can serve it with anything really from with bread at breakfast or with mashed potato, spaghetti or any pasta for that matter and rice even. I used this in the baked butternut cups recipe, it was yum and everybody loved it.
Quick Instructions
Have your ingredients ready. Heat oil in pan/ pot. Season mince (500 g) with salt (3/4 tsp) and basil (1 1/2 tsp) and add it together with the garlic (3 cloves, minced) to the pan.  Fry until the mince begins to brown. Add onions (1 small, chopped) and fry for about 2 minutes. Add fresh tomatoes (1 small, chopped) and green pepper (1/4 large, chopped).
Stir and cook for about 3 minutes. De-glaze the pan as you go if need be with a little water or red wine. Add the tinned tomatoes (1 can) and stir. Cover pan/ pot and let this simmer for 5 minutes. After 5 minutes, add sugar (2 tbsp) and soy sauce (1 tsp), stir again and do the final gentle simmer for another 5 minutes with the pan/pot covered.  Taste for seasoning and adjust accordingly. And you're done, enjoy!
Pictorial Detailed Instructions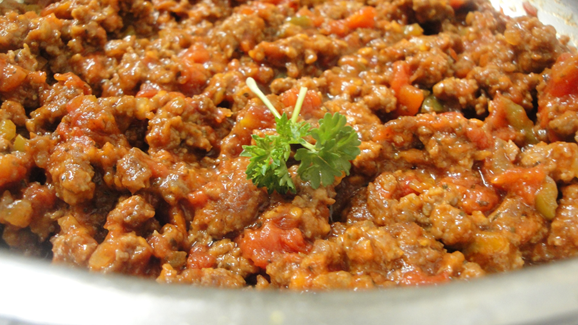 [sp-form formid=7711]
So that's all there is to this simple but delicious mince. When you do try it, please remember to come back and let me know how it went! Are you getting my recipe alerts by email? If not join my mailing list here so you get all new recipe notifications.