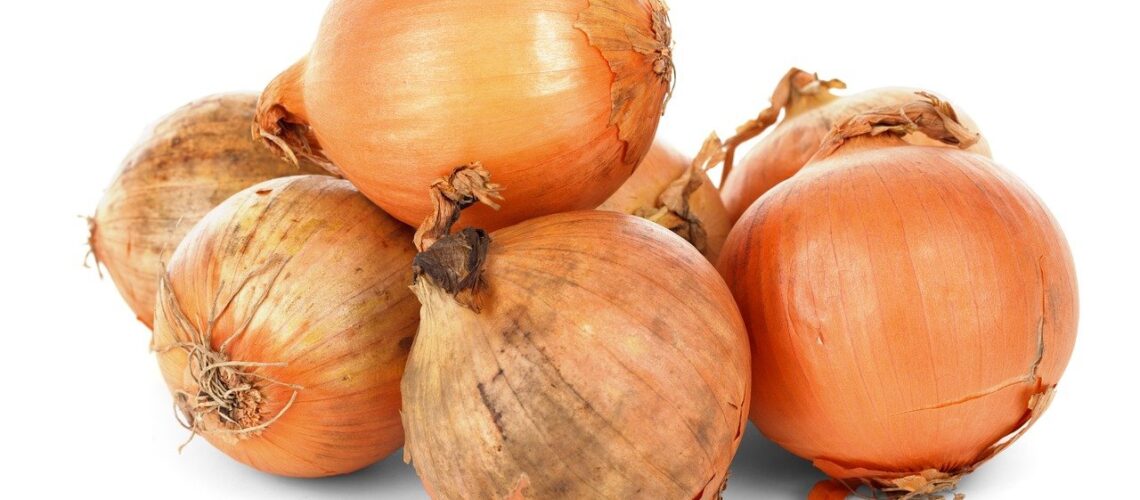 Maui onion is a sweet specialty onion variety that is grown in the unique, volcanic soils of Maui island in Hawaii. The onion is raised in soils that have very little to no sulfur in them resulting in a very sweet tasting onion when mature. The Maui onion is used cooked or raw in salads, grills, baking, rings, sauces and more. Maui onions are sometimes referred to as Kula onions or Kula sweet onions. Related sweet onions to Maui are reproduced elsewhere in the world under similar growing conditions as those in Hawaii.
What are Maui Onions?
The Maui onion is a sweet and pungent free onion variety specifically grown on the Hawaiian island of Maui in the Pacific Ocean. The onion is the equivalent of Vidalia onions which were first grown in the 1940s near Vidalia, Georgia in the United States. 
Botanically, Maui onion shares with other regular onions in the species Allium cepa and is a member of the amaryllis family (Amaryllidaceae). Historically, Maui sweet onions have been cultivated on the volcanic slopes of Mt. Haleakalā. Geographical sources confirm that 75% of Maui Island is constituted by Haleakalā, has red soils and cool weather, elements that promote the production of Maui sweet onion.
Granex Hybrid
The onion cultivar behind Maui onions is Granex, a hybrid onion variety. According to the University of Texas Extension, Granex is an F1 hybrid seed variety that was developed by USDA and the University and released in 1952.
Maui onion is particularly special in taste and flavor owing to the conditions in which it is grown. The limited sulfur content in the soils of Maui island is responsible for producing this pungent free onion. Most soils around the world have sulfur in them and by default produce onions that have a burn and pungent odor (see growing section).
How it works is that onions absorb the sulfur in the soil in a complex chemical process that produces compounds which serve as effective repellents against insects and pests. Where there is no sulfur, the onion cannot produce the pungent burn. Behind the scenes, this is how sweet onions such as the Maui onions are derived. The volcanic soils in Hawaii create the perfect conditions for sweet onions. A few more places in the world that produce similar types of onion are Vidalia, Georgia and Texas where there is the Texas sweet onion.
Authentic Maui Onion
In Hawaii, Maui Onion is commonly grown across most Hawaiian islands due to similarities in growing conditions that produce similarly sweet onions. However, technically speaking, only onions raised on Maui island are considered Maui onions. Thus onions produced on Maui island are true Maui onions in name. On the other hand, onions from other Hawaiian islands are better called "Maui" sweet onions (notice the quotes), Hawaiian sweet onions or simply sweet onions. These together with those grown outside of Hawaii are not considered authentic Maui onions.
Maui Onion Characteristics
The following is a summary of Maui sweet onion characteristics.
| | |
| --- | --- |
| Item | Description |
| Botanic Name | Allium cepa |
| Family Name | Amaryllis family |
| Common name | Maui Onion, Maui Sweet Onion, Kula Onion, Maui Kula Onion |
| Other Names | Vidalia Onion, Texas Onion, Texas Sweet Onion |
| Hybrid Names | Granex, Yellow Granex, Texas Grano, Superex Hybrid |
| Onion Sizes | Small to medium in size |
| Onion shapes | Globular, elongated, stout shaped, deep flat, round, large |
| Color | Light yellow to brown |
| Flavor | Very sweet, succulent, mild |
| Applications | Salads, sautéing, grilling, baking, steaming, rings, sauces, broiling, frying |
| Nutrition | Vitamins B6, pyridoxine (B6), manganese, phosphorus, potassium, folate, vitamin C |
| Days to Maturity | 120 – 160 days |
| Diseases | White rot, Pink rot, Purple blotch, Fusarium basal rot/basal rot, Downy mildew etc. |
Maui Onion Festival
Kula onions, as the onions are also known, have a significant place in Hawaiian culinary culture. The onions are celebrated under the Maui Onion Festival which is hosted in a village on the Maui island itself. The festival is dedicated to promoting the cultivation and continued visibility of Maui onion internationally. The event which began in 1990 has been running for over 30 years attracting thousands of local and international visitors each year.  Activities during the festival include recipe competitions and raw onion eating contests. 
Maui Onion Recipes
List of Recipes
Just about the only application of Maui sweet onion is culinary in nature. The sweet flavor of the onion opens many doors for culinary uses compared to regular pungent rich onions. The following is a list of scrumptious recipes that use Maui onions. Even in situations where original Maui onions are not accessible, other sweet onion varieties can easily be used in these recipes as alternatives.
Caramelized Maui Onion Dip Recipe – This recipe requires two Maui onions or their sweet onion alternatives.
Also required is olive oil, buttermilk, sour cream and kosher salt. This recipe takes 30 minutes to make and produces a very tasty dip for potato chips. The dip will require at least 60 minutes of chilling before serving. View Recipe.
Maui Onion Dressing Recipe – This next recipe requires a good blender and calls for ½ a cup of chopped Maui Kula onion or other sweet onion such as Vidalia onions. This tasty recipe serves 16 and takes only 10 minutes to make. Making the recipe involves combining certain ingredients on the list and blending them until smooth. The dressing is first chilled and then served with leafy greens such as loose leaf lettuce.  View Recipe.
Grilled Sweet Maui Kula Onions – This is a grilling recipe of the sweet onions which is done in 25 minutes. The recipe serves one but can be doubled or tripled to serve correspondingly many. The recipe requires one medium onion, which is cut into strips, seasoned and let to sit for some 10 minutes to first draw out the juices before cooking. This produces a well caramelized onion. View Recipe.

Pickled Maui Sweet Onions Recipe – If you wondered how to pickle Maui Kula onion, this recipe makes it so much doable. It takes 30 minutes to get the job done and the pickled onions will be refrigerated for up to 4 days before use. 1 pound or 450 grams Maui onions will be required for this recipe. Other ingredients will include cucumber, peppers and vinegar. What you get in the end are succulent pickled Maui onions. View Recipe.

Chicken Kebas with Sweet Onion – Finally, this recipe shows step-by-step how to make succulent kebab sticks using a combination of flavor balancing ingredients. One of them is a medium size sweet onion. The recipe produces 24 sticks and takes only 20 minutes to make. The kebab sticks are soaked in water for 30 minute before use to prevent them burning in the oven. Serve the kebabs as finger food at a party or event with many people. View Recipe.
Kitchen Onion Accessories
Below are some suggested very useful kitchen equipment that can be used with sweet onion or any type of onion in general.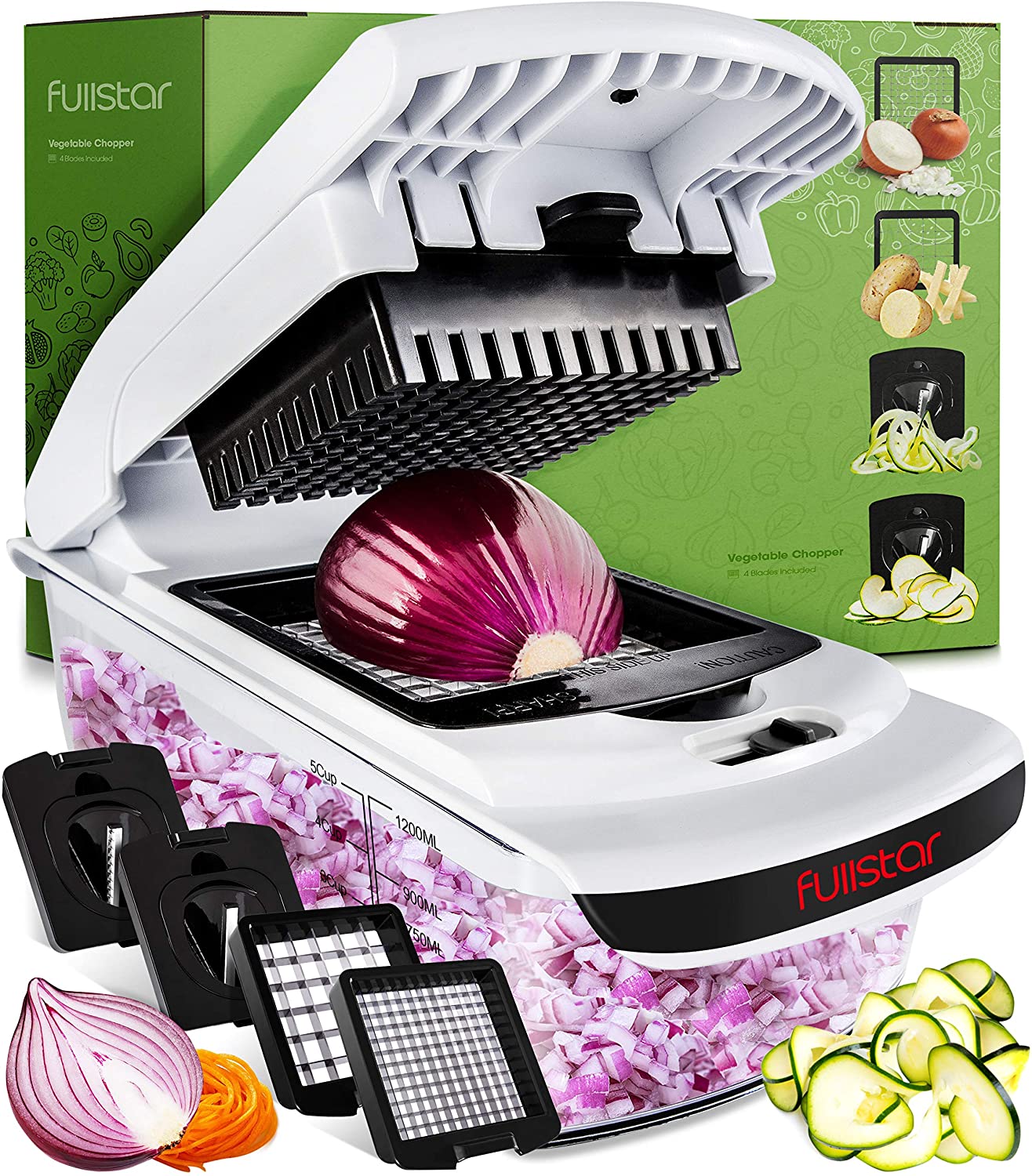 Onion Chopper
See on Amazon

This device is a handy onion chopper to use in the kitchen. It can chop your different kinds of onions without having to deal afterwards with the odors on your fingers. Furthermore, the gadget reduces recipe preparation times significantly by cutting time on the slicing. It is also designed to chop other vegetable types such as cucumbers by switching the provided blades.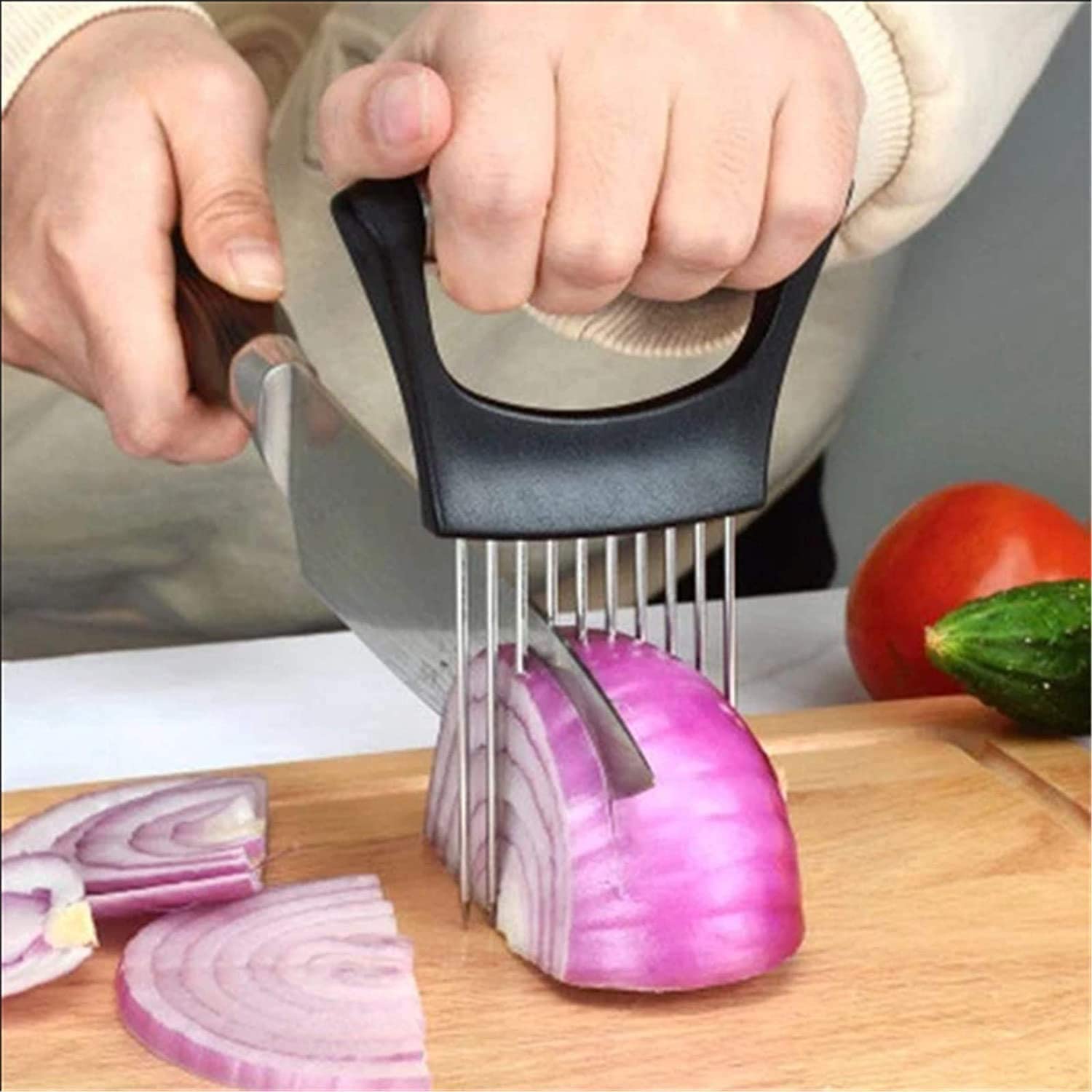 Onion Holder Slicer
See on Amazon

This is an onion holder slicer. A simple but very handy concept when you wish to slice onions without making direct contact with the onion itself. The device has 10 stainless steel prongs to pierce the onion and hold it sturdily in place whilst slicing. This kitchen accessory can also be used on fruits such as lemons and also on meats such as beef, chicken and pork.
Maui Onion Seeds 
As earlier mentioned, depending on soil conditions, it is possible to grow onions elsewhere that mimic Maui onions in taste and flavor. For example, outside of Hawaii places such as Georgia, Florida, Texas and Mexico can produce sweet onions. Before purchasing any sweet onion seed, we recommend this article by University of Georgia Extension Service, which explains in detail how onion seeds work.
The following is a list of sweet onion sources available online.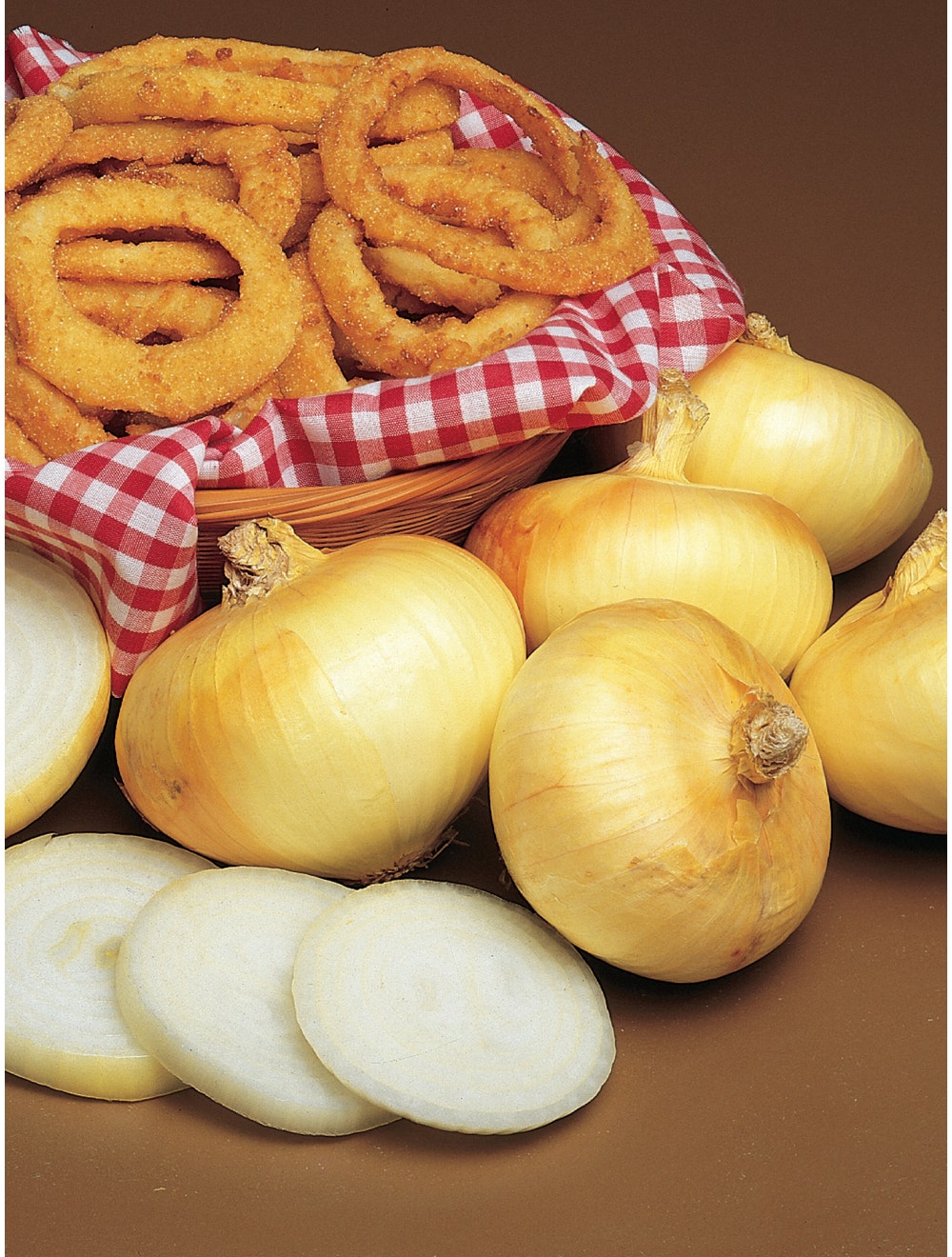 Granex Yellow Hybrid from Burpee
Try Burpee

These seeds by Burpee out of the United States, produce very sweet Vidalia onions. The seed gives 3 to 5 inches (7.5 to 12cm) wide onion bulbs that are ready for harvest in 120 to 160 days.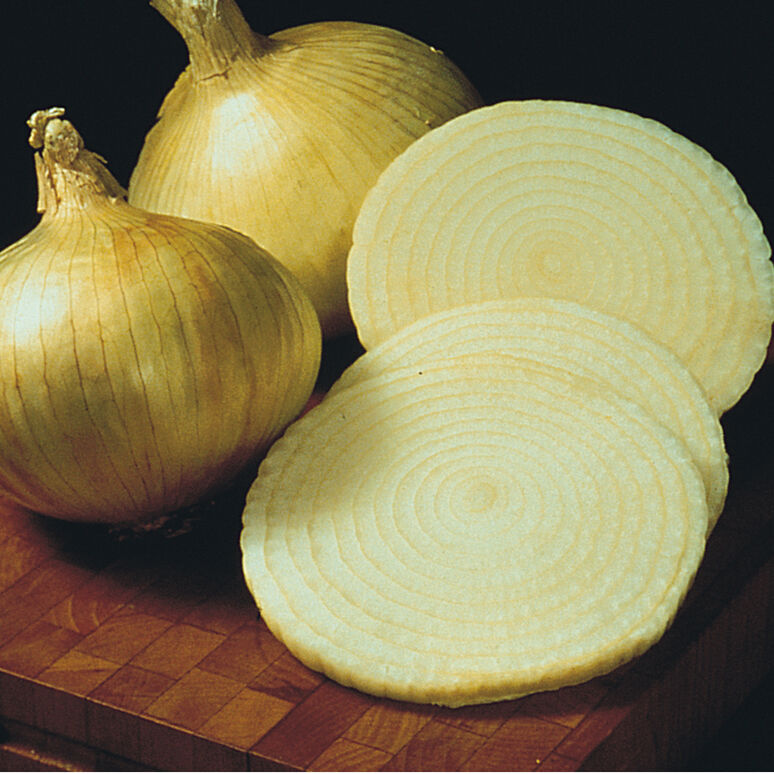 Yellow Granex Plants
Try Johnny Seeds

This Granex F1 hybrid variety of onions are sweet onions sold as ready plants and NOT seeds. This is an alternative to buying seeds with an advantage on time. Instead of waiting for seeds to germinate, you simply go and plant the seedlings in the garden. The plant seedlings are sold in batches averaging 50–60 plants each. They have 140 days to maturity after they are put in the soil.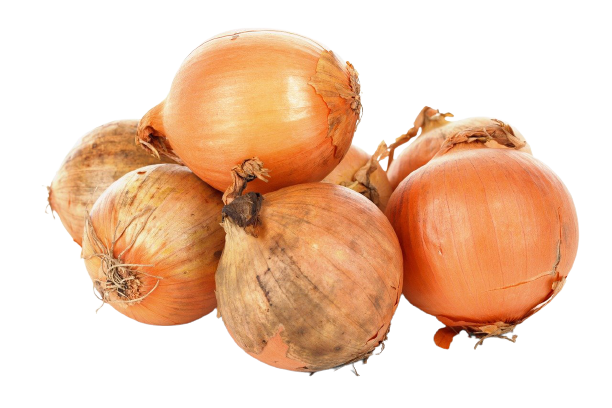 Yellow Granex Onions
Try Reimer Seeds

These sweet onion F1 hybrid seeds are sold by Reimer Seeds and produce sweet extra-large onions similar to Vidalia onions as grown in Georgia. The short-day seeds are sold in packets starting at 100 seeds each. They have an 85% germination rate and require 85 days to reach maturity.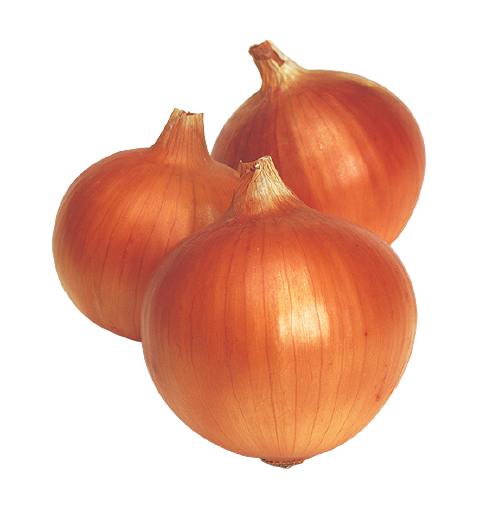 Superex Hybrid Onion
Try KitazawaSeed Co.

These seeds produce sweet onions in the mold of Maui onion or Vidalia. The onions have a globe shape, brown-looking peppery skin. They have a sweet flavor. In addition, they are a short-day variety which grows through winter months. Each packet of Superex has up to 155 seeds which are ready for harvest in 160 days
Growing Maui Onion
Growing Maui onions is generally similar in all other aspects to growing regular onions. The following is a brief insight on how it works.
Sulfur and Maui Onions
As earlier indicated, sulfur is the primary compound which causes pungency in onions. Onions cultivated for sweet flavor are grown in soils with very little sulfur. According to the College of Tropical Agriculture at the University of Hawaii at Manoa, sweet onions grown in Central America for international standards of sweet onions are grown in soils that have sulfur levels not exceeding 18 parts per million (ppm). This reinforces the importance of low soil sulfur levels for best sweet onions.
Furthermore, the University identifies a few elements insightful to sweet onion gardeners that influence pungency in onions. 
1. Higher temperatures – Onions are cool weather crops. Higher temperatures trigger increased sulfur intake in onions which in turn increases pungency. For example, 90°F (32°C) temperatures during bulbing will cause twice as much pungency in the onion compared to 50°F (10°C) temperatures.
2. Dry growth conditions – Pungency of onions is associated with dry matter concentration. Three main carbs or sugars that contribute to onion sweetness are sucrose, fructose, and glucose. When dry matter concentration is as low as 8%, these sugars give a sweet taste perception to the onion. As dry matter concentration increases, these sugars give an increased starchy taste to the onion resulting, though other processes, in increased pungency. The take home is that adequate soil moisture contributes to lower dry matter concentration by "diluting concentrations of flavor precursors".
3. High nitrogen application – Although sulfur is the most important cause of pungency in onions, high nitrogen levels are also thought to influence the burn in onions.
4. Onion cultivar matters – Finally, not all onion cultivars are sweet onion varieties. To stand a better chance of producing sweet onions, the correct variety must be cultivated. See seeds section above for available onion varieties that produce Maui onion kind of sweetness. Also to keep in mind is that harvest timing affects pungency.  The crop must be harvested when mature, which permits all the important chemical and biological processes to complete.
Sweet Onion Requirements
As earlier mentioned, in order to grow anything closer to the true Maui onion, specific growing conditions similar to those in Kula, Maui must be met. The above list from the University of Hawaii at Manoa is instructive. The primary condition is that the soil must have very little sulfur. This is the kind of soil that produces sweet onions. 
There are places on the planet that have these soil conditions. Examples already mentioned include Georgia, Florida and Mexico. There will be a need to verify if your soil promotes sweet onion cultivation.
General Onion Requirements
Overall, regardless of cultivar, onions are cool weather crops. They perform much better in winter than they would do in summer. When the weather conditions are not right, sweet onions may fail to fill out i.e. bulb properly. They may also go to seed early by bolting or may exhibit some form of stress reaction due to unfavorable weather conditions or climate.
The soils for growing sweet onions must be fertile and well draining. Furthermore, onion plants can be started from seed or from nursery seedlings which gives the crop a head start on the season. Over and above this, soil must be maintained moist without weeds.
Sweet onions are ready to harvest when the tops start collapsing and the shoulders of the bulbs are visibly exposed above the soil. For more on this, we recommend this article on growing onions in home gardens by the  University of Minnesota Extension
Conclusion
Maui onion is a sweet specialty onion variety raised in Hawaii. On the island itself, Maui sweet onion is technically those onions cultivated on the Maui island. Maui sweet onion is, however, mimicked by other sweet onion varieties that grow in other parts of the world in similar prerequisite conditions as Maui onion itself. The sweet onion is used in a wide range of culinary preparations such as salads, sauces and sautéed dishes.