4 Servings
~ 2 hrs 15 min
1 kg pork trotters (mazondo)
3 whole cloves garlic
500 ml water
1 tsp fresh whole ginger bulb
1 tsp salt
3 tbsp white vinegar
2 large tomatoes, chopped
1/2 bunch leafy green veg
1/2 medium onion, chopped
1 tbsp pure vegetable oil
Goes without saying… this is one of my favourite trotters recipe yet. It's fairly quick  (considering that these are trotters) and flavours are just amazing! Second helping where asked for and plates where wiped clean… that only means one thing- DELICIOUS! If you are pork lover in general, why not also try out these recipes with pork chops.
Resources/Equipment You Will Need
Good sized pot
Chopping board
Sharp knife
Wooden spoon
Teaspoon
Measuring jug
Quick Instructions
Put your trotters and water in pot. Add salt, garlic and ginger. Close pot and bring to the boil.
Reduce heat, add vinegar and simmer gently, slowly  on low heat until they are tender and cooked through (too about 1hr 45-2 hrs on my stove top).
Drain excess, if any, into a cup and reserve some of it for the stew.
Increase heat to medium-high. Add oil to the pot. Add your onions and fry for about a minute. Add your tomatoes. Reduce heat and simmer gently for about 3 minutes.
Take the set aside stock (the water you drained earlier). Add a bit of it, enough to make a soup consistency you'll be content with. Close pot and let this simmer for 5 min, stirring occasionally.
After 5 min, add your chopped green veg. Stir gently and simmer for another 5 min or until your veg is cooked (but be careful not to overcook it).
Your trotters stew with muriwo is ready! Enjoy!
Pictorial Detailed Instructions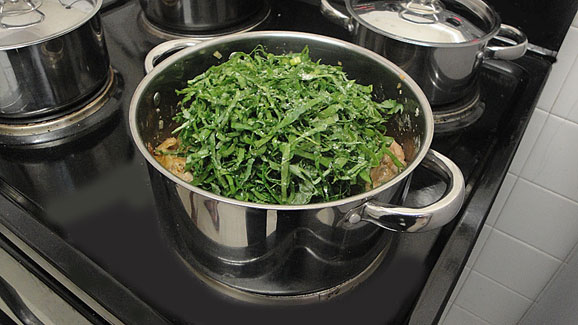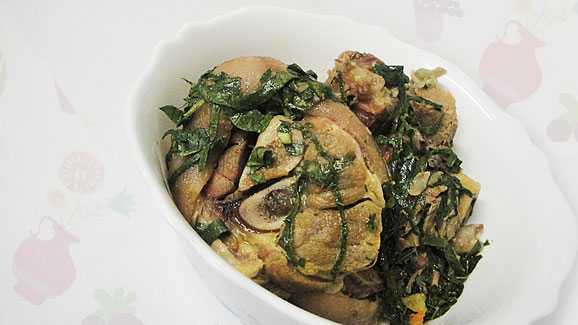 As the caption says, this is best served with piping hot sadza. Try it out and let me know how you find it!