50g dried kapents
1 medium onion, chopped
2 large tomatoes, chopped
1/2 tsp curry powder
1 tsp garlic, minced
2 tsp tomato paste
Water
2 tbsp spring onion greens, chopped
2 tbsp oil for frying
Matemba (kapenta), are one of our traditional Zimbabwean foods. It had been a while since I had them (about a year or so), so I thoroughly enjoyed this. So did my family. This here is a slightly modified recipe from the traditional version, equally delicious all the same! You can serve this with sadza and leafy greens or cabbage even. We'll dive right into it…
Get this
Bowl
Frying pan
Chopping board
Sharp knife
Teaspoon
Do this
Get your ingredients together. These include; 250g dried kapents
1 medium onion, chopped
2 large tomatoes, chopped
1/2 tsp curry powder
1 tsp garlic, minced
2 tsp tomato paste
Water
2 tbsp spring onion greens, chopped
2 tbsp oil for frying
Soak your kapenta in boiling water for about 10 minutes. Make sure they are all immersed in the water. After 10 minutes, drain and pat dry your kapenta. Heat oil in pan and add the kapenta.
Fry until browned. Remove from pan and set aside.
Add onions and curry powder into the same pan. Fry for about a 2 minutes. Add the tomatoes, garlic and tomato paste. Stir, reduce heat and cover the pot for about 3 minutes to allow the tomatoes to get cooked.
After 5 minutes, add a little of water. You may add soup powder at this point, if using, cover the pot again and let it simmer for another 3 minutes.
Return the kapenta to the pan and simmer for a final 3 minutes, allowing the kapenta to soak in the soup flavour.  Sprinkle some spring onion. Enjoy!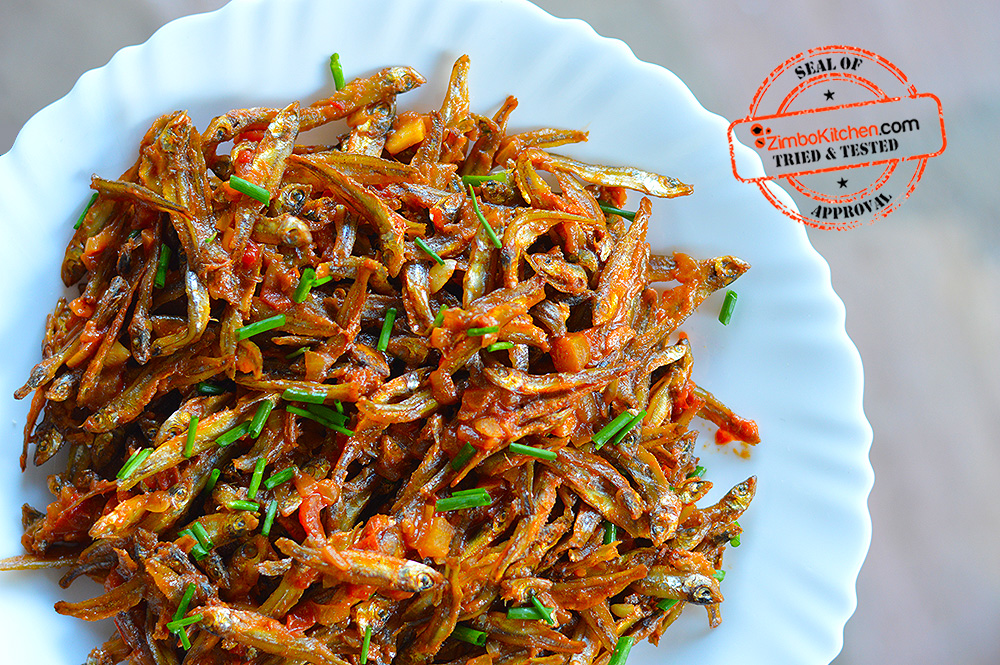 [sp-form formid=7711]