500g Plain Flour
1 tsp salt
2 ½ tbsp pure cooking oil + extra for spreading
350ml cold water
Use this recipe for that lovely looking and tasting spring roll. Once done with the preparation you can use immediately or store in a freezer in a Ziploc plastic bag (or any tightly secure plastic bag) uncooked for later use.
Equipment needed
Mixing bowl
Rolling pin
Teaspoon
Tablespoon
Measuring jug
Measuring scale
Sharp knife
Spring Roll Pastry Instructions
Get your ingredients together namely;

500g Plain Flour
1 tsp salt
2 ½ tbsp pure cooking oil + extra for spreading
350ml cold water

Sift flour and salt into bowl.
Add the oil and rub in the oil using just your fingertips so the oil is evenly distributed.
Make a well in the middle and add the water. Mix until a sticky dough is formed.
Lightly flour your working area. Knead the dough for 5 min. Cover and let it rest for 15 to 20 min.
When resting time has elapsed, using your hands, roll out the dough into a roll (like a Swiss roll, only not as thick.)
Slice the dough into small equal portions. Roll each portion into a small ball about a size smaller than a golf ball.
Take two small balls at a time. Roll them out one at a time into a rough circle using a lightly floured rolling pin. Also ensure that your working area is lightly floured. The rough circles you roll out should be just about the same size.
Spread some oil onto one of the rough circles then join them together. Use your rolling pin to once again roll the two joined circles until slightly thin.
Heat a non-stick pan. Add the thinly rolled out circle. Allow to cook for about 10 sec on each side. Do not overcook the pastry else it will harden and won't be pliable enough to use.
Remove from heat, look for an opening on the pastry sheet and separate the two sheets from each other.
Cover with a dishtowel so they don't dry out.
Repeat steps 7 to 11 until done. Your pastry sheets are now ready to use.
Filling Instructions
Prepare your preferred spring roll filling which could be anything from beef to chicken and vegetables. Set filling aside and allow to cool.
Mix together 1 tbsp plain flour and enough water to make a paste. We will use this as our glue to ensure the spring roll holds its shape. Use your index finger to lightly apply this mixture right around the edges of the pastry sheet.
Take your circle shaped pastry sheet. Put your filling at the bottom, leaving about 2 cm from the edges.
Fold the left and right sides of the pastry to face inside the circle.
Fold the bottom part of the pastry over the filling, covering it completely.
Roll the spring roll all the way to the end until the whole pastry sheet is used up.
Seal the spring roll at the end with the flour and water paste.
Repeat process until all the spring rolls are done. Bake or shallow fry until golden brown. If baking, lightly brush each spring roll with oil, place on lightly greased baking sheet and bake at 180 degrees Celsius in preheat oven. If frying, heat a little oil in pan, fry until golden brown. Enjoy!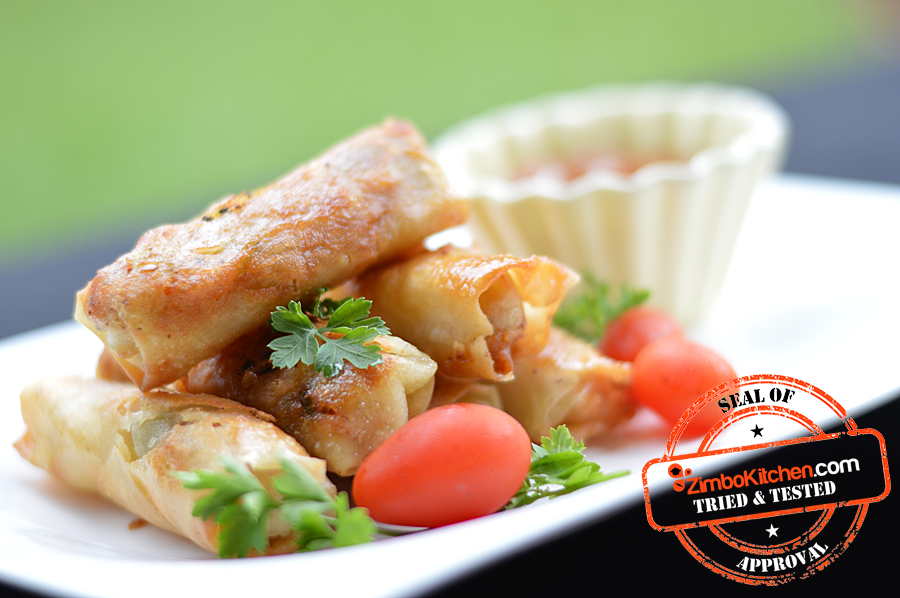 [sp-form formid=7711]