makes 20 - 25 Servings
~ 15-20 min
FOR THE MEATBALLS:
250 g Beef mince
250 g Chicken mince
250 g Pork mince
1 tsp salt
1/2 small onion, chopped
1 tsp garlic and herb seasoning
3 tbsp oats
1 small egg
2 tbsp oil
FOR THE SAUCE:
1 tsp fresh garlic, minced
1 tsp fresh ginger, minced
1/2 cup soy sauce
1/4 cup honey
1/4 cup tomato sauce
1/4 cup water
1/4 cup brown sugar
1 tbsp oil
I absolutely loved this combination of meats. It came out just great. The meatballs were delicious and the sauce just took them a notch higher. Do give them a go, I'm pretty sure they'll be a hit in your kitchen! We'll get straight into it.
BTW…. I took the shots of the finished meatballs myself this time as hubby (who usually takes all images here) was extremely busy! Not bad right 😀
Equipment
Bowl
Chopping board
Sharp knife
Teaspoon
Tablespoon
Baking tray/ Frying pan
Heavy duty foil paper
Instructions
Get your ingredients together. These include; FOR THE MEATBALLS:250 g Beef mince
250 g Chicken mince
250 g Pork mince
1 tsp salt
1/2 small onion, chopped
1 tsp garlic and herb seasoning
3 tbsp oats
1 small egg
2 tbsp oilFOR THE SAUCE:

 

1 tsp fresh garlic, minced
1 tsp fresh ginger, minced
1/2 cup soy sauce
1/4 cup honey
1/4 cup tomato sauce
1/4 cup water
1/4 cup brown sugar
1 tbsp oil

Put all the ingredients for the meatballs into the bowl, save for the cooking oil.
Give a gentle mix until well combined. Take a tablespoonful of the mixture and roll into a ball. Place onto a platter.
Repeat process until all the meatballs are formed. Cover with cling wrap and refrigerate for 30 min so the flavours in the meatballs can marry.
Line baking tray with foil paper, place the meatballs on the tray. Drizzle a little bit of oil on each meatball. Bake at 180 degrees Celsius for 15 min or until golden brown.
In the meantime, prepare the sauce.
Heat 1 tbsp oil in saucepan. Add the remaining garlic and ginger. Fry until aromatic. While garlic and ginger is cooking, mix together soy sauce, honey, tomato sauce and water in a jug.
When garlic and ginger are aromatic, pour the honey and soy mixture into saucepan. Bring to the boil. Add sugar and still. Reduce heat to a gentle simmer and simmer for 3-5 min, stirring occasionally.
Pour some of this sauce over the meatballs. Mix until meatballs are well coated with the sauce. Save the remaining sauce to use as a condiment, basting sauce or marinade  even for another recipe. Enjoy!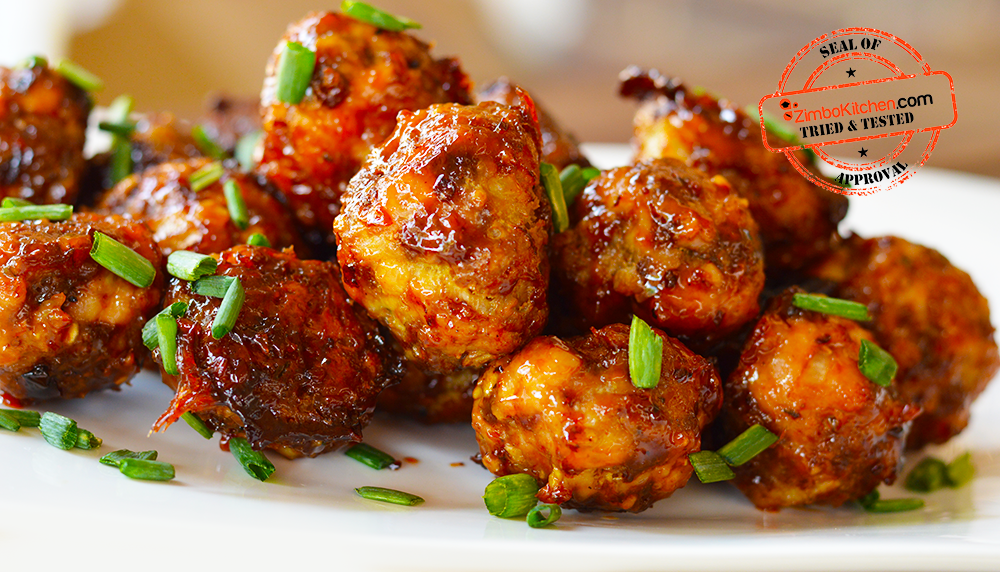 If pork, in general, is your thing, I also recommend this collection of Recipes with Pork Chops.