~ 1 hr 10 minutes
3 medium sized oranges
220g white sugar
220 ml water
200g milk/ dark chocolate
These are pretty awesome. They taste like some candied-citrus chocolates my mum used to buy when we were growing up. I just can't remember the name of those chocs!! I know at first the idea of eating orange peels is certainly one that you wouldn't entertain as they have a sharp citrus-y taste which isn't very pleasant. But trust me, by the time you're done with these babies, you'll be going for more and more and did I say more? Yep, more! Let's get to it then.
Quick Instructions
Get your oranges (3 medium sized oranges) and chocolate (200 g milk/ dark chocolate) ready. Wash the oranges then cut off the ends. Peel the oranges by carefully cutting pieces from one end to the other. Be careful not to cut into the orange flesh as you go. When done, cut the orange peels into strips and put them in a saucepan. Pour boiling water over the orange peels, enough to cover them and leave them in there for 5 minutes then drain. Do this twice. Put the blanched peels in a separate bowl and set aside.
To make the syrup, measure your sugar (220g) and water (220ml). Pour the water and sugar into a saucepan, cover the pot  and bring it to a simmer.
Add the blanched orange peels to the syrup, cover the pot and bring to the boil. Once it has boiled, reduce heat and simmer for 1 hour. After 1 hour, drain the excess water then place the candied orange peels on a cooling rack and allow them to cool.
In the meantime, melt your chocolate. (I prefer doing this in the microwave as it's quicker 😉 You however need to keep an eye on it as you do not want to end up burning the chocolate. If using the stove, place the chocolate in a large bowl and place it on top of boiling water and stir the chocolate until it is completely melted.) When your chocolate has melted, dip each candied orange peel into the chocolate and place on greaseproof paper until it dries up. This usually takes about 5 minutes. And there you have it! Enjoy!!
Pictorial Detailed Instructions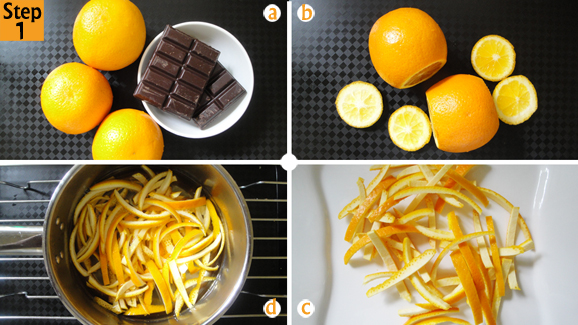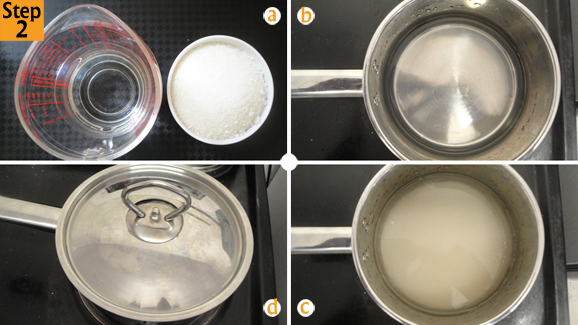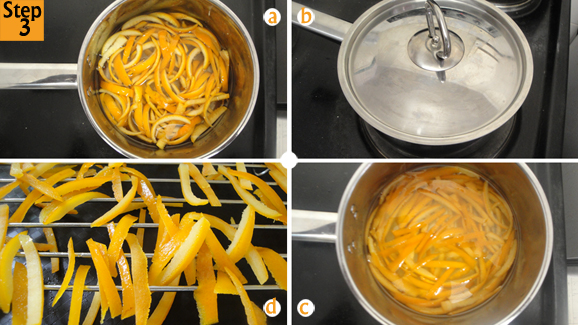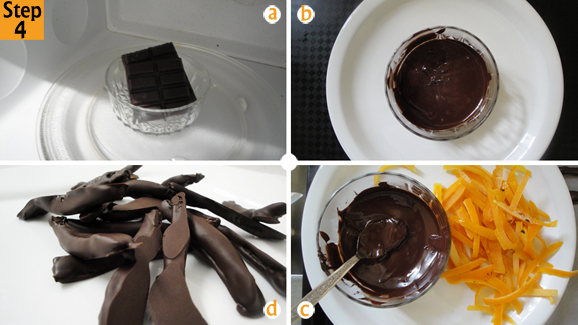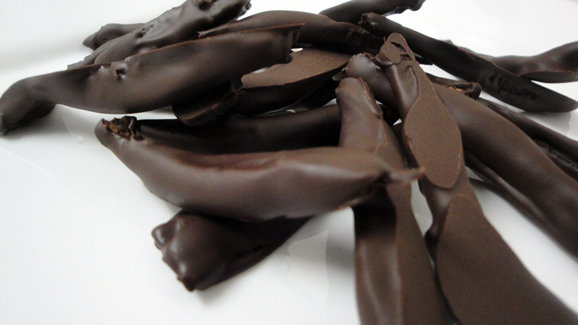 So that's all there is to it. A yummy simple treat to be enjoyed. Well, when it comes to storage, someone said this about these- "store in an airtight container your tummy" 😀 and they are so right! Once you bite into one you'll want another one and another one and another one! Try them and let me know how they go. Are you already a member of my mailing list – ZimboKitchen Today? If not please feel welcome to sign-up here so you can receive new recipes in your inbox when they get published on the blog. Many thanks!