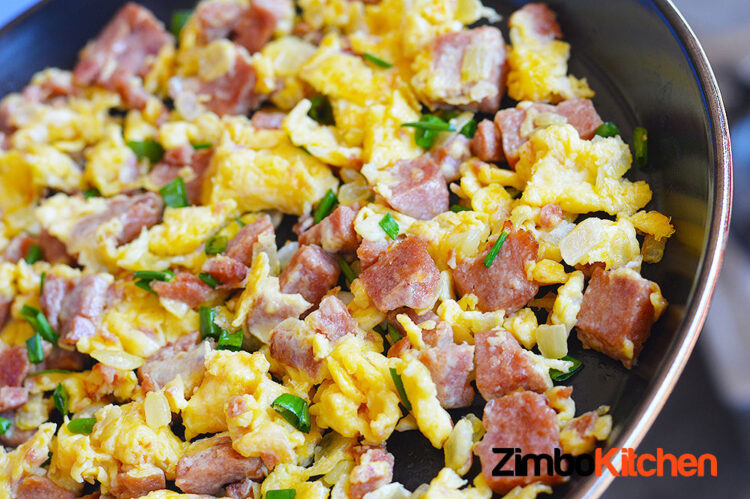 Fried Eggs with Corned Meat
Here is a super simple idea for breakfast. If you wish to have your eggs differently, what you have in this recipe is a quick and easy breakfast variation. Furthermore, this is a protein rich dish thanks to the combination of eggs and corned meat. You are going to feel fuller for longer 🙂
Serve with some bread and baked beans.
Fried Eggs with Corned Meat
Course: Breakfast
Difficulty: Easy
Get This
3 Large eggs, beaten

Half a tin corned meat, chopped

Half medium onion, chopped

1/2 tsp salt

3 tbsp oil


Spring onion tips for garnish (optional)
Do This
Get your ingredients ready. Heat oil in pan, add the onion and fry for 2 to 3 minutes.
Add corned meat and fry for a minute.
Add salt to the egg. Add the egg to the pan and mix gently until the egg is cooked through. Garnish with spring onion tips.
Recipe Video
Recipe Notes
Ham, beef polony, ox tongue can be used in place of corned meat.
You may also garnish with parsley if you wish.
Chopped tomato can also be added after the onion ( at Step 1).