4 Servings
~ 1 hr 15 mins
500g super goat meat
3 lemon rings
3 whole cloves garlic
2 tbsp white wine vinegar
1/2 tsp salt
2 tbsp pure vegetable oil
1/2 small onion, chopped
3 large tomatoes, chopped
Goat meat is one of the popular traditional meats in our Zimbabwean cuisine. You prepare it in pretty much the same way that you would beef. However, I usually prefer boiling it with some garlic, lemon and a bit of vinegar for flavour as well as to prevent the not so pleasant "fragrance" that goat meat sometimes produces when it's being boiled 😀 !!
Resources/Equipment You Will Need
Good sized pot
Wooden spoon
Chopping board
Sharp knife
Quick Instructions
Cut and wash your goat meat (500g). Add enough water to just cover it. Add garlic (3 cloves), lemon (3 rings), dried thyme (2 tsp), salt (1/2 tsp) and white wine vinegar (2 tbsp).
Bring to the boil then reduce heat to medium high and allow it cook until tender.
When meat is tender, discard the lemon. Add pure vegetable oil (2 tbsp). Fry until meat begins to brown.
Add onions (1/2 small, chopped) and sweat them for about 2 minutes. Add tomatoes (3 large, chopped) and cook for about 3 minutes.
Reduce heat further to a gentle simmer and let it simmer for about 3-5 minutes. Your meat is ready.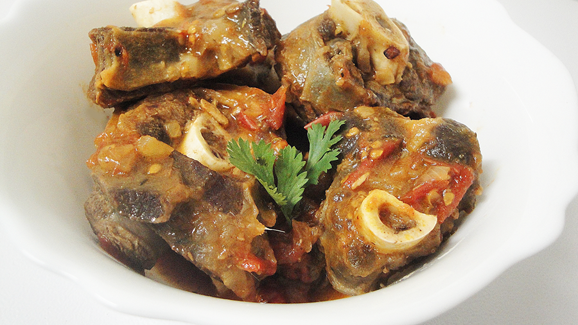 You can enjoy this with Sadza (pap), rice or even mashed potatoes. Do give it a go and let me know how you find it. Are you receiving my recipe alerts? If not sign-up here today.