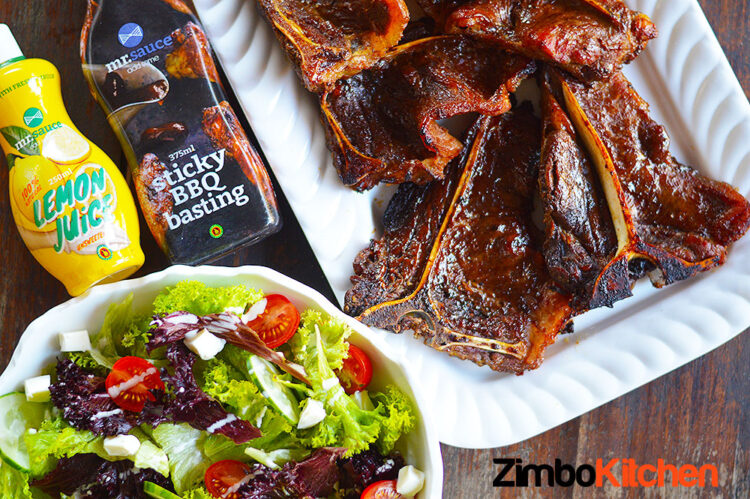 It's been said that simplicity is the ultimate sophistication! This recipe is exactly that- simple, but produces an absolutely delicious t-bone steak. I used just 5 ingredients – Mr Sauce Mustard, Lemon juice, Sticky BBQ sauce, salt, and garlic.
You can either grill this in the oven, fry on the stove top, or do it over a braai and add a smoky element to the steak, yum!
You can serve this with sadza and veggies. Or rice, or potatoes with your preferred accompaniment. Let's dive right into it
Get This
2 kg T-bone steak

2 tsp salt

3 tsp garlic, grated

50 ml Mr Sauce Mustard Sauce

40 ml Mr Sauce Lemon Juice

100 ml Mr Sauce Sticky BBQ Basting
Do This
Get your ingredients together. Season the steak with salt then add the mustard sauce, lemon juice, and garlic. Gently massage the sauces and garlic into the meat. Cover with cling wrap and allow to marinate for a minimum of 2hrs.
After marinating time, preheat oven to 180 degrees and lightly oil your oven tray. Add the steaks and grill for 15 minutes.
Using a brush, baste some of the sticky BBQ basting onto each steak and allow it to grill for 5 minutes. Turn the steaks over and baste again with the basting.
Repeat this process until the steak is done. Enjoy!
(P.S. To baste/basting is when you brush a sauce or marinade on meat while it's cooking for the purpose of adding flavour, plus keeping the meat nice and juicy).