4-5 Servings
~ 30 min
500g Chicken wors (or any sausage of your choice)
500g cooked rice
½ tsp salt
¾ tsp curry powder
½ medium onion, chopped
2 medium carrots, chopped
1/2 cup peas
2 tsp minced garlic
3 tbsp cooking oil
1 tbsp spring onion
1 tbsp soy sauce
So I bumped into a new product as I was doing my shopping – chicken wors! We're all accustomed to Borewors (beef sausage), but this is Chicken wors, as the name implies, chicken sausage. My family and I were pleasantly surprised… it tasted quite good. I decided to make some fried rice and add it to the meal, nom nom.
Equipment
Wok or Frying pan
Wooden spoon
Chopping board
Sharp knife
Teaspoon
Instructions
Get ingredients together. These include; 500g Chicken wors (or any sausage of your choice)
500g cooked rice
½ tsp salt
¾ tsp curry powder
½ medium onion, chopped
2 medium carrots, chopped
1/2 cup peas
2 tsp minced garlic
3 tbsp cooking oil
1 tbsp spring onion
1 tbsp soy sauce
Put the sausage in the grill at 180 degrees Celsius until done (about 15-20 min). When cooked, allow sausage to rest for about 10 minutes before slicing it into bite-size pieces.
Heat oil in pan. Add the onion and curry powder. Fry until translucent. Add the garlic and carrots. Fry for 2 minutes then add the sausage and stir.
Immediately add the rice and soy sauce. Stir until everything is evenly combined. Allow to cook for another 5 or so minutes, stirring regularly. Sprinkle the spring onion ends just before serving. Enjoy!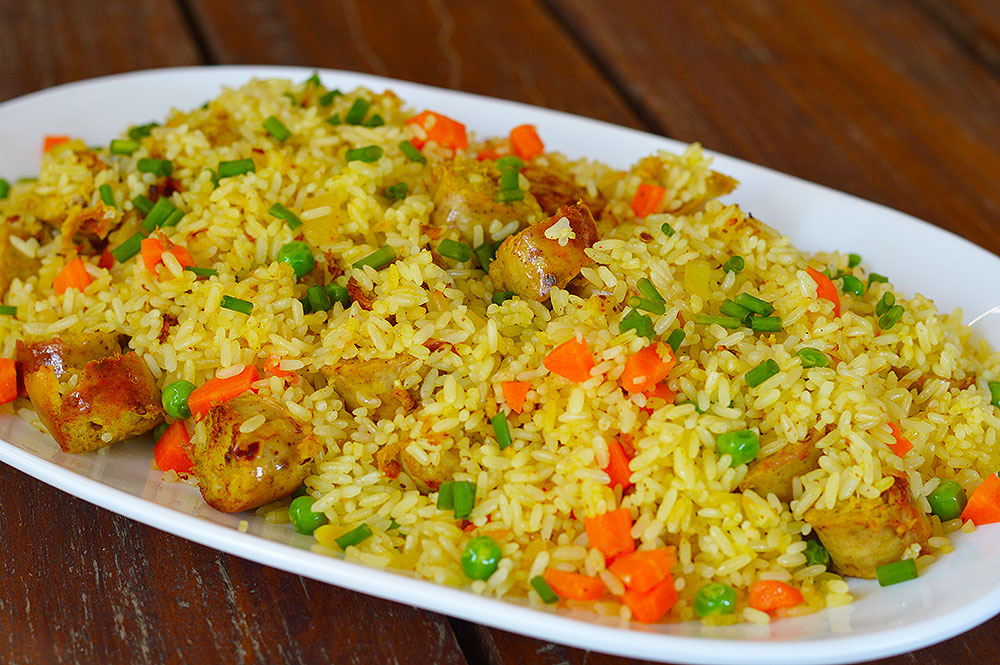 There is more to do with chicken. I recommend this collection of casseroles with chicken and chicken salad recipes.