5-6 Servings
~ 35-40 minutes
500g pasta
250g premium bacon
250g mozzarella cheese, grated
200g broccoli
White sauce
4 cloves garlic, chopped
1 medium tomato
1 tsp salt
1 tsp freshly ground black pepper
White wine vinegar
100 fresh milk
100 ml fresh cream
Looking for something different to do with your pasta? Then you have to try this. It's fairly easy to do and very rewarding in terms of taste 🙂 My family and I thoroughly enjoyed this. If you're not a fan of bacon you can use chicken breast instead. You can prepare your pasta shells in the same way that you do macaroni or you may follow the instructions that are on the packet. For your white sauce, click here to learn how to prepare it. You may also use purple broccoli to add some color and also check out pasta recipes with shrimp.
Resources/Equipment You Will Need
3 L casserole dish
Medium sized pot
Colander
Frying pan
Wooden spoon
Slotted spoon
Chopping board
Sharp knife
Teaspoon
Quick Instructions
Get all your ingredients (500g pasta, 250g premium bacon, 250g mozzarella cheese, grated, 200g broccoli; White sauce; 4 cloves garlic, chopped; 1 medium tomato; 1 tsp salt; 1 tsp freshly ground black pepper; White wine vinegar; 100 fresh milk and
100 ml fresh cream) ready. Chop the bacon into small cubes, wash and break off the broccoli into small-medium sized florets, grate the cheese and cut your tomatoes into rings.
Begin to prepare your pasta as you would macaroni. CLICK HERE to learn how to do so. As your pasta is cooking, put chopped bacon in frying pan (without oil as the bacon already contains some and we'll use that for the bacon to get cooked).
Fry on medium heat until bacon begins to brown, de-glazing it with a few drops at a time of white wine vinegar as you go. When the bacon has browned, remove from the pan using your slotted spoon, making sure your straining the bacon fat, leaving it in the pan for the next stage. (At this point your pasta should be just about done, pour it into the colander to drain it and set aside.)
Add the broccoli florets and garlic to the very same pan.
Fry them for about 3 minutes, leaving them a bit crunchy and set aside.
Using the same pot you used for the pasta, prepare your white sauce. CLICK HERE to learn how to prepare white sauce. At this stage, preheat your oven to 180 degrees Celsius/ 350 degrees Fahrenheit/ Gas Mark 5.
When your white sauce is done, take set aside pasta in colander and add it to the white sauce. Combine well and you may completely switch off your stove at this point, the residue heat will work just fine.
Take set aside broccoli and add it to the same pot with pasta. Take half of the set aside bacon and again add it to the pasta. Mix until just combined.
Put your bacon and broccoli pasta in the casserole dish.
Layer three tomato rings on either side of the casserole dish and two tomato rings at the centre as shown in the picture. Take the remaining bacon and sprinkle it in between the spaces. For that extra kick, sprinkle a bit of freshly ground black pepper on top.
As the final topping, sprinkle the grated cheese and lastly combine milk and fresh cream and pour this over the pasta.
Bake for 10- 15 minutes or until the top begins to turn into a lovely golden brown colour and you're done! Enjoy!
Pictorial Detailed Instructions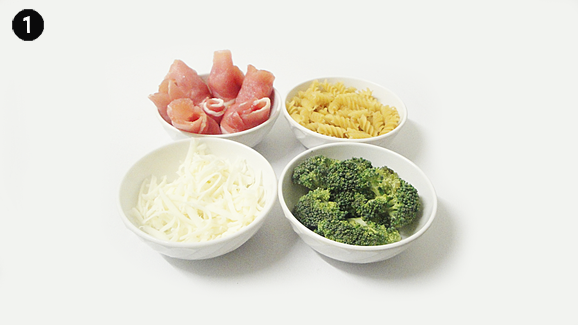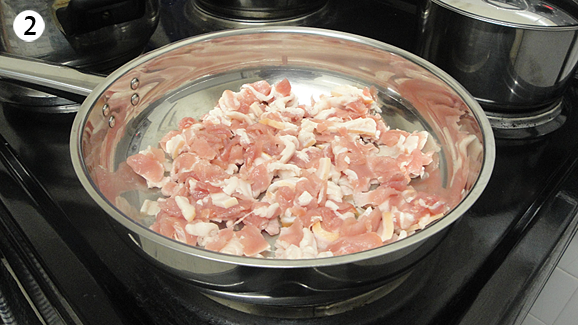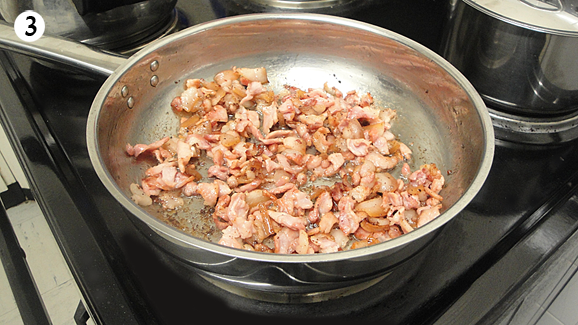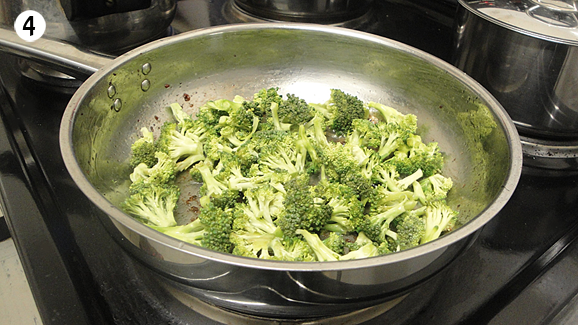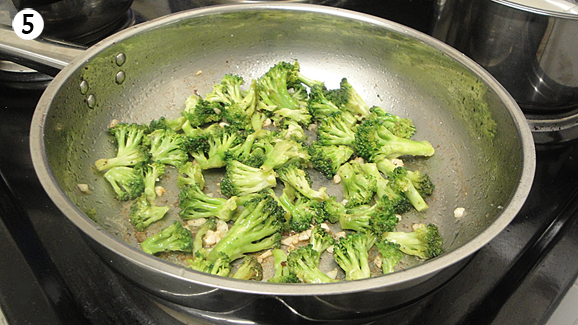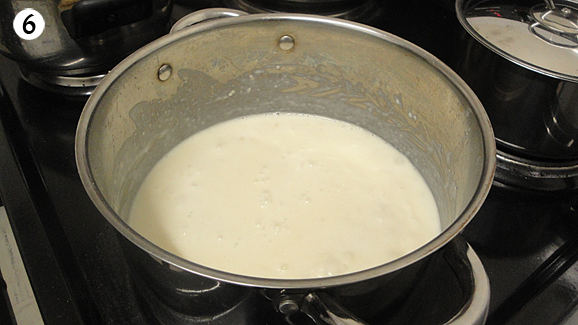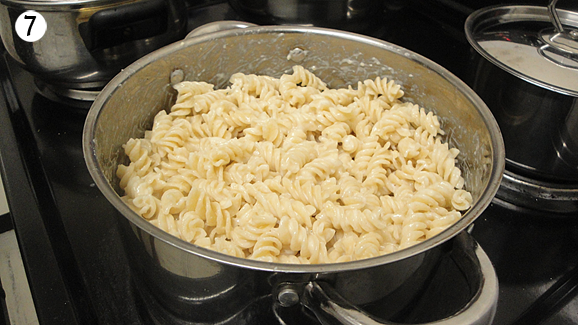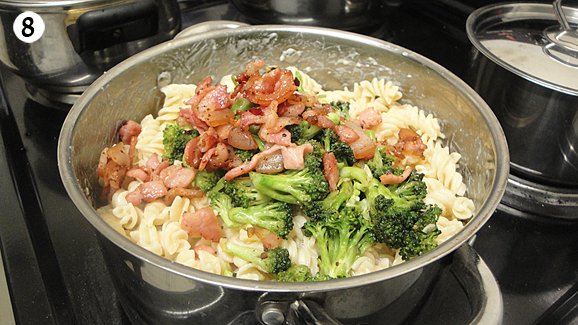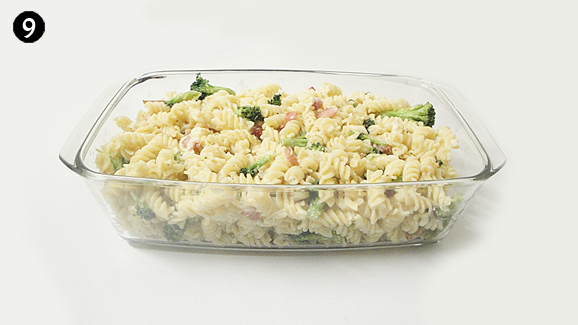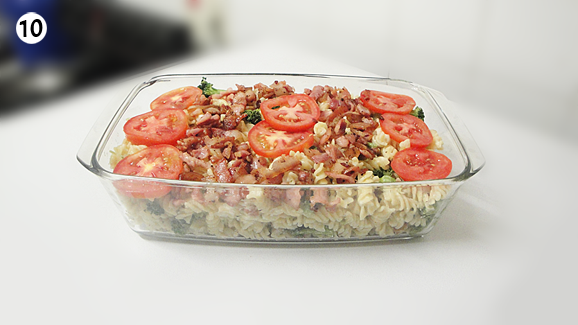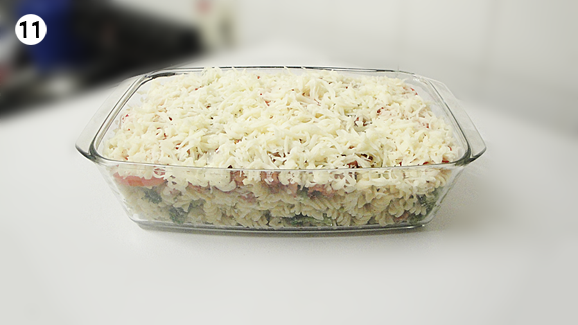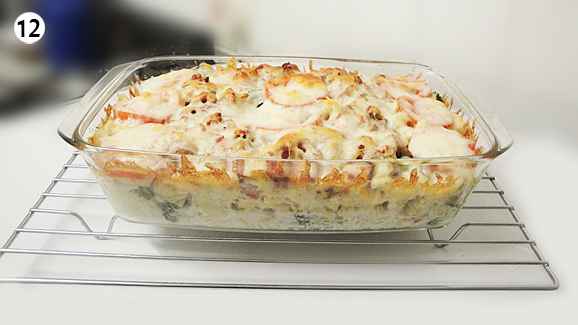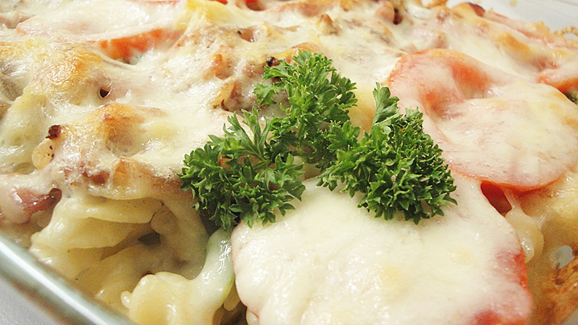 You can serve this with a fresh crispy salad on a summer's night or with butternut bake on a cold winter's night, or just when it's cold, lol! Go ahead and try it out… I know you'll love it!