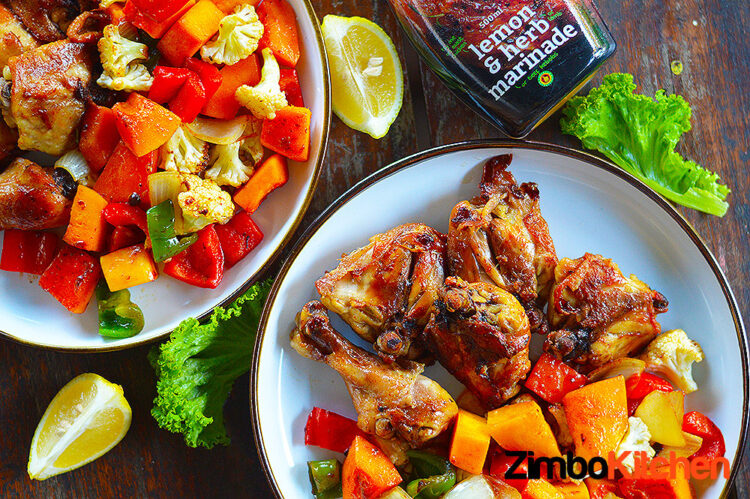 Delectable Lemon 'n Herb Roasts
Well, so for these dishes here I went all out on the Lemon & Herb marinade by Mr Sauce. Cooking a flavourful meal doesn't get simpler than this! So if you want to do the bare minimums in your food preps, and put your feet up, this is for you! If you so wish, you may add some gravy or a sauce and some roast potatoes, or rice. But, it is quite filling as is.
In order for you to get the most out of your marinade, please don't skip the period of marinating. I recommend doing a minimum of 2hrs to marinate if you're pressed on time. But, doing this ahead of time will reward you with a dish that's bursting with flavour, and delicious! For this meal I marinated for 18hrs. You can go for up to 48hrs if you so wish. Let's get down to it.
Get This
1 kg chicken thighs

1 kg drumsticks

500 ml Mr Sauce Lemon & Herb marinade

1 large butternut

1 large onion

1 punnet cauliflower

1 large green pepper

1 large red pepper

2 and 3/4 tsp salt

3 tsp garlic, grated

3 tbsp oil
Do This
Get your ingredients together. Put the chicken into a marinating container. Add 2 tsp salt, garlic and 400 ml of the lemon and herb marinade. Give a good mix, cling wrap and refrigerate for 18 hrs.
Cut the vegetables into random medium sized pieces. Add salt, oil, and 100 ml of the lemon and herb marinade. Marinate for 30 min.
After marinating time for both the meat and mixed veggies, put them in separate oven trays and roast in the oven at 180 degrees Celsius. You may exclude the marinade in the oven tray with the chicken, but include the marinade from the veggies.
The veggies will take about 30 minutes, while the meat will take 40-45 min. Enjoy!