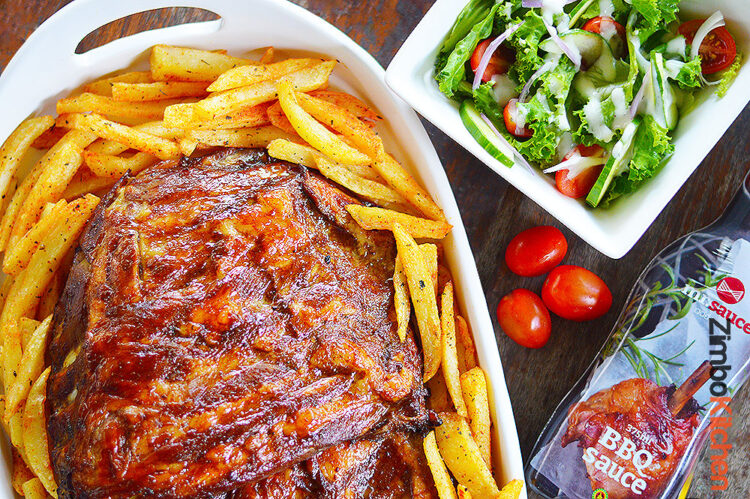 Ribs are always, always a treat! Especially when done right, they will be juicy, falling off the bone, and oh so delicious! That is exactly what this recipe will produce. This time I used BBQ sauce from Mr. Sauce, and the results were fantastic.
You can serve this with some fries, and a salad. Or roasted potatoes, a sauce and salad. And of course, wash it down with your preferred beverage!
Details
Cooking time
1 hr 20 minutes
Get This
1 rack of pork ribs

1 tsp salt

4 whole cloves garlic

750 ml hot water + 1 chicken stock cube

200 ml Mr Sauce BBQ Sauce

50 ml Mr Sauce lemon juice
Do This
Get your ingredients together. Put the water and stock cube into a pot, stir until the stock cube dissolves.
Add the rack of ribs, lemon juice, garlic, and salt. Close pot and bring to the boil. Reduce heat, and gently simmer on medium-low heat for 1 hour.
Remove the ribs from the pot, and place them in an oven tray. Extract the garlic from the pot, and put it in a bowl and mash it. Add the BBQ sauce to the same bowl, and mix.
Brush the ribs generously with 3/4 of the BBQ and garlic sauce on either side. Place into preheat oven and grill at 180 degrees Celsius for 15 min.
Remove the ribs from the oven, and brush them again with the remaining BBQ sauce, and return to the oven for the final 5 minutes or until the ribs are nicely browned and sticky. Enjoy!