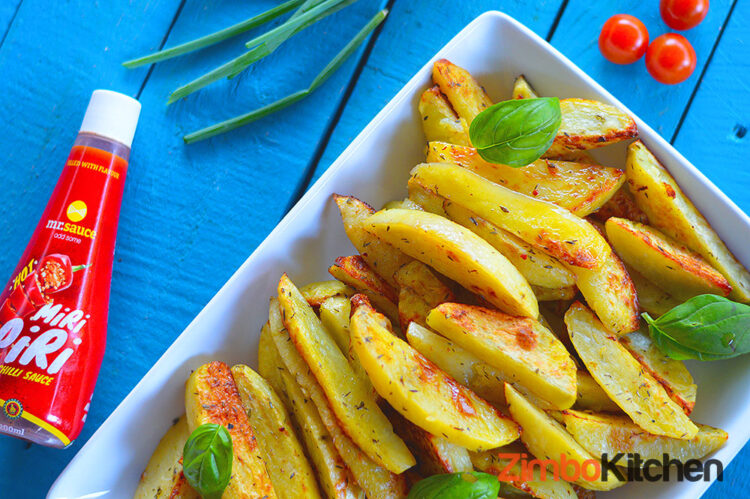 Miri Piri Roasted Potato Wedges
These roasted potatoes are absolutely delicious! Running out of ideas on how else you can do potatoes is not an option! There are just so many ways you can enjoy them and this here is one of them. Simple, but oh so tasty!
This time around I decided to use Mr Sauce's Miri Piri Sauce to add not only flavour, but also a bit of a kick to the dish and it turned out perfectly. How hot you'd like them to be is dependent on how much of the Miri Piri Sauce you use. For this recipe I used just enough to allow even the kids to enjoy the dish as well.
To take the Miri Piri-ness up a notch, you can enjoy these roasted potato wedges with some Miri Piri Roasted Chicken Thighs, a green salad and a drizzle of white sauce of you wish, nom nom! Let's get down to preparing the potatoes.
Get This
8 medium-large potatoes

3-4 tbsp cooking oil

1 tsp salt

1 1/2 tsp dried thyme

3 cloves garlic, grated

3-4 tbsp Mr Sauce Miri Piri Sauce
Do This
Get your ingredients together. Wash and peel the potatoes. Cut them up into wedges by first cutting each potato into half, vertically, then each half into half again creating four thick vertical strips which will be the wedges.
Put the wedges into a bowl. Drizzle the oil onto the potato wedges. Toss them about ensuring each wedge is evenly coated.
Next, season with salt, thyme, garlic and the Mr Sauce Miri Piri Sauce. Give another toss, ensuring even distribution of the seasoning.
 Put potatoes into oven tray and grill at 180 degrees Celsius for 45 min or until golden brown. Enjoy!