3-4 Servings
~ 45 min
1 kg baby potatoes
1 tsp salt
2 tsp dried thyme
2 tsp chopped garlic
3 tbsp vinegar
3 tbsp canola/olive/ pure vegetable oil + extra for greasing oven tray
Baby potatoes are fabulous!! They are especially perfect for that day when you don't feel like standing much in the kitchen and want a quick and tasty meal. Baby potatoes also called new potatoes can be of any potato variety such as White potatoes or Red potatoes. Preparation of these is just 5 min! You can serve them with stewed or roast meat and a salad or just steamed vegetables.
Resources/Equipment You Will Need
Bowl
Chopping board
Sharp knife
Teaspoon
Tablespoon
Oven tray
Heavy-duty foil paper
Quick Instructions
Get your ingredients together; 1 kg baby potatoes; 1 tsp salt; 2 tsp dried thyme; 2 tsp chopped garlic; 3 tbsp vinegar and 3 tbsp canola/olive/ pure vegetable oil + extra for greasing oven tray.
Preheat your oven to 180 degrees Celsius/ Gas Mark 4. Line your oven tray with heavy-duty foil paper and lightly grease it with some oil.
Cut the baby potatoes in half vertically and put them in a bowl. Add the oil and seasoning, i.e. thyme, garlic, vinegar, and salt.
Toss until each potato is evenly coated with the seasoning and oil. Bake in preheated oven for 45 min or until golden brown and potatoes can be pierced easily with a fork or toothpick. Enjoy!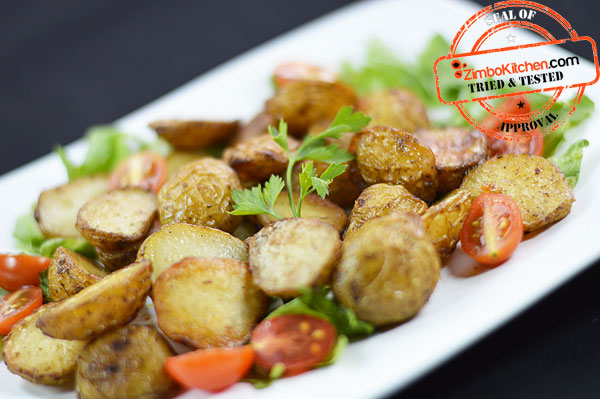 That's all there is to it. Give them a go and let me know how it goes in your kitchen by leaving a comment below. If you wish to use sweet potatoes for health reasons, this is also possible. I suggest these recipes with sweet potatoes.