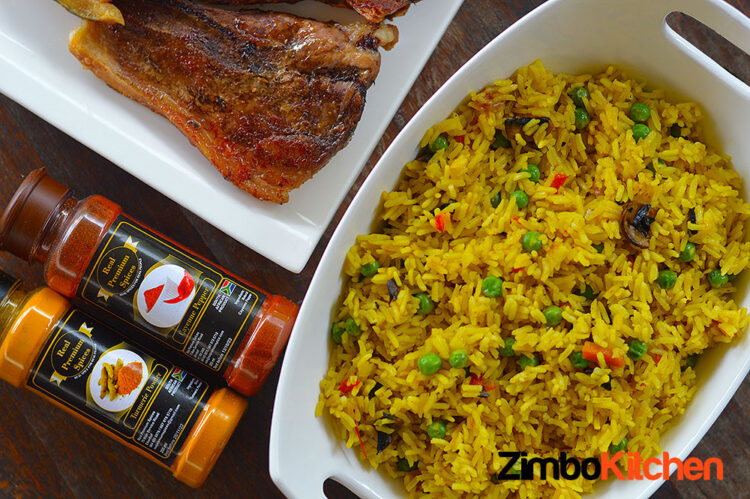 Rice is one of those ingredients that you can get used to preparing in the same way all the time. Here's a simple, and quick recipe you can use for that time when you want to spice things up, pun intended!
I used Real Premium Spices' Mild Curry powder, turmeric, and a touch of cayenne pepper for a little bit of a kick. This dish is pretty mild, and family friendly. If you'd like it to be a bit more hot/spicy, feel free to increase the cayenne pepper and mild curry powder quantities.
You can enjoy this rice with pretty much anything, from stews, to roasts, or stir-fries, and vegetables of your preference.
Details
Cooking time
30 – 40 minutes
Get This
3 cups long grain rice

1/2 small red pepper, chopped

2 tsp garlic, finely chopped

1/2 medium onion, chopped

1 small carrot, chopped

1/2 punnet mushroom, chopped

1/2 punnet fresh peas

5 1/2 cups chicken stock

1 tsp salt

1 tsp Real Premium Spices mild curry powder

1/2 tsp Real Premium Spices turmeric

1/4 tsp Real Premium Spices cayenne pepper

3 tbsp oil
Do This
Get your ingredients together. Put oil in a pot and add garlic, onion, mushroom, carrots, and red pepper. Add all the spices to the same pot, and slowly heat up until fragrant.
Add the rice and mix until it's evenly coated with the spiced oil. Add the chicken stock and bring to the boil.
Reduce heat until the water is finished and the rice is just about cooked. Add the peas and mix with a fork until evenly incorporated. Allow to cook on very low heat for 3 minutes. Taste for seasoning and adjust accordingly. Enjoy!