4 Servings
~ 5 min
Iceberg lettuce
Fancy lettuce
1 carrot
1 tomato
1 apple
1/2 cucumber
1 tbsp olives
1/4 medium red onion (optional)
4 tbsp Lemon juice
2 tbsp pure vegetable oil
1 tbsp white granulated sugar
1/8 tsp Salt
1/4 tsp Freshly ground black pepper
4 tbsp white grape vinegar
I enjoy making salads. They are simply the nutritious, enjoying nature at it's best. They also do not require a lot of labour to prepare! So there should be no excuse. My girls love their veggies and that means salads too so that makes me a happy mummy! Okay, to the recipe now.
Resources/Equipment You Will Need
Bowl
Chopping board
Sharp knife
Quick Instructions
Get all your ingredients ready, these include Iceberg lettuce; Fancy lettuce; 1 carrot; 1 tomato; 1 apple; 1/2 English cucumber; 1 tbsp olives; 1/4 medium red onion (optional); 4 tbsp Lemon juice; 2 tbsp pure vegetable oil; 1/8 tsp Salt; 1/4 tsp Freshly ground black pepper, 1 tbsp white granulated sugar and 4 tbsp white grape vinegar. Wash your vegetables, pat dry or allow them to dry.
Dice your apples into thin wedges. Soak them for 10 min in water that has lemon juice (2tbsp), sugar (1 tbsp) and vinegar (2 tbsp). This is so they do not discolor.
Break your lettuce into smaller pieces and put it in your bowl or serving plate straight..
Break the fancy lettuce into small pieces also and mix with the iceberg lettuce or buttercrunch lettuce.
Peel and dice your carrot and add it to the lettuce.
Next up, add the olives.
Dice your cucumber and add it to the bowl/serving plate. If you're using the red onion now would also be the time to add it.
Finally, add your diced, soaked apples last and give everything a gently mix. For the dressing combine oil (2 tbsp), lemon juice (2 tbsp), freshly ground black pepper and salt. Pour over salad just before serving. Enjoy!
Pictorial Detailed Instructions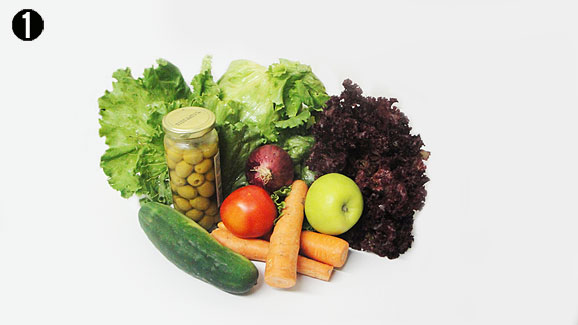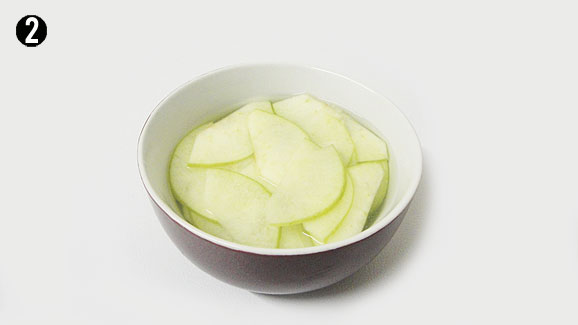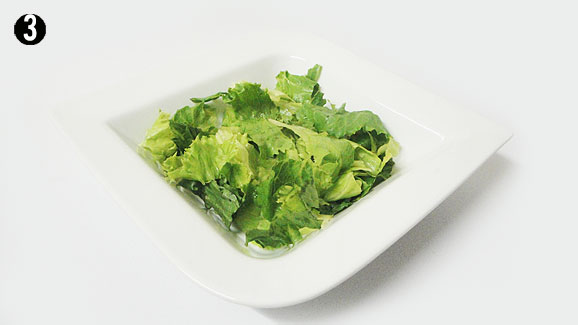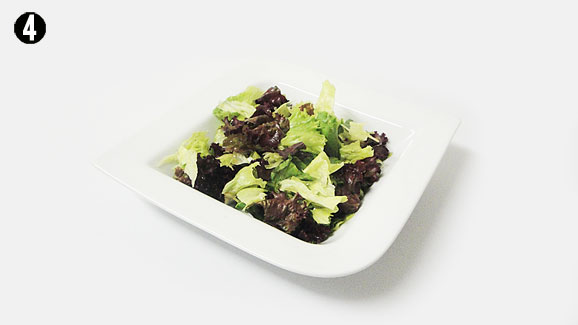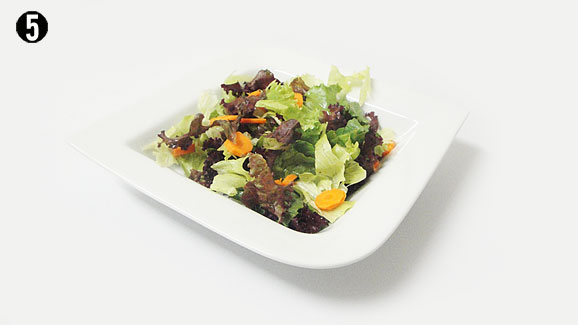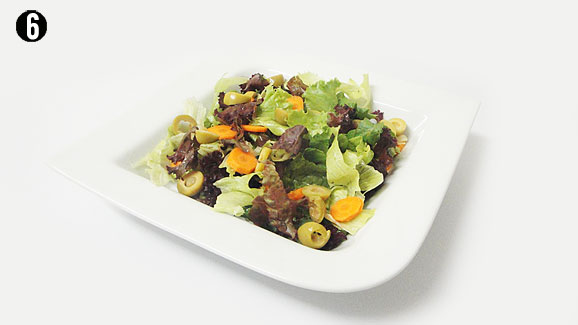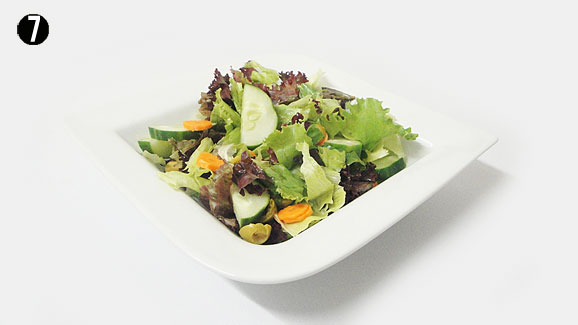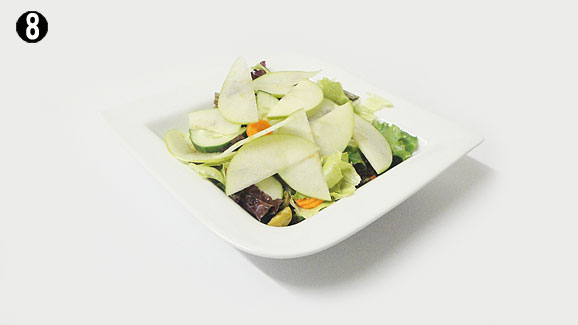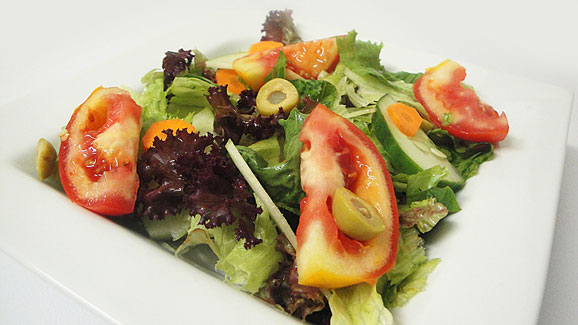 As easy as a,b,c right? Remember to only pour your salad dressing just before serving.  Doing this earlier will put your salad in danger of wilting as well as cause the juice from the tomatoes to run free and that won't look too appetising! You can have this as a side dish or as an appetiser, light lunch or supper. You could also carry it to the office.