3-4 Servings
~ 15 min
6 large lettuce leaves, shredded
1 large tomato, chopped
1/4 small red onion, chopped finely
1/4 mushroom punnet, chopped
2 medium carrots, julienned (cut into strips)
3 rashers of bacon
50g cheddar cheese, cubed
Little oil for frying
I enjoy salads. They add colour to your plate which is good for the visual appeal. They also provide our bodies with the much needed nutrients, vitamins and minerals. This salad is quite easy to make. You may substitute the bacon for tender steak strips which are cooked of course. For more color you can combine green lettuce with purple lettuce.
Resources/Equipment You Will Need
Bowl
Chopping board
Sharp knife
Frying pan
Wooden spoon
Quick Instructions
Get your ingredients ready. These are 6 large lettuce leaves, shredded; 1 large garden picked tomato, chopped; 1/4 small red onion, chopped finely; 1/4 mushroom punnet, chopped; 2 medium carrots,  julienned (cut into strips); 3 rashers of bacon; 50g cheddar cheese, cubed and a little oil for frying. Put a little oil in the pan and fry your bacon until browned and crispy. Use a slotted spoon to put the bacon in a plate, draining the fat. Use the same pan to fry your carrot strips for about 3 min. Put them in the same plate with the bacon. Finally, fry your mushrooms, again in the same pan, for about 3-5 min and set aside.
Put the shredded lettuce into your bowl. Add the tomatoes and red onion.
Add the cubed cheese.
Add the carrots, which by now would have cooled down.
When the bacon has cooled, break it up into bits and add it to the bowl. Add the mushroom and give everything a gentle toss. You may serve it as is with no dressing or you may use this garlic and vinegar salad dressing. Only put it when you're about to serve so the salad does not get soggy.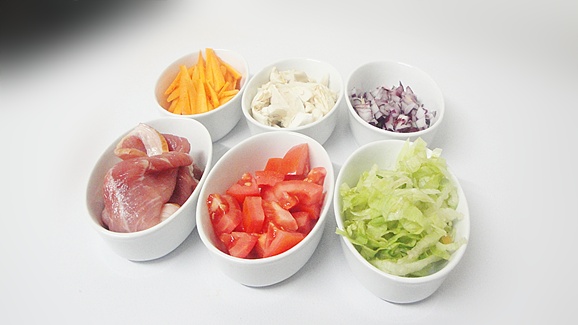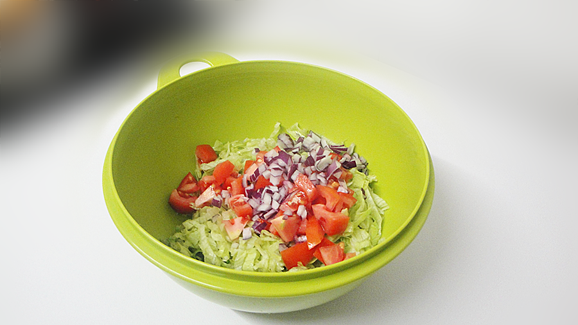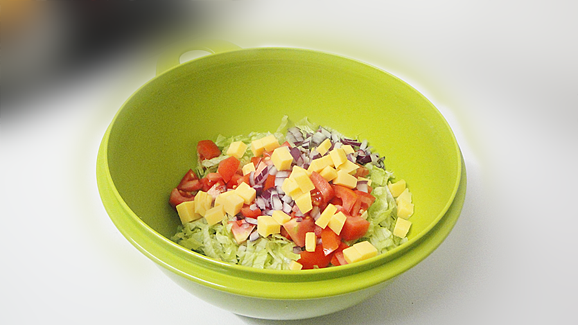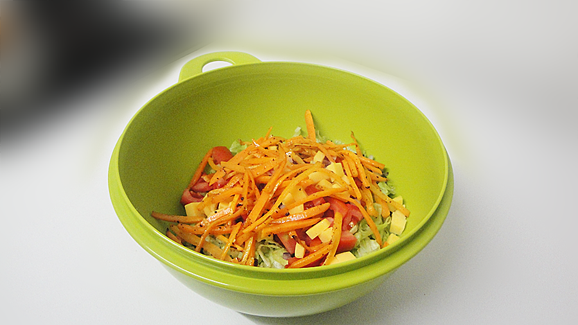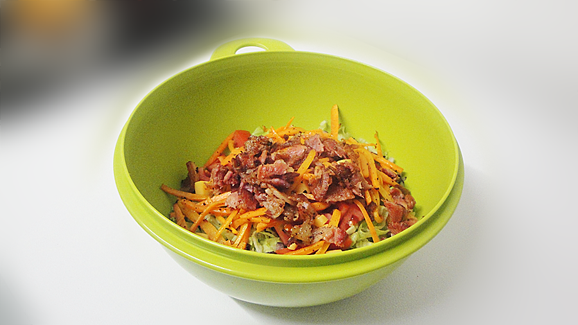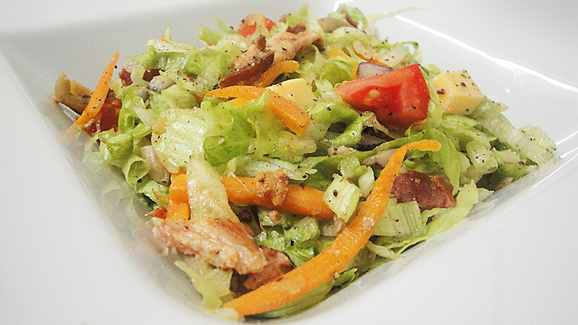 Give it a go and let me know how it turns out in your kitchen.