4-5 Servings
~ 4 hrs 30 min
1 kg pork trotters
600 ml water
2 tbsp Worcestershire Sauce
1 tsp salt
4 whole cloves garlic
4 tbsp tomato sauce
1/2 medium onion, chopped
3 large tomatoes, chopped
Oil for frying
3 tbsp spring onion, finely chopped
1 tsp curry powder
If you've never tried pork trotters for one reason or the other, this here recipe is a must try. Pretty simple and absolutely delish! As usually, second helpings were in order. Enjoy with some Sadza (pap) and your veggies.
Resources/Equipment You Will Need
Good sized pot
Chopping board
Sharp knife
Teaspoon
Instructions
Get your ingredients together. These include 1 kg pork trotters; 600ml water; 2 tbsp Worcestershire Sauce; 1 tsp salt; 4 whole cloves garlic; 4 tbsp tomato sauce; 1/2 medium onion, chopped; 3 large tomatoes, chopped; Oil for frying; 3 tbsp spring onion, finely chopped and 1 tsp curry powder.
Heat oil in pot. Add the pork trotters and salt. Fry until browned.
Add water, Worcestershire sauce and the garlic cloves. Bring to the boil then reduce heat to a gentle simmer.
Simmer until tender and the water is finished. Add onions and curry powder. Fry for 2 min.
Add the tomatoes and lemon juice. Cook until very tender.
Add a little bit of water and tomato sauce. Allow mixture to simmer for a further 10 min on low heat. Sprinkle some spring onion just before serving.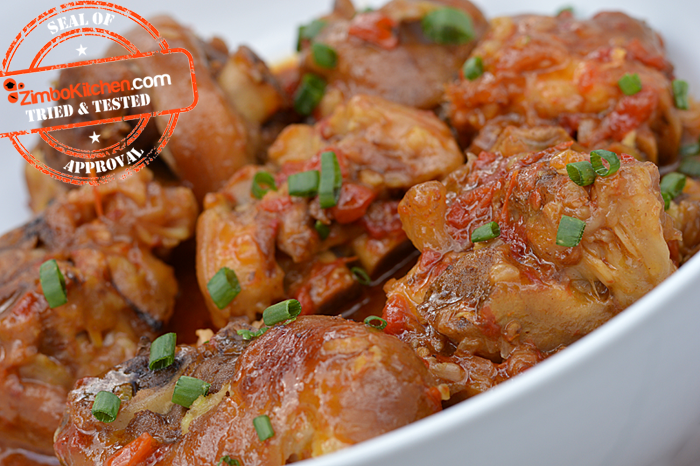 Pretty easy to make right… Do give it a go and let me know how it goes in your kitchen. If you enjoy pork as a whole, why to try out some of these pork recipes.