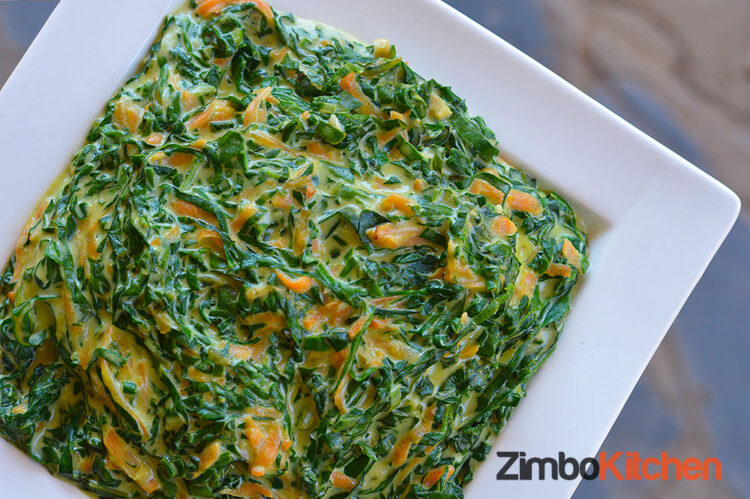 Creamy Spinach with Carrot (Video)
Join me as we make this fabulous Creamy Spinach with Carrot. Whereas creamy veggies usually just come plain, today I am putting a spin to it with carrot. Yum!
This is a super simple dish to make. There is really no need to have your veggies the same regular way every single day.
So this is how it will all go down…we will start by preparing our leafy greens with a bit of precision. We want to take out the stalk right out of the leaf itself. We will have no use for it today.  What remains is what we will cut up nicely avoiding a chunky result.
Behind the scenes I have already prepared some garlic by finely mincing it as well as my carrot by grating it. We won't need too much carrot, just half of a large carrot will do.
Next we put the pot on the stove and start adding all the ingredients. Two of our ingredients will be fresh milk and fresh cream. Combine these on the side and pour into the pot at the appropriate stage.
This is what you will need…
Print
Get This
1 bunch spinach

1 1/2 tsp salt

1 tsp garlic, finely minced

1 tbsp butter

1 tbsp plain flour

100 ml milk

300 ml fresh cream

1/2 large carrot, grated
Serve with roasted potatoes, mashed potatoes, pasta or rice with any roasted meat or dry fried meat…Yum!