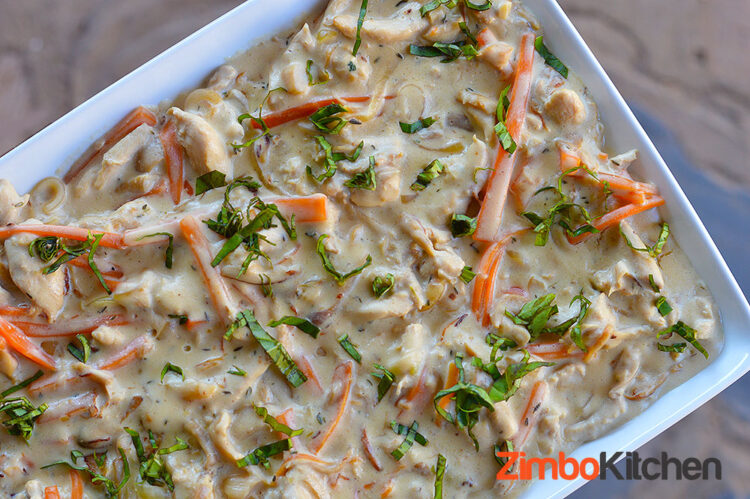 Easy Creamy Chicken & Mushroom (Video)
Join me as we make this super simple yet very tasty Creamy Chicken & Mushroom dish. This dish is so super simple to make you should be amazed.
Chicken is a big part of home dinning in the Zimbabwean context, alright. We simply eat a lot of chicken. Not only do we raise lost of chicken & chicken is probably the least expensive meat at present.
Wouldn't it be nice if you had an extra recipe for doing your chicken.
This recipe is a winner. As a matter of fact, I suspect it shall be your go to recipe for a long time to come.
All the ingredients involved are easy to find…nothing exotic.
So this is how things will go down…We will first start by getting all our ingredients ready. We chop our oyster mushroom followed by some onion, carrots and garlic.
Once these are chopped up, we will then get down to business cutting up our chicken breast into some nice strips.
Next up we shall start the cooking process beginning with the chicken breast itself. Once the chicken is done we shall set it aside and then turn our attention to cooking the vegetables.
We will then return the fried chicken breast to the pot were we already have the vegetables cooking.
On the side, we will then quickly mix our chicken soup powder with some fresh milk and pour into the pot before we add some fresh cream directly in the pot after a bit of stirring.
Finally we shall be adding the carrots last so we don't over cook them so as to preserve some nutrients.
Once our dish is done we shall proceed to serve it garnished with some chopped up nice smelling fresh basil you could also use some nice fresh lettuce.
This dish will go so well with roast potatoes, mashed potatoes, pasta or rice. Yum!.
In addition, feel free to serve it with some vegetables as a side.
So here is what you will need (notice just how simple the ingredients list is…I so love this approach to cooking):-
Print
Get This
1 punnet Oyster mushroom

1 medium onion

1 large carrot

3 cloves garlic

500g chicken breast

1 1/2 tsp salt

3 tbsp cooking oil

1 tsp dried thyme

1 1/2 tbsp cream of chicken soup powder

250 ml fresh milk

250 ml fresh cream/pouring cream
Finally, always taste for seasoning and adjust accordingly at the end of recipe. 1 tsp salt goes into the chicken then remaining half goes into the carrots & Mushroom mix