4-5 Servings
~ 20-30 min
400 g pasta of your choice
500 g chicken breast
2 medium carrots, julienned
Handful green beans, cut in half
1 small onion, sliced
2 tsp garlic, chopped finely
250 g oyster mushroom, julienned
1 tsp salt
1/4 tsp black pepper
1/4 tsp curry powder
350 ml fresh cream
50 ml fresh milk
1 tbsp cream of mushroom powder/ flour
3 tbsp cooking oil
Handful raw cashew nuts (optional)
2 tbsp spring onion, chopped
This one right here can be a "treat yourself" meal if you're watching the calories you're taking in. It's one of my family's favourite meals, especially the children!! It's absolutely delicious and dead easy to make. Nothing complicated about it at all. You may also check out pasta recipes with shrimp. We're just going to dive right into it…
Equipment
Large pot
Large non-stick frying pan
Wooden spoon
Chopping board
Sharp knife
Colander
Teaspoon
Tablespoon
Small Bowl
Instructions
Get your ingredients together. These include; 400 g pasta of your choice
500 g chicken breast
2 medium carrots, julienned
Handful green beans, cut in half
1 small onion, sliced
2 tsp garlic, chopped finely
250 g oyster mushroom, julienned
1 tsp salt
1/4 tsp black pepper
1/4 tsp curry powder
350 ml fresh cream
50 ml fresh milk
1 tbsp cream of mushroom powder/ flour
3 tbsp cooking oil
Handful raw cashew nuts (optional)
2 tbsp spring onion, chopped
Prepare your pasta according to the instructions on the pack, or the normal way you usually do it (making sure it doesn't get over cooked). Drain and set aside.
Heat oil in pan. Add the chicken and garlic. Season with  1/2 tsp salt. Fry for about 10 min or just until the chicken is tender and cooked. Remove from pan, straining any excess oil and set aside.
In the same pan, add your carrots. Fry for 2 mins. Add the green beans, onion and curry powder and again fry for another 2 mins. Finally add your mushroom, 1/2 tsp salt and pepper. Fry again, for 2 mins.
Return the chicken to the pan, and fry for 3 min. In a separate bowl, mix together your cream of mushroom soup powder or flour with the fresh cream and milk.
Pour this mixture into the pan and let in simmer for 3 min. If it seems too thick for your liking, you may add more cream or milk.
Add the cooked and drained pasta to the pan. Mix until the pasta is coated well and everything is mixed together perfectly. Simmer on very low heat for about 3-5 minutes, stirring occasionally.
Sprinkle the cashews and spring onion just before serving. Enjoy!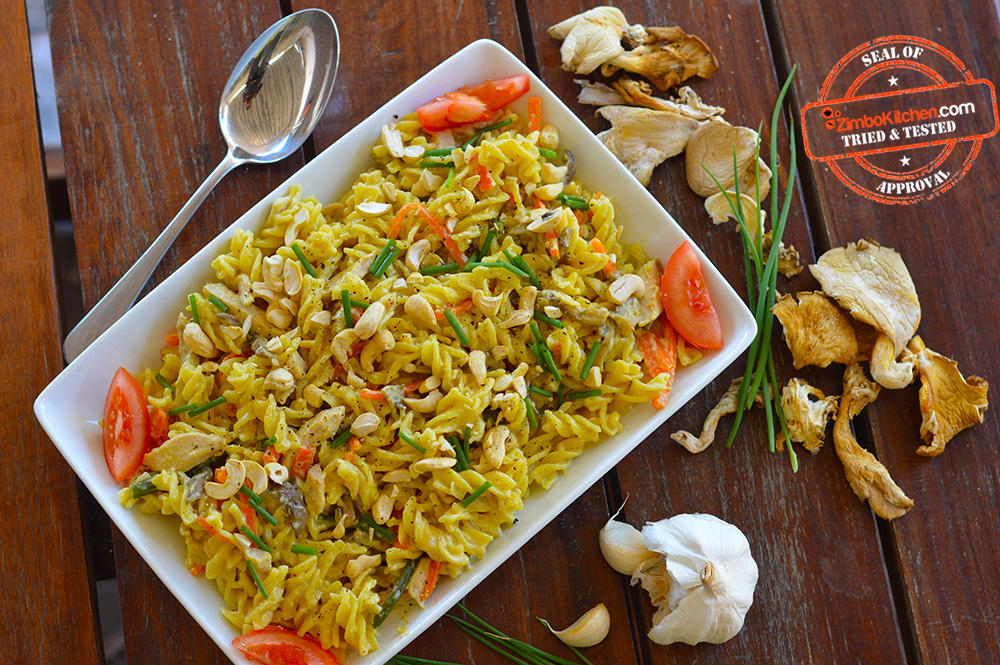 If you enjoyed this recipe, also check out my recommended collection of chicken recipes by other talented home chefs such as casseroles with chicken, salads with chicken and recipes with chicken tenders.