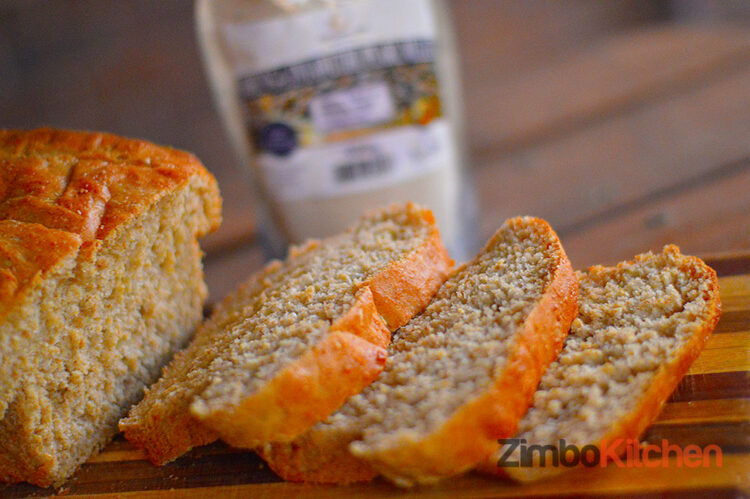 Delicious Whole Wheat Mhunga Bread
This bread is so easy to make and so delicious, not forgetting nutritious too! It takes a bit of time to prepare, but it will all be worth it when the aroma of freshly baked bread fills the house, and you take a bite into the freshly made bread, yum!
I used a combination of brown flour, and The Grain Hub's Mhunga (Pearl Millet). The results were just fantastic. You can read here about the health benefits of mhunga.
Enjoy this bread as is, or with your preferred spread or accompaniments and beverage. Let's get to it…
Details
Servings
Makes a 900 g loaf
Get This
3 cups brown flour

1 cup The Grain Hub Mhunga (Pearl Millet)

1 and 1/2 cup lukewarm water

4 tbsp oil

3 tbsp brown sugar

1 and 1/2 tsp instant yeast

1 tsp salt
Do This
Get your ingredients together. Put flour, pearl millet, yeast, sugar, and salt into a bowl. Whisk until well combined. Make a well in the middle, and add water and oil.
Stir well using a wooden spoon. Mix until dough comes together.
Lightly dust your working area with flour. Turn the dough to your working area and knead for about 10 – 15 min or until it's soft, smooth and elastic. Lightly grease the bowl you were working in with oil. Return the dough to the bowl.
Cover the dough with a damp cloth. This prevents your dough from becoming dry. (I covered it with a wet paper towel first then the dish towel on top).
Place bowl in a warm area for about an hour or until dough doubles in size.
After the dough has doubled, punch the air pocket out of the dough. Grease your loaf tin then place your dough in there, ensuring it fits comfortably.
Again cover with a wet paper towel, cling wrap or dish towel to prevent it from drying out as it proofs for the second time and place in a warm place.(Remember to proof is to rise).
Allow to rise for about 30 min or until the dough has doubled in size. In the meantime, preheat oven to 180 degrees Celsius.
When the bread has about doubled in size, bake in preheat oven for about for 20 – 25 minutes or until the top of the bread is a lovely golden brown colour.
As soon as the buns come out of the oven, brush with melted butter or margarine. Let it cool for about 15 min before attempting to take it out of the tin as you would run the risk of it breaking up on you when it's too hot. Enjoy!