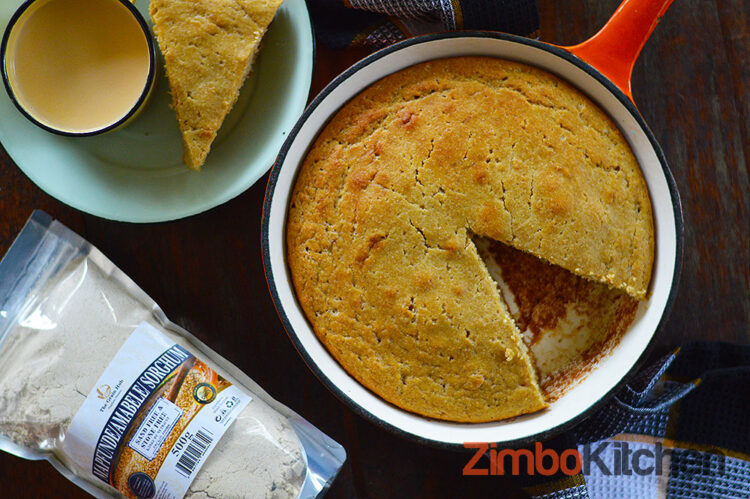 Good old Mupotohayi (Chimodho, Cornmeal bread)
This dish takes many of us way back in time to our childhoods. Where mothers or grandmothers would prepare this for breakfast or even late afternoon to be had with tea hobvu, i.e. rich tea with milk, or just regular black tea if there wasn't any milk, or if it was just one's preference.
Today I'm preparing this mupotohayi (cornmeal bread) using one of our indigenous small grains; sorghum meal (mapfunde, amabele) which is milled by The Grain Hub, a Harare based milling company that set out to create grit free small grains products.
As many of us may already know from experience, most of the hupfu made using small grains contains grit, and this takes away from the enjoyment of eating them. The Grain Hub's promise is that their products from small grains are "Stone Free & Sand Free". I took this to the test, and they did deliver on the promise. This is good news for those of us who wanted to eat the small grains, but struggled with the grit!
So back to the recipe! This cornmeal bread is easy to make, tasty, and your loading up on some sorghum goodness in the process! Let's get down to how we're making it. It's a little "zhuzhed up", some may want to call it "the chimodho that went to private school"! Back in the day it would just be the mealie meal, flour, water, and salt. Here we're adding a few more ingredients to make it rich, and even tastier!
I used a cast iron pan, but feel free to use a baking tin if that's what you have at hand. Yummo!
Details
Cooking time
35 – 45 minutes
Get This
1 1/2 cups The Grain Hub Sorghum

1 1/4 cups all purpose flour (plain flour)

1/2 cup sugar

1/2 tsp salt

1 tsp baking powder

1 cup sour milk

1 egg

5 tbsp oil
Do This
Get your ingredients together. Preheat oven to 180 degrees Celsius. Lightly grease your cast iron pan or baking tin with margarine, and set aside.
Put the sorghum meal, flour, sugar, salt, and baking powder into a bowl. Give a good mix, and make a well in the middle.
Pour the sour milk, add the eggs, and oil, then mix until just combined. Avoid overmixing as this will result in a tough textured baked product.
Pour the mixture into prepare pan/tin. Bake in preheat oven (without covering the pan) for about 35 – 45 minutes or until skewer comes out clean when inserted. Allow to cool a little before slicing. Enjoy!