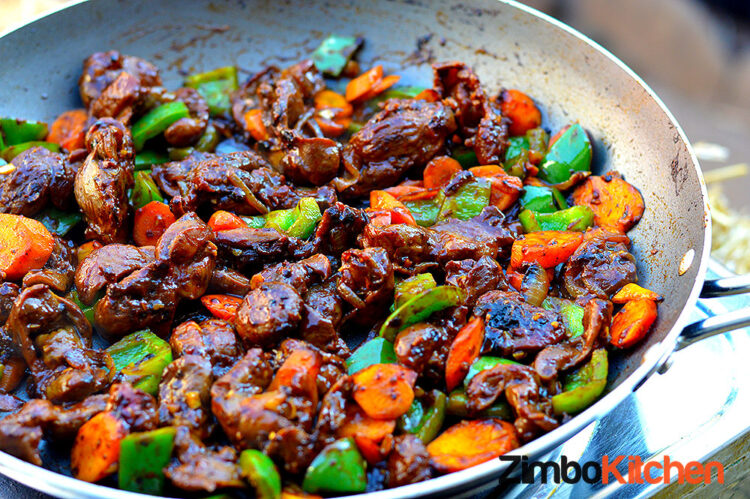 Scrumptious Chicken Gizzards
It is an open secret that chicken gizzards, a.k.a. zvikanganwa hama, remain among to delicacies around Zimbabwe in popularity. They are usually enjoyed just fried or stewed. In this recipe let's turn them into a scrumptious simple stir-fry, shall we? Yum!
Serve with your preferred starch which could be Sadza, rice, or even bread.
Scrumptious Chicken Gizzards
Cuisine: Afro-Fusion
Difficulty: Easy
Get This
500g chicken gizzards

1/2 onion, sliced

3 cloves garlic, finely chopped

3 carrots, chopped

1 green pepper, chopped

1 tsp salt

1 1/2 tbsp tomato paste

40 ml Mr Sauce Worcester Sauce

2 tbsp oil for frying

150 ml water
Do This
Get your ingredients together. Heat oil in pan.
Fry until gizzards begin to brown. Add tomato paste and continue frying for about 3 minutes.
Add Worcester sauce and cook for another 3 minutes.
Add onion, and garlic, and allow to cook for about 2 minutes. Add water, close pan/pot and simmer until gizzards are tender.
Add carrots, stir and cook for about a minute. Add green pepper and about 3 tbsp of water and stir. Allow to cook for 3 more minutes. Taste for seasoning and adjust accordingly. Enjoy
Recipe Notes
Tomato puree or tomato sauce may be used in place of the tomato paste.
Soy sauce may be used in place of the Worcester sauce.