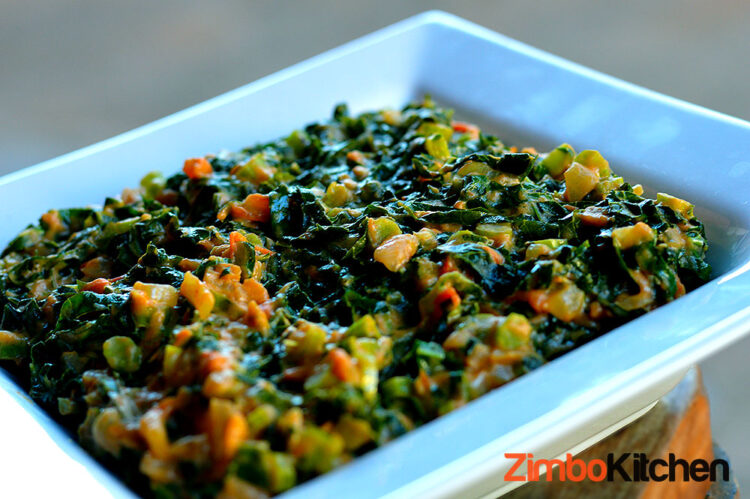 Peanut Butter Leafy Greens (Video)
Join me as we make this very popular yet super simple dish out of Zimbabwe – Muriwo uneDovi – Peanut Butter (PB) Leafy Greens.
This is a filling dish which is traditionally served with Sadza as the main accompaniment. It is a relatively cheap dish to make too, which makes it the go to dish when running on a budget.
Although it can be served with Sadza alone, it can also be served as Muriwo uneDovi + Sadza + roast beef, pork, chicken (or any other type of meat). This kind of thing takes things to another level. Yum!
So this is how it goes down…we will start by cutting up our leafy greens. These can rape, tsunga or covo (best known internationally as collard greens).
Notice how we carefully cut the greens avoiding ending up with thick unattractive strips. Take your time and produce the best looking strips you can.
We will then do our onion and tomatoes before we fire up the stove and begin frying the tomatoes and onion into a soup.
We then add our peanut butter ensuring it is thoroughly mixed with the onion and tomato soup. Some water will help us achieve this.
We only add the veggies when we have a consistent peanut butter paste created by mixing the peanut butter into the soup.
After adding our veggies and giving them a quick seasoning with salt, we then mix them in thoroughly doing a good job in making sure no peanut butter remains stuck at the bottom of the pan.
Following a few minutes of simmering, we mix the veggies and peanut butter one more time before we proceed to serve. Enjoy!