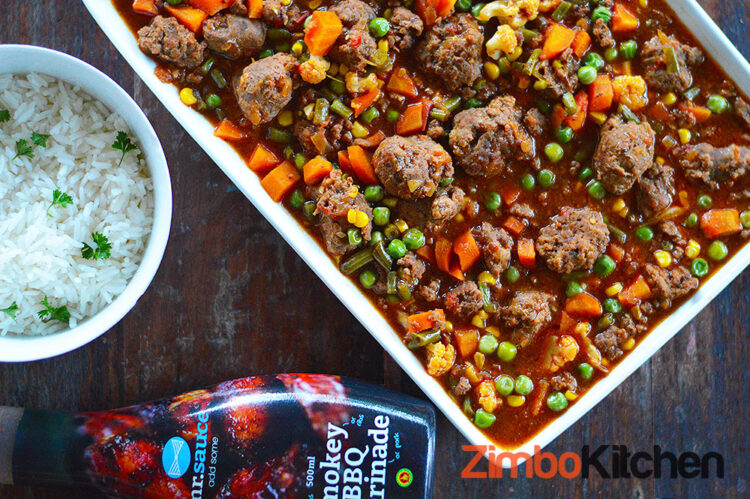 Smokey BBQ Mince & Sausage Stew
If you're looking for a stew that's hearty, delicious, quick, and easy to make, this is it right here!! I simply love how the Smokey BBQ flavour comes through in this dish, and ties everything together.
Although it's technically a marinade, there are no rules about what you can, or cannot do with it! So I added it to my stew, and the results were fantastic! This Smokey BBQ marinade from Mr Sauce is perhaps my favourite out of the 3 marinades they are currently offering. You just can't beat that delicious Smokey flavour!
Go right ahead, and try it out and let me know how it turns out in your kitchen. You won't be disappointed! Serve with your preferred starch, which could be mashed potatoes, rice, or even pasta. Plus some mixed veggies or a salad with freshly harvested tomatoes. I have some green beans in this recipe, if you enjoy green beans or want to try out its other applications I suggest these recipes with green beans.
P.S If you decide to use this marinade on any other meat, especially meat on the bone (chicken, ribs, pork chops, etc) make sure you marinate for at least 2 hours plus for more flavour! The longer it marinates for, the more the flavour that will seep into the meat 
Get This
500 g steak mince

500 g boerewors sausage

1 large onion, chopped

3 tsp garlic, grated

2 large carrots, chopped

1 cob sweetcorn

1/2 punnet green beans, chopped

1 punnet peas

4 large tomatoes, grated

60 ml Mr Sauce Smokey BBQ Marinade

1 tsp salt

Oil for frying

500ml water
Do This
Get your ingredients together. Cut the boerewors into bite size pieces and set aside. Heat oil in pot and add mince, and Smokey BBQ marinade. Fry the mince until browned. Remove from pan and set aside.
Add the sausage and garlic to the same pan. Fry until the sausage begins to brown. Return the mince to the pot. Add onion, and crumble the stock cube into the pot. Fry for 3 minutes.
Add tomatoes, and water, and stir. Close pot and reduce heat to medium low. Allow this to simmer for 5 – 10 minutes.
Add the rest of the ingredients- carrots, peas, sweetcorn, and green beans. Let this simmer for a further 5 minutes or until stew thickens a little. Taste for seasoning and adjust accordingly. Enjoy!