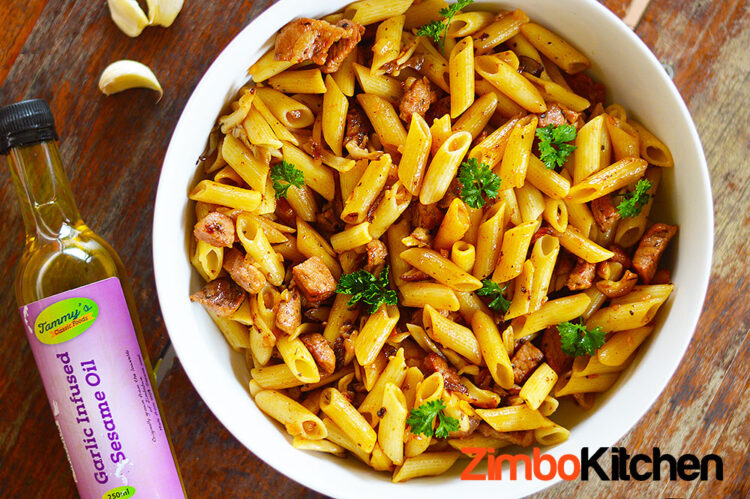 Sesame Fried Pork & Penne Pasta
This dish is simple, easy to follow, and absolutely tasty. I have been enjoying using Tammy's range of Sesame oils. It all started with this Sesame Oil Chicken, which everyone enjoyed. Sesame oil is a great alternative oil to use, especially if you have allergies to the regular soy bean oil that is mostly used to make the vegetable oil that is widely used by most people.
In this recipe I'm using Tammy's Garlic Infused Sesame Oil. I love how the flavour of the garlic comes through in the oil in just the right proportions. It's subtle, and not overpowering, but you can tell that it is there. A plus if you don't like the garlic flavour that much but you still want some of it! I, however, am a big fan of the herb (as you may know) so I will be adding more of it in this recipe! You can serve this up with a lovely sauce, and some freshly picked tomatoes and lettuce for a salad of your liking. Also see pasta recipes with shrimp. Let's get right down to it.
P.S You can use any pasta of your preference in place of the penne pasta, so this could be spaghetti, macaroni, pasta shells, etc. Just make sure you cook it properly, and it doesn't end up mushy from being over-cooked! In case you're wondering on the mushroom in the ingredients' list, to julienne is to cut food into medium, equal sized strips. And finally, on the pork, pork steak is preferable as it won't have any bones. Should you use any other cut of pork, make sure to trim the fat off, and cut out the bones.
In Zim, you can find this Sesame Oil in OK, Bon Marche, TM PnP Supermarkets.
Get This
400 g penne pasta

700 g pork

5 tbsp Tammy's Garlic Infused Sesame Oil

2 large cloves garlic, grated

1 medium onion, chopped

1 punnet oyster mushroom, julienned

1 1/2 tsp salt

3/4 tsp ground black pepper

3 tbsp tomato paste
Do This
Get your ingredients together. Cut the pork into bite size pieces, and set aside. Prepare the penne pasta according to the instructions on the pack. When it is done, drizzle a table spoon of the sesame oil onto it, and mix. Set aside.
Heat 2 tbsp of oil in pan. Add the mushroom, and 1/2 a tsp of salt. Fry until golden brown, and remove from pan.
Add the remaining 2 tbsp of the sesame garlic infused oil into the same pan. Take set aside pork, season with the remaining 1 tsp salt, and fry until beginning to brown.
Add tomato paste, and fry for 2 mins. Add the onion, and garlic. Allow to cook until the onion is translucent, and the garlic is fragrant.
Add a splash of water, and stir. Add the penne pasta, give a stir until evenly incorporated.
Add the black pepper, and mushroom. Give a mix. Taste for seasoning and adjust accordingly. Enjoy!