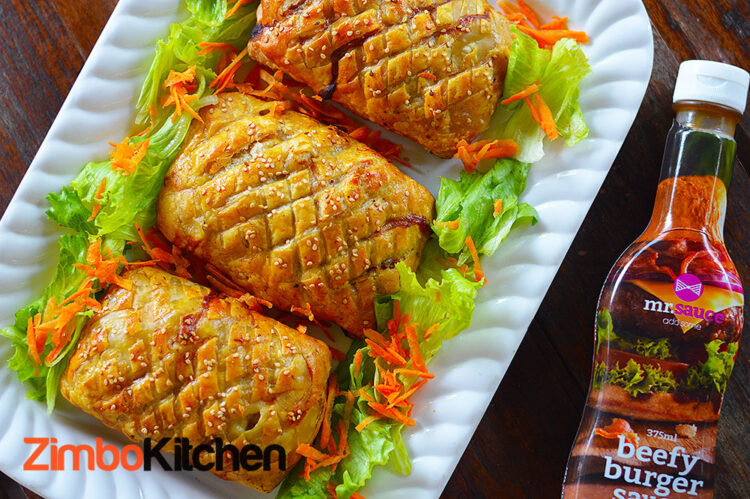 Cheesy Mince & Mushroom Parcels
Here's a little tasty idea to kick start your New Year's deliciously! I beefed up (pun intended) the filling using cheese, mushroom and Mr Sauce's Beefy Burger sauce, as well as the spices & herbs of course. If you can't access fresh basil, feel free to used dried basil, but only use 1 tsp as opposed to the 2 in the recipe. That's because dried herbs have a more concentrated flavour compared to their fresh versions.
In as far as the pastry is concerned, I highly recommend you either make your own or use a trusted shop bought brand. No matter how good the filling is (and trust me, this one is) if the pastry is horrible, it will spoil what would have otherwise been an excellent dish!
You can enjoy this with a green salad made with green or purple lettuce, freshly picked tomatoes, and some fries if you like, or just the salad alone. Any type of tomato would do from ripe green tomato, Celebrity tomato or yellow pear tomato.
Details
Cooking time
30 – 40 minutes
Get This
1 kg steak mince

1 1/2 tsp salt

3/4 tsp ground black pepper

60 ml Mr Sauce Beef Burger Sauce

1 egg

1 small onion, finely chopped

2 tsp fresh basil, finely chopped

2 tsp garlic, grated

1kg Homemade or Shop bought Puff Pastry, thawed plus 1 beaten egg

200 g Cheddar Cheese

2 punnets oyster mushroom

3 tbsp oil

A sprinkle of sesame seeds (optional)
Do This
Get your ingredients together. Put the mince, 1 tsp salt, pepper, onion, basil, egg, garlic, and Mr Sauce Beefy Burger Sauce into a bowl. Give a good mix until everything is well combined. Cover and set aside in the refrigerator for at least 30 min.
In the meantime, chop the mushroom. Heat oil in pan, and add the mushroom together with the remaining 1/2 tsp salt. Fry until mushroom begins to brown. Remove from heat and set aside.
Lightly sprinkle some flour on your working area. Place the pastry on it, and cut out about 20cm x 15cm rectangular shapes. Take the beaten egg, and brush some around the edges of the pastry.
Preheat oven to 180 degrees Celsius on bake. Lightly grease an oven tray and set it aside.
Take set aside mince mixture and spoon about 2 tablespoonfuls onto the centre of each pastry rectangle. Next, add a handful of the grated cheese, then top it up with 2 tablespoons of the mushroom.
Fold up the pastry, making the 2 longer sides overlap each other, and the shorter sides just coming in towards the centre, forming a rectangular shape.
Flip the pastry parcel over, and lay it on prepared baking tray. Repeat process for all parcels.
Make little diagonal incisions going in one direction across the front of the pastry parcels. Repeat the same incisions, going a different direction so you have a diamond-like pattern on the face of the parcels.
Brush each mince parcel with the beaten egg and bake in preheat oven for 30 – 40 minutes or until pastry is golden brown. Enjoy!