4 - 5 Servings
~ 30 min
2 kg Pork Belly
Mr Sauce Smokey BBQ Marinade
1 tbsp garlic, finely chopped
1 1/2 tsp salt
Marinades do so much in food for foodies and non-foodies alike. By food here I mean meat! For most of us the concept of food is not completely right without meat. As for marinades, although many people could associate them with meat, you can make excellent use of marinades in your vegetables just as well.
Marinades not only add flavour to your food item, but they also tenderize and, in the case of meat, soften it and make it tender and juicy. Ingredients used in the marinade play a part, but generally this is the outcome.
I normally make my own marinades because I enjoy it. Making your own marinades has that angle of you owning the process and knowing exactly what you have put in it! The fact of life is, making your own is not always possible. So I do pick up marinades from the store. There are advantages in this. However, when I do it I want to be assured that the said marinade delivers on flavour and has ingredients that I can recognize. I despise premixes!
Good marinades are not always easy to find. There have been some hope on the local market in recent times.
Mr Sauce Smokey BBQ Marinade
This is Mr Sauce range of marinades available in TM PnP, OK stores etc.  I have previously taken some Mr Sauce condiments on a test runs and I was pleased with them. If you are interested in those reviews…the journey starts here.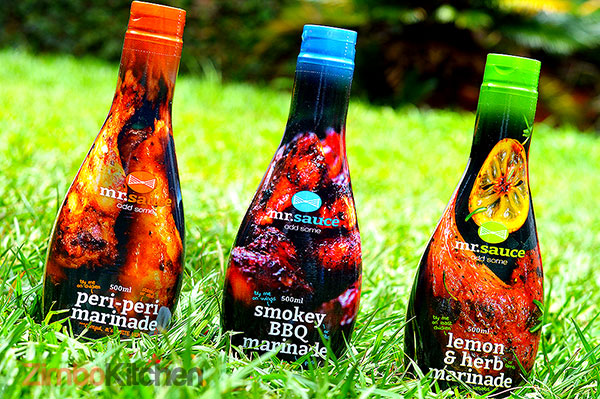 Stay tuned, as shown here there are two more marinades to test drive. I will be sharing those in coming couple of weeks. The
Smokey BBQ Marinade
…my oh my. I used the marinade recently on a weekend family braai. I can confirm that the Smokey flavour promised on the bottle was delivered. It just comes through. It is
everything
!! The flavours from the marinade sip through the meat exceptionally well. If you are one who looks for flavour in what you eat, I do not expect any disappointment in this department.
I used pork belly for this, because well…pork + Smokey BBQ = explosion of taste and happiness! You are however free to use this marinade on any type of meat you fancy.
I have to tell you that I only marinated the pork belly for 2 hrs but the flavour was spot on.  It is left to imagination just how much more flavour the meat would have had if I had marinated for longer. I plan to do this next time around. Achieving the level of flavours I got in only 2 hours was a highlight for me. The garlic added in this recipe is because this girl loves garlic!!
This may seem small but it matters in the world of marinades. Great marinades are made from scratch without using premixes. Mr Sauce Smokey BBQ marinade scores high in my book because it is made from scratch.  After all, it's been said the proof of the pudding is in the eating right?! The results speak for themselves.  Overall, this is a well done marinade worthy to play a part in your cooking plans.  So a big thumbs up Mr Sauce for this lovely marinade. And hey if you wish for other pork recipes, I suggest this collection of
pork chop recipes
.
I made this recipe as a quick jump start for you. Let's make the Smokey BBQ Belly…
Do This
Get your ingredients together. Put the pork belly in your marinating container/bowl. Season with salt then add the Mr Sauce Smokey BBQ Marinade (be as generous as you see fit!).
Gently massage the marinade onto each piece. Close and marinate for a minimum 2hrs up to overnight.
Braai or grill the belly at 180 degrees Celsius until done (about 30 minutes in the oven, depending on the thickness of your belly). Enjoy!
P.S. You are not to worry if the meat looks the way it looks, this is the caramelization of the marinade!