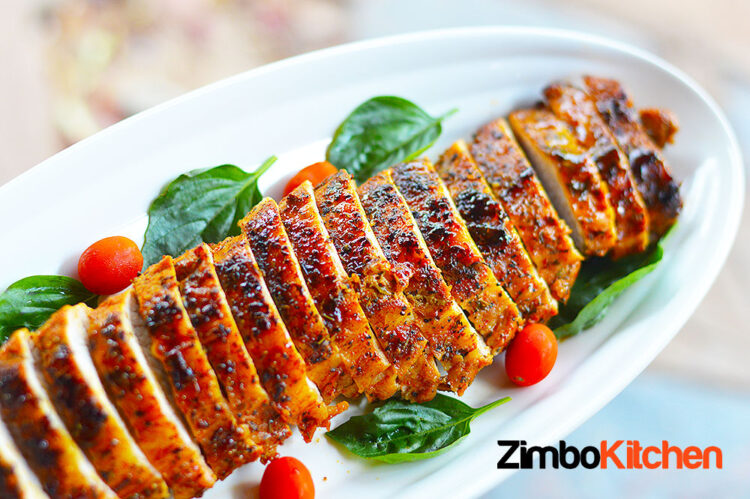 Simply Delicious Baked Pork Fillet
This baked pork fillet is nice and juicy, absolutely delicious, and takes very little effort to prepare. You will love it! Don't let the list of ingredients scare you away! They all come together to create a tasty dish which you'll keep wanting to go in for more.
You can enjoy this with roasted potatoes, a sauce and a salad. Or with some mashed potatoes, some gravy, and mixed steamed vegetables. Or, if you want something light, just enjoy this with a salad or roasted mixed vegetables! The options are plenty! This recipe will work well on beef fillet as well. Let's get down to cooking it.
Get This
1 kg pork fillet

2 tbsp oil

For the Spice Rub (spices used, Zimspice spices)

1 tsp garlic powder

1 tsp paprika

1/2 tsp onion powder

1/2 tsp dried thyme

1/2 tsp dried basil

1 tsp salt

1/2 tsp freshly ground black pepper

For the Glaze

3 tbsp Mr Sauce Soy sauce

1 tbsp Mr Sauce Mustard sauce

4 cloves garlic, grated

4 tbsp sugar

4 tbsp water

1 tbsp oil
Do This
Get your ingredients together. Line your oven tray with heavy duty foil paper, and set aside. Preheat the oven to bake at 180 degrees Celsius.
Drizzle the 2 tbsp oil onto your fillet. Rub the oil all around the fillet.
In a small bowl, combine all the spices then sprinkle the spice blend all over the fillet, and rub it into the meat. Sear (Fry) the fillet in a pan for about 2 minutes on each side. This is so that we lock the flavours onto the meat.
Place the fillet onto the foil-lined oven tray. Loosely wrap the fillet in the foil and bake in preheat oven for 20 minutes. Flipping it over half-way through the baking time.
In the meantime, combine the ingredients for the glaze in a bowl, and mix until the sugar dissolves.
After 20 min, brush the glaze mixture onto the fillet, and return the fillet to the oven, this time no need to cover it with foil. Bake for another 10 minutes or until golden brown. Let the fillet rest for about 10 – 15min before your attempt to slice it. Doing so earlier, you run the risk of letting the juices run out, and you end up with a dry piece of meat! Enjoy!