4-5 Servings
~ 30 - 40 minutes
1 kg drumsticks
300 ml sour milk
3 tsp garlic, finely chopped
1 tsp salt
1/4 cup (60 ml) Mr Sauce Tomato Ketchup
150 ml water
1 tsp garam masala
1/2 tsp peri peri
2 cups flour
1/2 cup cornflour (a.k.a cornstarch)
oil for deep frying
#ZimboKitchenWithMrSauce
Rarely do I stand first in line when it comes to deep-fried foods let alone making any. But when I do make some (which is no problem from time-to-time) I make sure to do them right with the goal of leaving many asking for more!  So it is here with these crispy fried drums! These…oh these… are really good! The meat comes out so tender and juicy, wrapped in a perfect crispy golden coating.
The secret is to marinate the chicken long enough and double dip it in the coating (many people tend to do just a single dip).
There is also a backstory to this recipe. The makers of Mr Sauce (a Zimbabwe based condiment manufacturer) reached out to me to try out some of their products in order to give an independent honest review. It was mutually agreed that although they sponsored this review they would find out about my thoughts "through the media" as it were just like everyone else.
So I took one of their products – Mr Sauce's Tomato Ketchup – on this recipe trip. I decided to use Mr Sauce's Tomato Ketchup for the second dip which I mentioned above. Although the dip is for just but a moment, it's just enough to coat the chicken in the ketchup and impart its flavour creating a tasty piece of chicken!
I've never enjoyed ketchup with my meals (although the rest of my family does). I would rather use it in my cooking as I've done here. Alas this recipe made me enjoy the ketchup even with my fries!
I am yet to try out other ketchup brands on this particular recipe. What I can tell you, though, is that using Mr Sauce's Tomato Ketchup on this recipe was a winning formula. After giving it a taste on its own I knew straight away it would be the secret ingredient to add more flavour to the chicken. This particular ketchup brings into the mix a good balance of the tomato flavour which makes a great difference in addition to an easy to work with consistency (as you may know most ketchup brands are thick).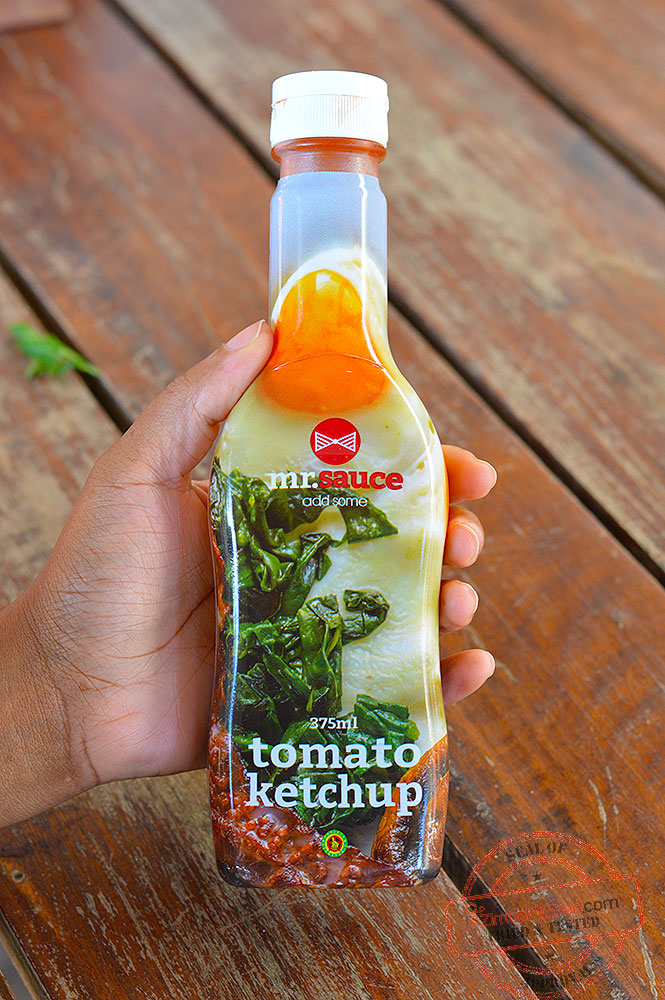 Overall, I wholeheartedly recommend that you try this recipe using Mr Sauce's Tomato Ketchup. If for any reason you can't access this particular brand, you may get started with any other ketchup. There is, however, a risk of high puree flavour which would affect the taste of the final product.
Enjoy these crispy fried drums with your preferred starch and vegetables. This can be fries and a salad. Or if you prefer you may just have them with a salad or roasted mixed veggies.
Do give this recipe a shot and let me know how it turns out in your kitchen in the comments below.
P.S you could even use mixed chicken portions or thighs in place of the drumsticks. Be wary of the fact that if the chicken portion is bigger than a drumstick, adjust the cooking time upwards a little. To make your own sour milk simple add 2tbsp of lemon juice to fresh milk, stir  and let it sit for 10 minutes.
DO THIS
Get your ingredients together. Put sour milk, 100 ml water and 1 1/2 tsp garlic into a bowl. Add the drumsticks and sprinkle salt on them.
Give a good mix to ensure the chicken is well coated in the sour milk. Cover the bowl with cling wrap or suitable lid and refrigerate overnight to marinate.
After marinating time, in a separate bowl, mix together Mr Sauce Tomato Ketchup, 50 ml water, 1 1/2 tsp garlic and the garam masala. Set aside.
Combine the flour, cornflour and peri-peri in another separate bowl and set aside.
Set up your dredge station. (this is where you'll have your bowls lined up as follows; drumsticks in sour milk marinate, flour mixture, tomato ketchup mixture, and a wide plate or platter to place the coated chicken.
Take a drumstick, coat it in the flour, shake off any excess flour. Dip it into the ketchup mixture, then back into the flour again and once again shake off any excess flour. Place in the wide plate or platter. Repeat process for the remaining drumsticks.
Heat oil in pan. You'll know the oil is ready when you drop a breadcrumb in the oil and it sizzles and rises to the top.
Add the drumsticks to the pan, (depending on the size of the pan, you may fit about 5 drumsticks at a time, avoid overcrowding the pan) fry each side for about 5 minutes or until golden brown. Enjoy!