4-5 Servings
~ 30 min
2 sweet potatoes
2 large carrots
2 medium beetroots
1 red pepper
Handful sugar snaps
1/2 small apple
100 g bacon, fried (optional)
1 tsp salt
1 tsp garlic and herb seasoning
3 tbsp oil
For the Dressing
60 ml Mr Sauce Mustard
60 ml Greek Yoghurt
60 ml water
2 tbsp vinegar
2 tbsp oil
2 tbsp golden syrup
2 tsp garlic, finely chopped
1/2 tsp salt
1/4 tsp black pepper
#ZimboKitchenWithMrSauce
Good news for some, bad news for others…the temperatures here in Zim are getting lower by the day, mornings and night-time in particular. This only means one thing. Winter is upon us.  Guess what?, I am among the happy ones as this is my favourite time of the year, yaay!!
So by default, salads are not so common during winter. Most people think this. However, the truth is, you can certainly have a warm salad with your meal in winter or any cold weather for sure. There is an approach to it though. You need a fantastic salad dressing to serve up the warm salad with. This is exactly what I have here. Just the type of salad dressing designed for the rugged terrain associated with winter. If you are willing to try it, it will take your dish a notch much higher in the flavour department.
But hold, there are some tools for the trade in making this recipe…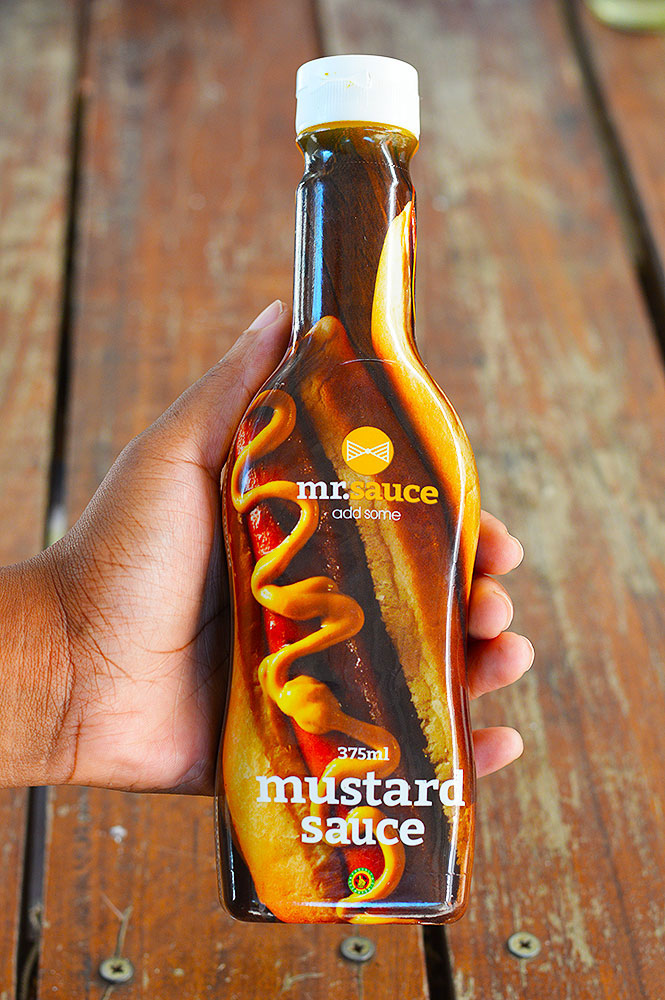 To create this salad dressing I took up Mr Sauce's Mustard. This was the star ingredient no-doubt. In case you had missed the memo, I'm on a mission, reviewing a range of Mr Sauce's sauces!! You can see the very first one, Ketchup here and the second one, Worcester sauce here.
The Mustard dressing ticks all the boxes; smooth velvety texture: check, delicious: check and easy to prepare: check! If you're looking for a way for a toddler or infant to eat their veggies, use this dressing as a dip. It's also perfect with raw carrots, tomatoes or cucumber. They'll gobble it all up!
I love the flavour that Mr Sauce's Mustard brought to this dressing idea. I have rarely enjoyed Mustard as a condiment (such as putting on hot dogs and all, which is all good) and would rather prefer cooking with it or making dressings as I've done here.
If I must be counted among the honest ones, I must say this loud. This particular brand of Mustard made by E Foods Zimbabwe has converted me!  I think the reason is its right balance of tangy and sweet and an easy to work with consistency. I do recommend that you also give it a try.
If you are wondering about storage, once made the mustard dressing out of this recipe can be stored in the refrigerator in an airtight closed container for up to 5 days. Remember that although this was a winter specific recipe, it can be used all year round.
DO THIS
Get your ingredients together. Cut the vegetables into your preferred shapes and sizes. Put in a bowl and add oil and give a toss or mix.
Add salt and the garlic and herb seasoning. Toss or mix again then place in an oven tray or oven proof dish. Bake at 180 degrees Celsius for 30 min or until the sweet potato is cooked. Remove from oven and set aside.
While the vegetables are baking, fry the bacon and set aside. When the vegetables are done, add the bacon and apple. Set aside.
Prepare the Mustard dressing. Put all the ingredients of the mustard into a jug or bowl. Give a good mix. Taste for seasoning and adjust accordingly.
Drizzle the mustard dressing just before serving. Enjoy!