4 - 5 Servings
~ 2 hrs 30 min
250 g dried sugar beans
1 L water
150 ml Mr Sauce Worcester Sauce
2 large tomatoes, chopped
2 carrots, chopped
1/2 green pepper, chopped
Handful of green beans, chopped
2 tsp garlic, finely chopped
2 tbsp tomato paste
1 tsp curry powder
1 1/2 tsp salt
1/2 tsp ground black pepper
1 onion, chopped
4 tbsp oil for frying
100 g cheddar cheese, grated
2 medium sized butternuts
#ZimboKitchenWithMrSauce
Today I have a fantastic dish that's also great for vegetarians or if you're planning on having a meatless meal.
Sugar beans oh sugar beans!  The woes surrounding sugar beans have been a bone of contention for many Zimbos since time immemorial! The root cause has had to do with preparation. For most, seeds for sugar bean "mistrust" and outright rejection date back to high school days. Mission school kitchens are often singled out as wittingly or unwittingly willing employers of sugar beans as an effective instrument of culinary torture.  The modus operandi in the preparation of the instrument would be just a quick boil or if you are lucky boiled until soft then heaps of onion and tomato added to  make a stew with salt to taste! Thus, many became victims of this needless culinary persecution.
For some years now, I have been a raving evangelist for sugar beans. There is life after high school kitchens! I will not let past experience rob anyone of this magnificent food. Since my early days, my mum taught me that the key to making an irresistible sugar bean stew is in the preparation of the soup. Did you hear that – preparation of the soup!
I have since taken this a step further and now also teach my own children that the preparation of the beans themselves can also be taken a step further to make them even more tasty. Instead of just boiling the beans in plain water (please end this if you do this), add something to the water which will in turn add flavour to the beans during the cooking process. That's the secret.
So in my continued quest of reviewing a range of Mr Sauce products (see where the story starts here), I grabbed my hands on their Worcester Sauce. If you're a follower of my recipes you may have noticed by now that one of the condiments I use often is Worcester Sauce, a.k.a. Worcestershire Sauce. I use it in various applications which include stews, marinades, casseroles and home-made salad dressings. I love using it a lot because it adds that extra touch and flavour to my dishes. For this reason I am touchy on which Worcestershire Sauce brand I use. It's a make or break issue. Enter Mr Sauce…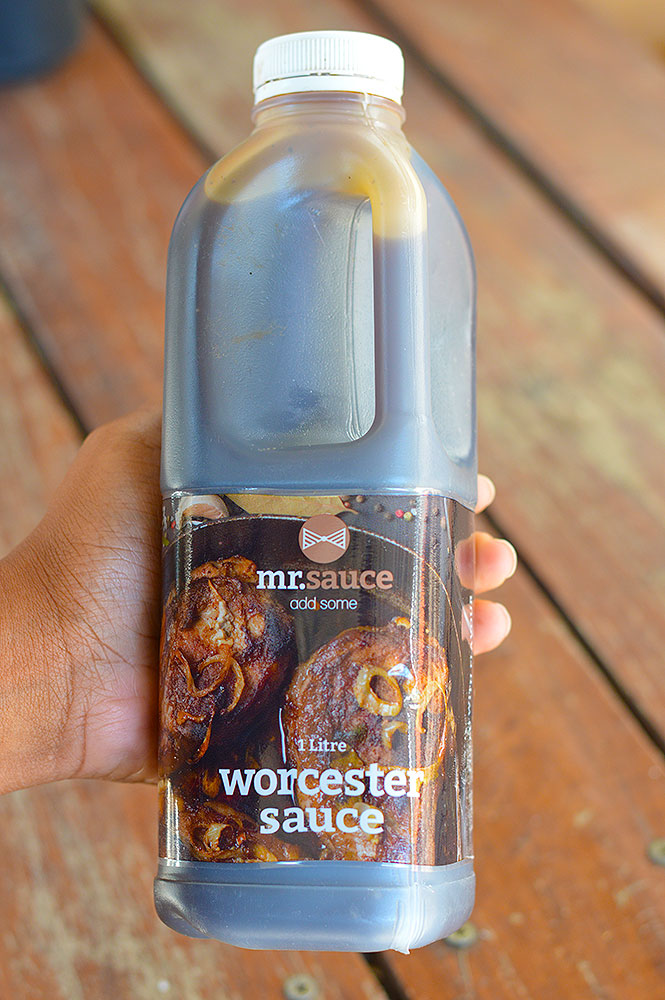 Mr Sauce's Worcester Sauce worked really well in this recipe. This was a big relief as I was eager to have something locally made within good price range that I could also use. So, I added Mr Sauce's Worcester Sauce to the water as the beans were boiling. I also did the same to the soup in which the beans were simmered. This, added a whole lot of flavour to the beans. If you are trying to return to beans, starting out with sugar beans or trying to make them better, I strongly recommend you start here and map a future from here.
Mr Sauce's Worcester is a formidable ingredient to be applied on a wide range of recipes. I do like how it has a slightly thick consistency and overall how it has worked with the dishes I've used it in. The only thing I'd have to critic is that it's got a bit of a sharp vinegar taste that hits your palate at the end when you taste it on its own or use it as a condiment dip. I have here in mind steamed dumplings or sushi, for example. This sharp taste does not, however, affect how your final dish tastes if you're making a stew or casserole which is a good thing and why I have added it to my arsenal.
As an aside, if you are a salads or marinades person, you can also use Mr Sauce's Worcester when preparing marinades or salad dressing. If you intend on adding vinegar to these, keep in mind that Mr Sauce's Worcester Sauce already contains vinegar so if you must, don't add too much vinegar.
Now let's get to how I prepared this really tasty dish. Here's hoping that this here recipe will convert you into loving sugar beans if you disliked them for whatsoever reason.  Enjoy this dish with a starch of your preference with more sugar beans if you will and a salad or some steamed or roasted vegetables. You could also simply have it on it's own with some vegetables as your side. Do give it a shot and let me know how it turns out with you.
P.S. To cut on cooking time, soak beans overnight or if you forget to do so, soak them in boiling water for a minimum of 2 hours. You will achieve more or less the same results as soaking them overnight.
UPDATE: Here is an insightful response, received post publication, from Mr Sauce the makers of the Worcester Sauce that I used in this recipe concerning the difference between Worcestershire sauce and Worcester sauce:-
In our research when formulating the product, we found that Worcestershire sauce is made with *anchovies*. So the main difference between the two is that Worcester is vegetarian-friendly, and also slightly easier to say 🤣 Our whole sauce range is suitable for vegetarians so it made sense for us to pursue the option that aligned with our values 😊
I use a handful of green beans in this recipe. If you wish for a variety of other recipes with greens beans see here.
DO THIS
Get your ingredients together. Drain your soaked sugar beans. Put in pot and add water, 1 tsp salt, and 100 ml Mr Sauce's Worcester Sauce. Bring to the boil then reduce heat to a gentle simmer until the beans are soft but not overly cooked. (Should the water run out before the beans are cooked, add a little more, together with more of the Worcester Sauce.)
As the beans are cooking, cut your butternut in half vertically and spoon out the seeds. Brush some oil on the butternut halves and sprinkle salt on each half. Place on oven tray and bake at 180 degrees Celsius for about 45 min or until the butternut is cooked and can be easily pierced all the way through with a toothpick. Set aside.
When the beans are done to your liking remove from pot and put in a bowl. Heat oil in the same pot that had the beans. Add carrots, onion, garlic, curry powder and stir. Allow to cook until onion is translucent (this is when you can kind of see through it).
Add tomatoes, 1/2 tsp salt and tomato paste and allow to cook (about 3 – 5 min). Add green pepper, green beans and 50 ml of Mr Sauce's Worcester Sauce and stir.
Return the cooked sugar beans to the pot. Add 100 ml water and let this simmer on low heat for about 15 minutes, stirring regularly to allow the flavours to seep into the beans. Add the black pepper. Taste for seasoning and adjust accordingly. Your sugar beans are ready.
Take set aside baked butternut and spoon the sugar beans onto each half. Sprinkle the cheese as a final topping and return to the oven at 180 degrees Celsius for 10 min or just until the cheese melts. Enjoy!