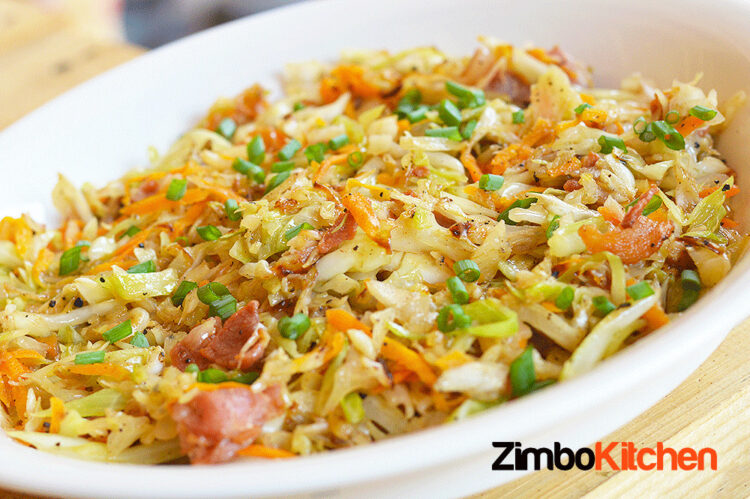 Sweet Chili Sauce Cabbage with Bacon
In this super simple recipe we do some touch-ups to the humble cabbage…elevating it to some amazing levels of deliciousness using sweet chili sauce and goo old bacon. Yum.
Sweet Chili Sauce Cabbage with Bacon
Difficulty: Easy
Get This
3 tsp oil

125g bacon, chopped

One small onion

1/2 of small cabbage, chopped

3/4 tsp salt

1/2 tsp black pepper

1 tsp garlic powder

3 tbsp Mr Sauce Sweet Chili Sauce

2 medium carrots, grated

3 tbsp spring onion green tips, chopped (optional)
Do This
Get your ingredients together. Heat oil in a pan, and add the bacon. Fry until cooked (about 3 min). Remove from pan and set aside.
Add onion to the same pan and fry for another 3 min while stirring regularly.
Add the cabbage, salt, garlic powder, and pepper. Give a mix and allow to cook for about 5 min.
Add the sweet chili sauce and carrots. Let this cook for 2 minutes, before returning the bacon to the pan. Mix until evenly incorporated. Taste for seasoning and adjust accordingly. Garnish with chopped spring onion green tips. Enjoy!
Recipe Video
Recipe Notes
Add chopped green pepper together with onion.
1.5 tsp of chopped or grated garlic can be used in place of the garlic powder.
For more flavor I recommend using freshly ground black pepper.
If you so wish more chili sauce can be added.