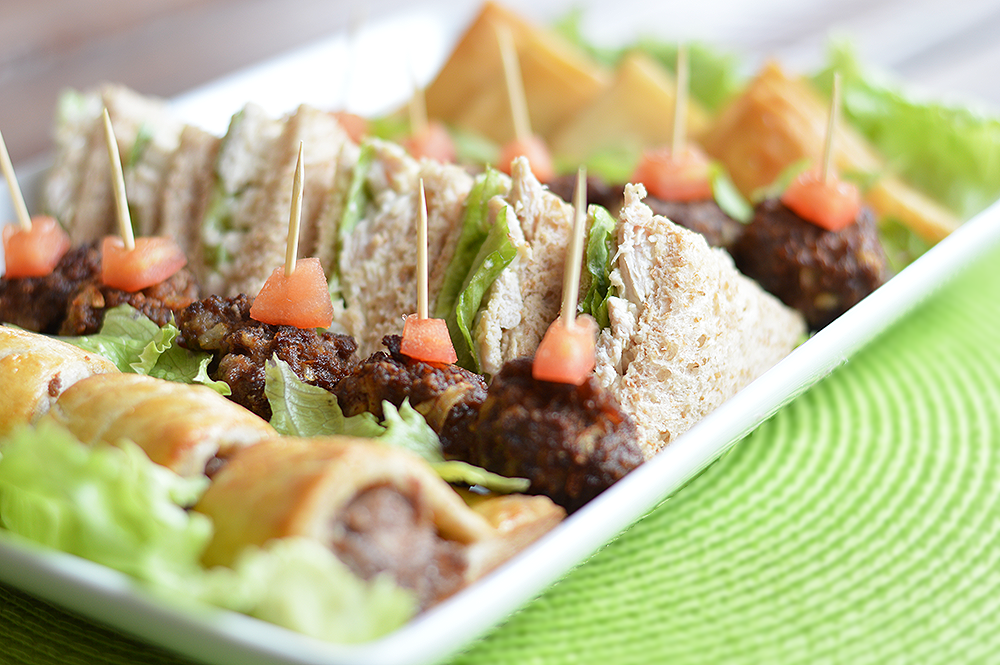 How To Make a Snack Platter
Here is how to make a snack platter. Give your best to your visitors and with a lasting impression on top using a snack platter as an appetizer. This platter has meat balls, cocktail sausage rolls, chicken mayo sandwiches and vegetable samoosas. Here's a quick guide on how to do this. For detailed recipes on each of the platter components, please follow the links or use the search box to locate them.
MEAT BALLS
1. Combine mince, garlic (optional), onion, egg, flour or breadcrumbs in a bowl.
2. Roll into small balls and fry until golden brown (about 2 min on each side)
COCKTAIL SAUSAGE ROLLS
1. Prepare your own pastry (learn how here) or buy ready made
2. Roll out pastry into a rectangle (30 cm x 20 cm). Place your sausage meat at the centre of your rectangle.
3. Close the pastry sealing the touching edges with a mixture of flour and water paste.
4. Cut into 3 – 4 cm size cocktail sausages. Brush each one with lightly beaten egg. Bake in preheat oven at 180 degrees Celsius for 20 min or until golden brown
CHICKEN MAYO SANDWICHES
1. Take two slices of bread. Cut off the crusts. Spread margarine on the bread.
2. Put green lettuce or purple lettuce on the bread followed by a mixture of shredded chicken onion and mayonnaise (seasoned with salt and pepper to your taste).
3. Close the sandwich. Cut into four triangles
VEGETABLE SAMOSAS
1. Steam a mixture of your preferred vegetables (here I used sweetcorn, carrots, peas and green beans)
2. Set-aside allow to cool while you prepare your samoosa pastry (learn how here)
3. Fry your samoosas until golden brown or brush a little oil on your samoosas and bake in the oven at 180 degrees Celsius until golden brown
Arrange the finished snacks in a platter as shown in the image or in your preferred style ad serve.