4 - 5 Servings
~ 30 min
1 1/2 pkts (750g) pasta of your choice
1 punnet oyster mushroom, chopped
1 medium onion, chopped
2 tsp garlic, finely chopped
2 large carrots, chopped
1 tsp curry powder
1 tsp dried thyme
1/2 tsp paprika
2 large tomatoes, grated
4 tbsp Mr Sauce Worcester Sauce
1 stock cube
1/2 cup (250ml) Mr Sauce Tomato sauce
725 ml water
Sprinkle of ground black pepper
1 tbsp sugar
100 g cheddar/ parmesan cheese, grated (optional)
#ZimboKitchenWithMrSauce
The trend in recent times for the cause of health, preference or otherwise has been going vegetarian or vegan for some. You may already be in tune with the 'Meatless Mondays' trend. Here individuals or families pick a day of the week (in this case Monday) to have a meal without meat.
This significant turn and change in diet and lifestyle will fail unless it's accompanied by just the right recipe arsenal. Good recipes are thought through, such that they properly reward the effort you spend preparing them and also as to become sustainable. For this cause and in pursuit of my long held love of trying out new things, culinary speaking, I set out to do this scrumptious variation of spaghetti bolognese. So this is Mushroom Bolognese designed with the current trends in mind. If you're one who loves meat, not to worry, you won't miss it at all with this dish!
Everything I used in this recipe is absolutely vegetarian, vegan and kid friendly. As a mum myself, it just had to be kid friendly. This time around the highlight ingredient was Mr Sauce's Tomato Sauce which beefed up (pun intended) the flavour of the meatless dish. Here it is…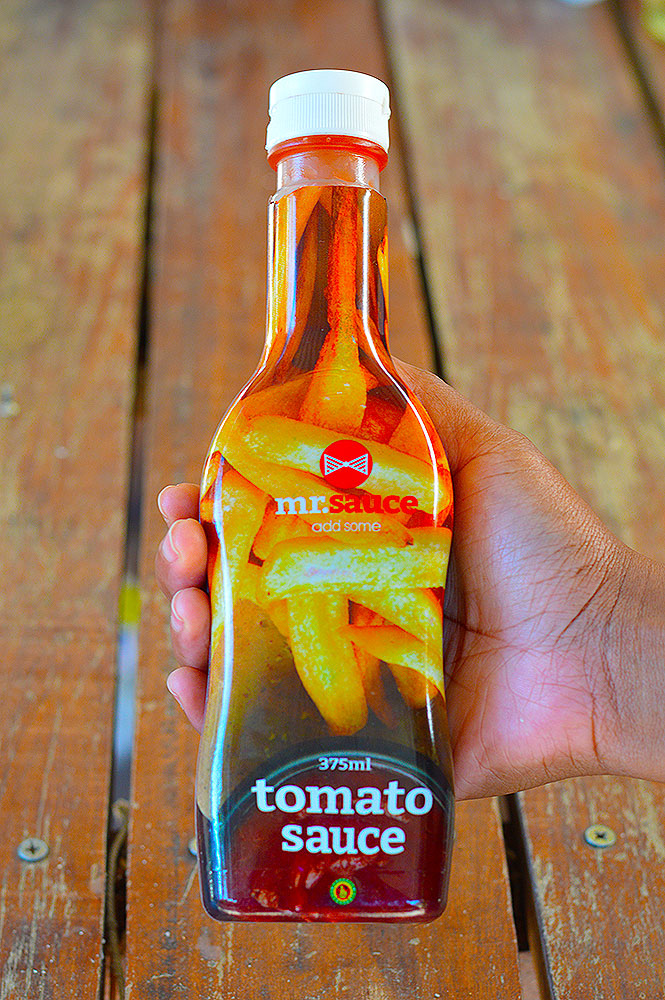 If you are joining me now, you probably caught me some ways downstream. Of late Mr Sauce products have been trending in my carefully considered ingredients universe. The journey actually starts here with these beautiful chicken drums made with their Ketchup, followed by this prescription that must be taken with a dose of Mr Sauce's Worcester to undo any damage brought about by years of torturous boarding school sugar beans. Then there is also this strong refutation with the backing of Mr Sauce's Mustard Sauce that salads are for summer only. Great salads can and must happen in winter too, take it from me.
So this time around, as mentioned earlier, it was time to take Mr Sauce's Tomato Sauce on a test drive. I found that the ingredient added a lovely rich tomato flavour which was not overpowering at all (this is important). I loved the consistency of the sauce – not runny, not too thick. The taste was on point for the Mushroom Bolognese dish, just the right balance of sweet and savoury. Yum.
Now that this is in the bag, how do we actually go about making a great Mushroom Bolognese dish?
DO THIS
Prepare the pasta according to instructions on pack and set aside.
Heat oil in pan. Add onion, garlic and carrots. Stir and allow to cook for about 3 min or until onion is translucent (i.e. you can almost see through it). Stirring at regular intervals.
Add curry powder, thyme and paprika. Add mushroom and fry until golden brown.
Add tomatoes. Allow to cook until tomatoes are done (give about 5 minutes, stirring regularly).
Add Mr Sauce's Worcester Sauce. Crumble the stock cube into the pan and add 100 ml water.
Add Mr Sauce's Tomato Sauce, pepper and sugar. Simmer for about 10 min. Taste for seasoning and adjust accordingly.
Take set aside pasta and pour sauce into it. Mix until evenly incorporated. You may alternatively just serve the pasta then pour the sauce over. Sprinkle some cheese, serve and enjoy!