4 - 5 Servings
~ 1 hr 30 min
350 g mopane worms (madora, amacimbi)
Enough boiling water to just cover the mopane worms
30 ml Mr Sauce Worcester Sauce
1 tsp salt
3 tbsp oil
1 medium onion, finely chopped
1 large tomato, finely chopped
1 tsp finely minced garlic
60 ml Mr Sauce BBQ Sauce
3 Red chilli peppers, chopped (optional)
#ZimboKitchenWithMrSauce
Now this is a delicacy for many Zimbabweans. There are those that absolutely love them, those that are too afraid to try them, those that don't like them and those that are somewhere in the middle of it all! I fall in the latter group, lol. I enjoy these when they are cooked to perfection. That was the goal here using Mr Sauce's BBQ Sauce by eFoods Zimbabwe. The Sauce played a vital role in introducing a kick of flavour to this otherwise earthy tasting relish. We'll get to this shortly.
Let's take a moment to talk about this delicacy. Mopane worms contain 3 times, yes THREE TIMES, the amount of protein as beef! Now that's a whole lot of protein for such tiny little guys! Makes true the saying, "Dynamite comes in small packages!" They are also a good source of iron and calcium which are beneficial to the human body. Who doesn't want give these little guys a try?!
So the Mr Sauce BBQ Sauce which I used in this recipe adds a delicious, smokey, slightly sweet and tangy taste to the mopane worms which I absolutely enjoyed, as well as those who had the pleasure of digging into the dish. All plates were wiped clean! Absolutely clean.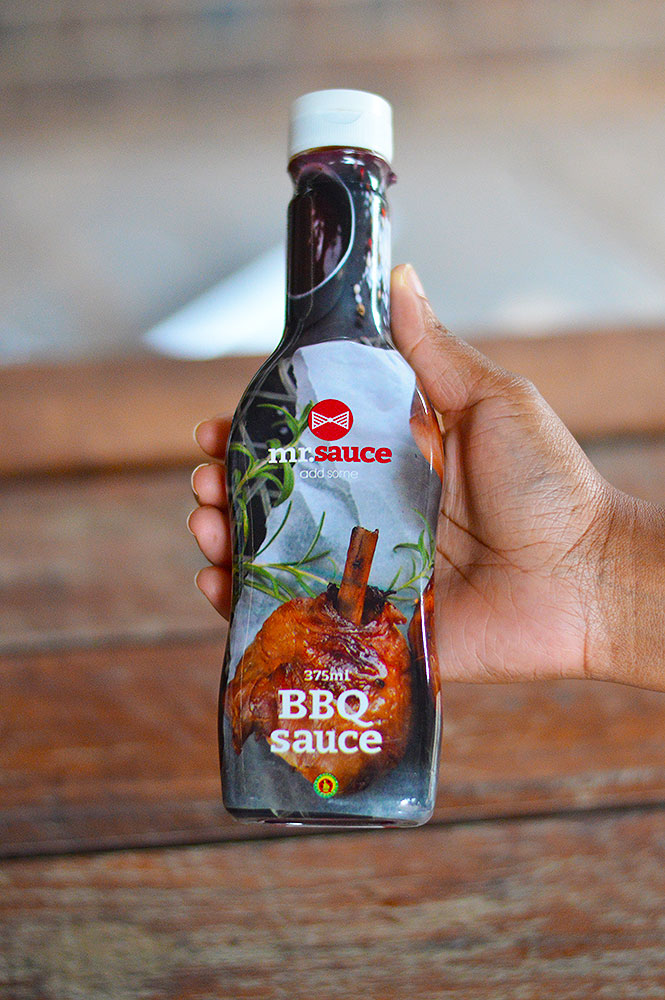 The Mr Sauce
BBQ Sauce
has a lovely thick consistency which makes it coat whatever you add it to (in this case the
mopane
worms) with so much ease. It definitely made these
mopane
worms delish, especially when paired with the chilli
peppers
(for those who like a little bit of heat). So the simmering on low heat towards the end of this recipe is absolutely crucial, don't skip it or rush it. It allows the sauce to not only coat just the outside of the
madora
but to get in the inside too such that each bite is just full of flavour. You have got to try it! You can enjoy this as a snack or as a meal with
sadza
and some
leafy greens
or
sauteed cabbage
.
Before you beginning the cooking process, select the best
mopane
worms. You do this by removing any dirt or debris or any pieces of
mopane
worms you're not too happy with that may have been included in the packaging.
Madora
are picked in the wild, you may want to avoid going ahead to pour the contents straight into the pot before this recommended sifting.
DO THIS
Get your ingredients together. Give the selected mopane worms a good wash. (I usually do this in a colander under running water.)
Put the mopane worms in a pot. Add enough boiling water to just cover the mopane worms. Add Mr Sauce Worcester Sauce and salt.
Bring to the boil then reduce heat to a gentle simmer (medium-low heat) until all the water is finished.
Add oil and fry the mopane worms for about 5 minutes. Add onion and garlic. Fry for another 3 minutes.
Add tomatoes and Mr Sauce BBQ Sauce. Simmer on low heat for 10 – 15 minutes, stirring occasionally.
Taste for seasoning and adjust accordingly. Feel free to drizzle a little more of the BBQ sauce just before serving for good measure! If using, now would be the time to add the chilis to the mopane worms. Enjoy!