4-5 Servings
~ 30 - 40 minutes
1 kg chicken breast
1/2 cup (125ml) Mr Sauce Sweet Chilli Sauce
1 tsp salt
250 ml ice-cold water
1/2 cup cornflour
1/2 cup cake flour
2 tsp garlic, finely minced
Oil for frying
#ZimboKitchenWithMrSauce
These chicken nuggets are not only delicious but dead easy to make! Serve with some rice and steamed mixed veggie or broccoli or even with some roast potatoes and a salad.
To give them a tasty kick, I turned to Mr Sauce's Sweet Chilli Sauce. This became part of my ongoing review journey of a pretty good range of locally made condiments from Efoods Zimbabwe! This Sweet Chilli Sauce has turned out to be one of my favourites. I've so far built recipes using their Tomato ketchup, Mustard, Worcester Sauce, Tomato Sauce and BBQ sauce. They've all delivered to the promise in the dishes. Here is the star of this recipe…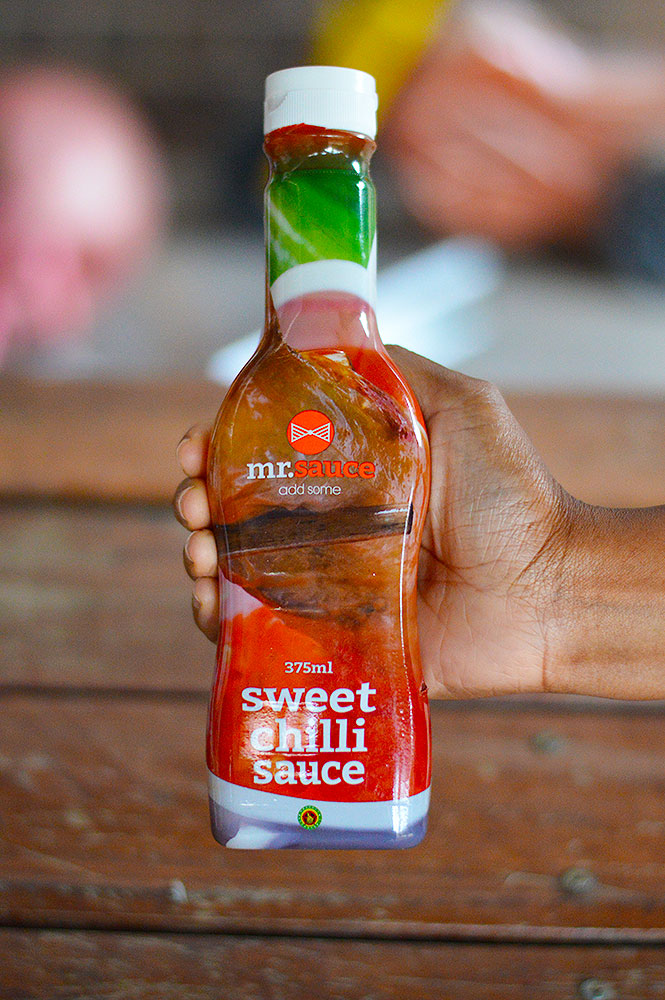 Although Mr Sauce's Sweet Chilli Sauce's consistency is not quite thick, I love the flavour and taste in brings to the table. For me, that's an absolute important factor. Condiments should and must deliver on flavour! Mr Sauce's Sweet Chilli Sauce has just the right balance of sweetness and chilli. When you taste it, some heat from the chilli flakes hits your palate first, swiftly followed by the palate calming sweetness which is by no means not overpowering, creating a perfect harmony for your taste buds!
Do try it out and let me know how it turns out in your kitchen in the comments below. Along the way, also check out these recipes with chicken and rice. Let's make the chicken nuggets…
DO THIS
Get your ingredients together. Cut your chicken breast into bite size pieces and set aside.
Put both flours, salt and 1 tsp garlic in a bowl. Mix and make a well in the middle. Pour the ice-cold water and mix until a nice smooth batter is formed.
Add the chicken pieces into the batter. Mix until each piece is well coated.
Heat oil in pan, fry the chicken pieces in batches. Do not crowd your pan as this will cause your oil temperature to drop and in turn result in soggy and not crispy nuggets. Fry until golden brown on medium- high heat (about 5 minutes on each side).
Remove from pan and set aside.
Put the remaining 1tsp garlic and Mr Sauce Sweet Chilli Sauce in a separate pan. Allow to cook for a minute then add the cooked chicken nuggets. Give a quick stir, ensuring each nugget is nicely coated in the sweet chilli garlic sauce. Taste for seasoning and adjust accordingly. Enjoy!